Silly product warning labels
I was just opening a new pack of umeboshi (pickled plums) today, when I noticed this warning on the lid in Japanese:
WARNING: Umeboshi have seeds, and sometimes the seeds can be pointed.
So please be careful.
Here's the label, with two pointy seeds.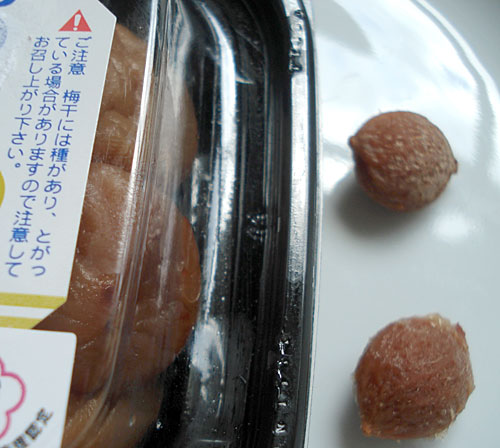 (Edit: I could understand the umeboshi warning if it was in English (or language of the country in which the pack was being sold), since people may be unfamiliar with umeboshi. But this was a pack imported from Japan, with Japanese writing, so they are warning Japanese people, who are, or should be, familiar with umeboshi and their pointy seeds. Ume are related to apricots, so maybe apricots should have pointy-seed labels too.)
WTF? So...has it come to this now? We have to have warning labels on natural foods?
I can understand warning labels on manufactured products, say a pesto sauce, to warn about the existence of finely ground nuts. A small percentage of the population is very allergic to nuts.
But, surely the nut-allergic shopper knows to stay away from whole peanuts for example. Or will we have to have labels on those too? "Warning: This bag contains peanuts." ....
What about warning labels on bags of beans? "Warning: This bag contains beans, which may cause flatulence and socially awkward situations." Meat? "Warning: This pack contains meat, which comes from an animal. Vegetarians are known to have an aversion to meat." A bunch of bananas? "Warning: Bananas have slippery skins. If dropped on the ground, they may cause an accident, or a horde of circus clowns to show up."
Is this labelling gone too far? (Japan is not as litigious as the U.S. for example, but it's slowly getting there.) Are there any other nanny-state labels you've seen?
Submitted by
maki
on 2008-03-04 15:34.
Filed under:
offbeat
shopping