Shopper's Guide to Pesticides iPhone App
3 years ago, I mentioned a handy list of produce ranked by how much pesticide is used to grow them. The higher (=more pesticides) the ranking, the better it would be to stick to organically grown.
I recently got a new iPhone (yes...I'm the very opposite of an Early Adopter of tech gadgets) and discovered that the same list is available as a free iPhone app called DirtyProduce. Here's a screenshot of the opening page: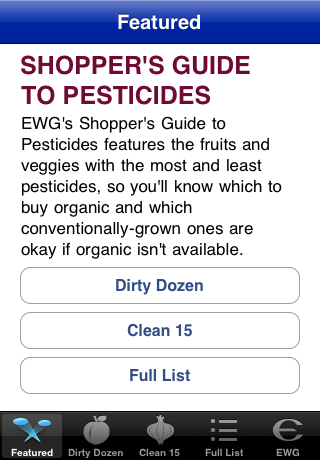 It doesn't do much beyond list the Dirty Dozen (the most heavily pesticide-treated fruits and vegetables), the Clean 15 (the last pesticide-used) and the full list of 47 produce items, but it's handy to have around with you. Who knew for instance that peaches were the most pesticide-laden fruit or vegetable? I tend not to peel my peaches, and I ate, oh I don't know, a few tons of them over the summer. I may start peeling them next season, or look for non-treated ones.
Anyway, if you do have an iPhone, take a look. And if you don't, there is still the PDF list to print out and carry in your wallet.
Submitted by
maki
on 2009-10-05 19:42.
Filed under:
fruit
vegetables
ethics
shopping