Oahu, Hawai'i Part 1, North Shore: Kahuku Shrimp and Shave Ice
I'm back home now from my U.S. trip, which included an unplanned, low-budget yet glorious trip to Hawai'i, Oahu to be exact, as many of you guessed. Here's the first of my food-centric reports before the memories fade...
The shave (no d! ok!) ice in the previous post was in fact from Aoki's Shave Ice (warning: auto-playing music), which is in Haleiwa on the North Shore of Oahu, on the Kamekameha Highway. This area is known for being a surfer's heaven, and has that laid-back, slightly scruffy vibe (though it is still quite commercialized). There are swimmable, calm waters as well as big waves, depending on the beach (most of which are blissfully empty). The people watching is great: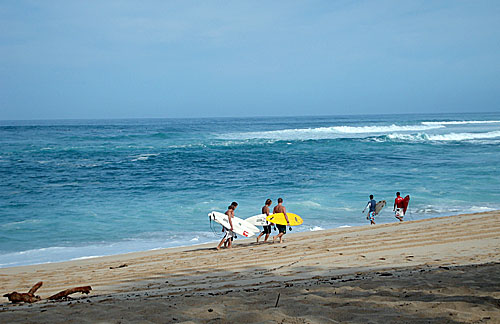 Not to mention the non-people watching too: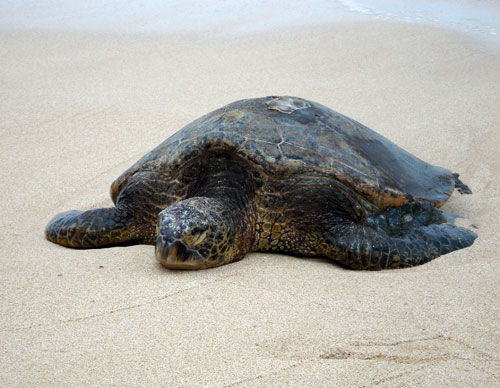 Back to the shave ice! We actually landed at Aoki's because the store sign is much easier to spot than Matsumoto's, but I don't regret it at all.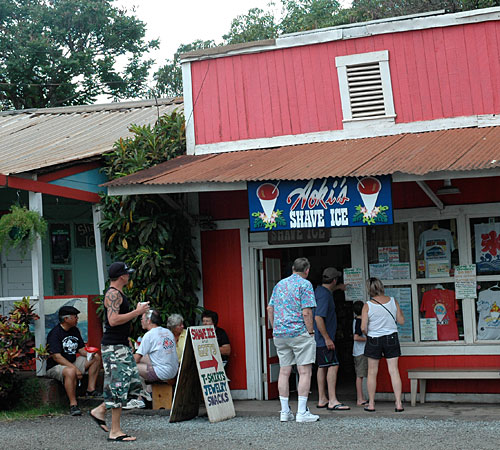 Love the store hours: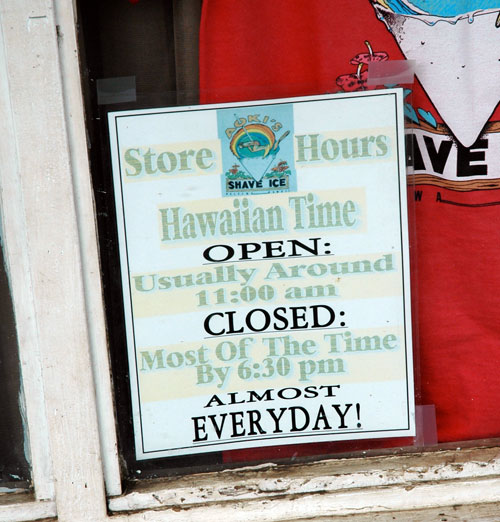 But of course, Matsumoto's is just a few steps down the same road; it's just called Matsumoto Grocery Store and the shave ice logo part is rather small and hard to spot while driving by. In any case, later on we went to try them out too. Here's a shot of a Matsumoto's ice with the wooden paddle spoon thingie.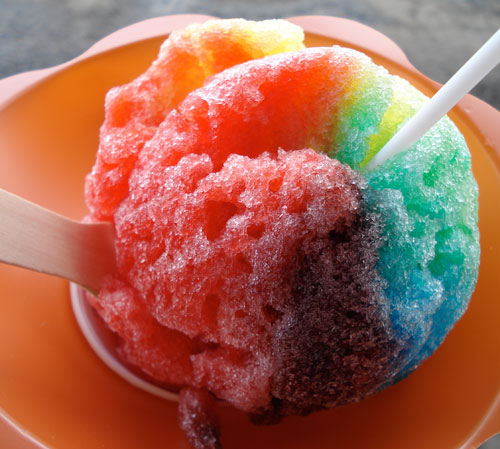 Aoki's shaved ice is just a bit less sweet than Matsumoto's, so I may prefer it personally - but they are both very good. And Matsumoto's has way cooler (and a much bigger variety of) t-shirts. I bought three.
We saw at least two big vanloads of Japanese tourists disgorge their passengers into the store while we slurped on our ices.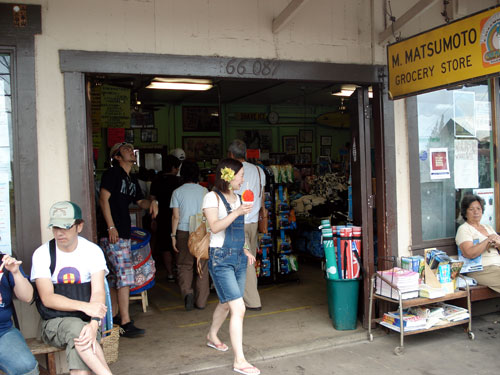 Kahuku sweet shrimp at Giovanni's and Macky's
The other touristy food thing to do on the North Shore is Kahuku shrimp shacks. This is Giovanni's Aloha Shrimp in Kahuku itself, again on the Kamekameha Highway, in the eastern part of the North Shore. I zeroed in there because it's rated as the top eating destination on the North Shore by the Trip Advisors, and also because of the rave review on 'Ono Kine Grindz. It's a tradition for guests to scribble on the van apparently, but I didn't have a pen and it was pouring rain so I missed the opportunity to add my own mark. All the more reason to return there someday.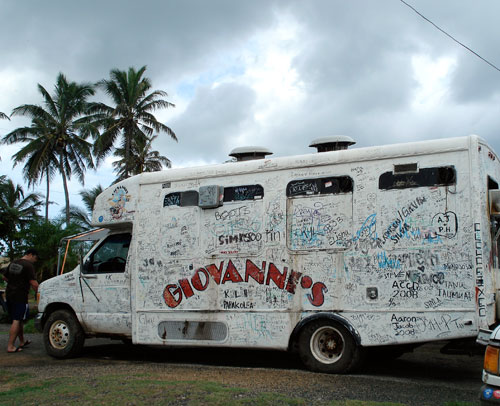 Unfortunately, I committed the cardinal food blogger's sin of forgetting to take a photo of my food before I tucked in. I just remembered before the last shrimp was gone! Here it is, the garlic shrimp version. Boy was it garlicky.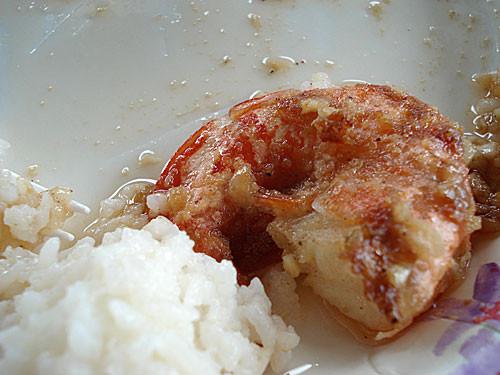 There are many other similar shrimp trucks on the North Shore. They are all set up similarly - there's a big van where they cook the food and where you place your order, and a few picnic benches set up around the van. The one that seems to be trying the hardest in terms of promotional activity is Macky's, which is in Haleiwa a bit down the road (heading west) from Matsumoto's and Aoki's. I just had to go to Macky's because of the name.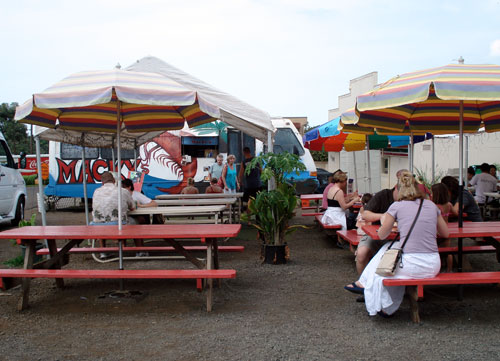 At Macky's I did remember to take a photo before tucking in. This is the spicy hot shrimp plate. It was indeed very spicy!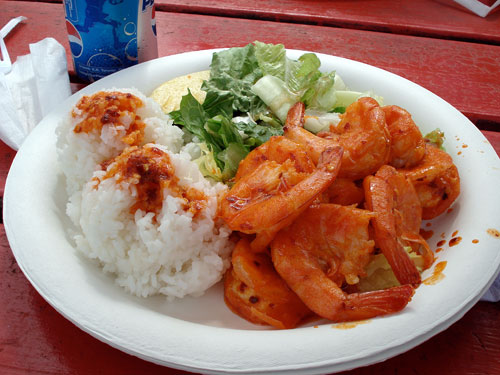 A slightly disconcerting feature of Macky's is the family of chickens running rampant around the tables. They peck up any spilled food eagerly.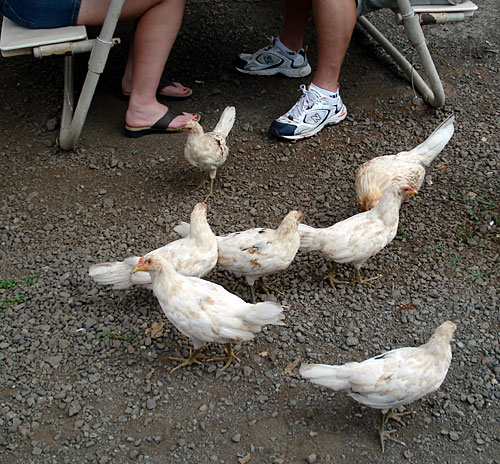 Here's the cockerel, who at one point walked calmly right over my sandal-shod feet: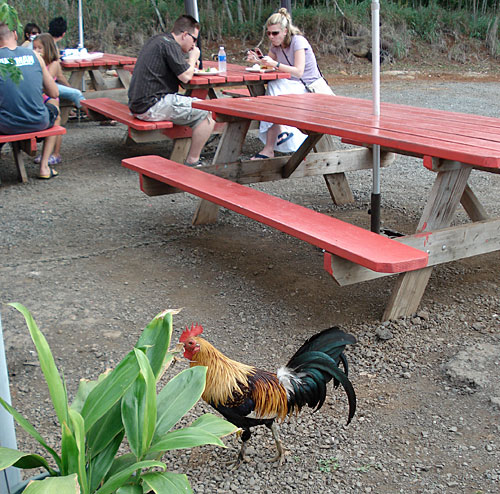 You can get a $2 off coupon in the free Oahu Gold magazine you can pick up everywhere, including at the airport, but a better deal is the 20% off coupon you can find in KAUKAU, a free magazine for Japanese tourists. This one is available all around Waikiki, as well as at Matsumoto's, and while it is in Japanese the coupon pages have writing in English too, so if you are diligent you can spot the deals. (KAUKAU is quite visually overwhelming, in a very Japanese way - I brought back a couple of issues as souvenirs.) But the coupons don't mean that Macky's isn't good. I actually slightly preferred them over Giovanni's (though I didn't have the same flavors so the comparison may be unfair). One telling thing is that Giovanni's shrimp seemed to be pre-cooked, since we got our plates right away, while we had to wait a few minutes at Macky's. The shrimp plates are $12 before coupons and discounts at both locations (and I suspect at all the other shrimp shacks too), and come with two scoops of white rice and about a dozen big shrimp. Macky's plate also comes with a wedge of pineapple and green salad. You should try several shrimp shacks if time and your belly allow. I read that Romy's, also in Kahuku, is also great.
Laie Inn, I so wanted to love you...
If I may digress from food for a bit: Initially, I booked my stay at the only affordable hotel that I could find online on the North Shore, the Laie Inn. The other hotel option in the area is the Turtle Bay Resort, where the available rooms (actually villas) started at $880 per night. (Of course I was booking with very short notice; Turtle Bay also has regular rooms for around $220, but were all booked up.)
Location wise the Laie Inn is terrific for exploring the North Shore. It has free wifi, free parking, a simple free breakfast, and you can walk over to a very nice beach. It has a McDonald's next door and you can walk over to the Polynesian Cultural Center (though I didn't go there in the end), not to mention a handy strip mall with a Foodland supermarket and ATMs. I so wanted to love it and stay the whole time there. But...it is just too grotty for me, and I'm not the pickiest person by any means. The toilet tank was cracked, as in almost falling in half, the air conditioning gave out the oddest smells and was very, very loud, the corners of the room smelled strongly of bleach and mold, and the carpet had the disturbing texture of a slightly moist washing up sponge. And the bathroom had some...mysterious...stains..some of which looked like blood or something. The bed linens were at least clean...and the front desk staff were really sweet and welcoming. So if all you require is something more solid to sleep in than a tent, it could be right for you. I guess I am too old and used to basic comforts...which makes me sort of sad. But, I really wish someone would renovate this place so I can go back, even if it means higher rates!
In any case, after 2 nights at the Laie I moved down to a regular modern hotel in Waikiki for the rest of my stay.
Part 2: Waikiki, Farmers' Market and Beyond.
Submitted by
maki
on 2008-11-20 19:38.
Filed under:
food travel
usa
hawaii