New potatoes with sweet-spicy miso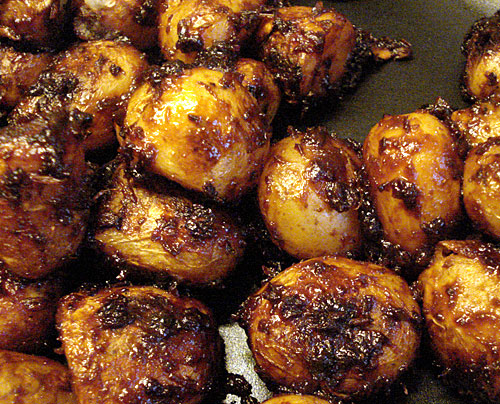 Here is another great way to enjoy new potatoes. It's almost as simple to make as new potatoes with soy sauce and butter, though it uses a few more ingredients. Boiled whole new potatoes are panfried in a little sesame oil, then coated in a sticky sweet-salty-spicy miso sauce. The strong flavors of the miso sauce really go well with the blandness of the potatoes.
Recipe: New potatoes with sweet-spicy miso
About 500g / 1 lb tiny organic new potatoes, washed and unpeeled
1 Tbs. sesame oil
2 Tbs. miso, preferably red miso, but any miso will do (not sure? See A Japanese Miso Primer)
1 Tbs. kochujang (Spicy Korean bean paste, available at Korean or Japanese markets)
3 Tbs. raw cane sugar or light brown sugar (or if you have neither, regular white sugar will do)
1 large garlic clove, grated
1 piece (about twice the size of the garlic clove) fresh ginger, grated
Chopped green onions for garnish
Boil the potatoes in their skins until they are tender (if you poke one with a knife point or skewer, it goes through easily).
Heat up a large frying pan. Heat up the sesame oil. Add the potatoes, and pan-fry them until they turn brown and crispy.
In the meantime, combine the miso, kochujang, sugar, grated garlic and ginger in a bowl with enough water to make it into a smooth, loose paste, about the consistency of ketchup. (I use a microplane to grate the garlic and ginger.)
Add the paste to the hot pan and toss the potatoes around rapidly to coat them well. The water will evaporate and the sauce will turn very sticky. Take off the the heat before the miso burns.
Serve sprinkled with lots of chopped green onions.
This is a very rich and strongly flavored dish, almost a meal unto itself. In Japan it would be a side dish, eaten with rice and soup and a couple more dishes such as grilled fish or meat plus pickles or salad, etc. You could serve these as a side dish as part of a Western style meal. It's a great vegan dish - you could add some pan-fried tofu or seitan or something to go with it.
It's also very nice in bento, but I do prefer it when it's still hot from the pan.
For a non-spicy version, omit the kochujang and increase the miso to 3 tablespoons. This non-spicy version would be more traditionally Japanese, but I like a bit of heat to cut through the sweetness.
Submitted by
maki
on 2008-08-09 13:29.
Filed under:
japanese
potatoes
miso
vegan