Monday photos: Yuzu miso container from Yaosan, Kyoto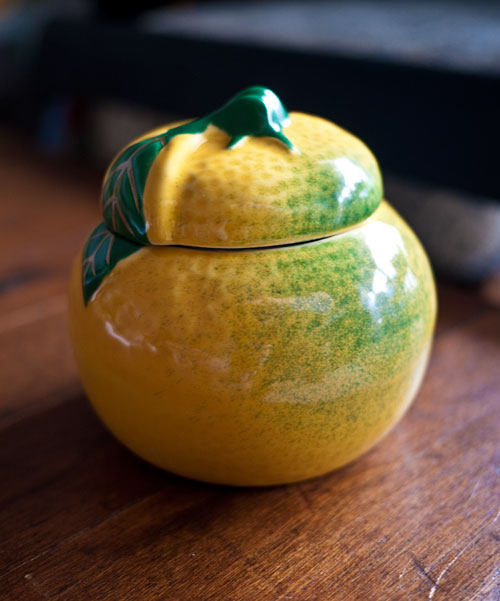 One of the many reasons that I love Kyoto is the sheer amount of history that you can discover on almost every street and slleyway. Not just the kind of top-down history that you normally encounter, in the form of impressive palaces and places of worship, but quiet signs of things that have outlasted wars and disasters for generations. This is one example.
Yuzu miso is a sweet, fragrant concoction of white miso (usually Saikyo miso if it's made in Kyoto), grated yuzu zest and various other ingredients. Traditionally used as a sauce or topping on dishes like furofuki daikon (simmered daikon radish), it's also a great all-around condiment. One of my favorite ways to enjoy yuzu miso is spread thinly on buttered toast.
Yaosan is a maker of yuzu miso that has been in business in Kyoto since 1708. Although there are other makes of yuzu miso in Kyoto and elsewhere, Yaosan is particularly famous, in particular because of their colorful yuzu shaped ceramic containers. The container, which is rather like a Japanese version of majolicaware, comes in 3 sizes, packed with yuzu miso of course. You can bring in your empty container to the store and have it re-filled with fresh miso.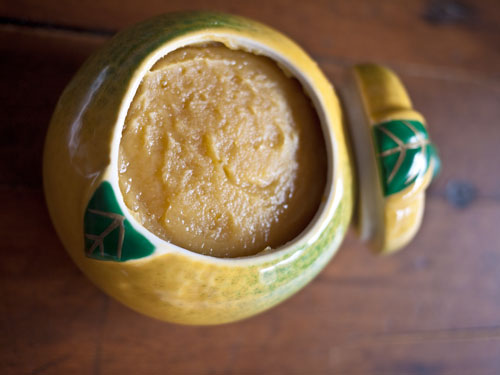 Yaosan is a shinise (a long-established business) with a vengeance. It has managed to stay in business for more than 300 years doing just one thing: the making and selling yuzu miso. (It is all made locally, in a outlying area of Kyoto called Mizuo).
On the back wall of the tiny store hangs this impressive hand carved store sign (kanban). It was carved by Rozanjin Kitaoji, a.k.a. Rosanjin, a famous gourmet of the late 19th-20th century. The equivalent in Western terms might be something like a endorsement by Brillat-Savarin - but one chiseled into wood by his own hands. (Fans of the original Iron Chef show may remember frequent mentions of Rosanjin in that show.)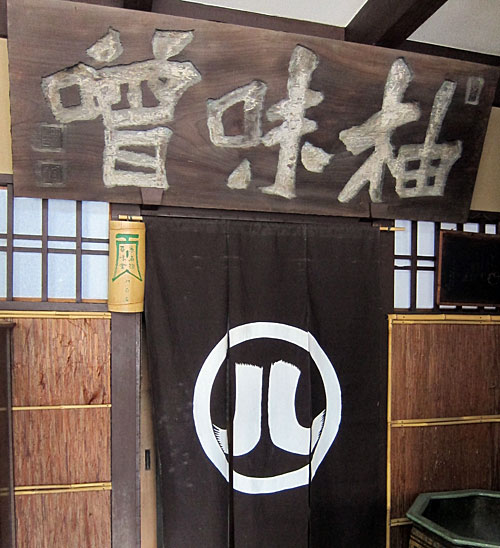 Yaosan is marked on my Maki's Kyoto Destinations map. Kyoto addresses can be a bit difficult to locate, but Yaosan, despite its tiny size, is famous, so just ask the hotel staff. In the Tokyo area, Yaosan also periodically sells its yuzu miso at Takashimaya in Nihonbashi or elsewhere (such as Yokohama and Tamagawa), though they rarely sell their yuzu shaped containers anywhere but at the Kyoto store. The yuzu miso filled ceramic containers start at around 2100 yen for the smallest size. You can also buy the miso alone starting at 850 yen for 130g.
Yaosan (八百三)

京都府京都市中京区姉小路通東洞院西入ル(西北角)
(on Anekoji-dori/intersection with Higashinotouin Nishi (on the northwest corner))
Tel:075-221-0318
Hours: 9:00~18:00
Public transportation: Karasuma Oike on the Karasuma metro line (Exit 3)
Closed Sundays, national holidays and 3rd Thursday of the month
Submitted by
maki
on 2011-10-03 14:35.
Filed under:
food travel
miso
japan
kyoto
monday photo