Meiji Chelsea, the Japanese candy with the '70s vibe
Since watching the '70s edition of The Supersizers last week, I've been on a bit of a nostalgia kick. I was lucky (or unlucky, depending on the perspective) enough to have spend my '70s childhood in three countries due to my father's job--England, the U.S. and Japan. I have fond memories of food, especially sweet snacks and candy, from all three places, my tastes have changed so much as and adult that I can't stand many of them anymore. The one sweet from that era that I still love is Meiji Chelsea butterscotch candy.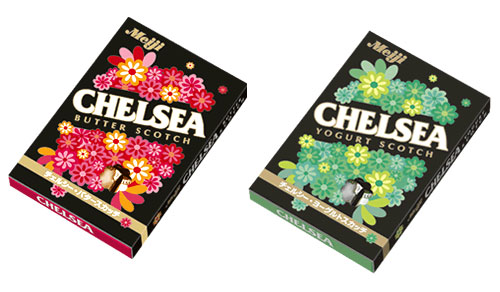 According to the official website (Japanese), Chelsea candy was introduced in 1971. It was the introduction of a new kind of candy, butterscotch, to the Japanese market, and the company wanted a design that was "English (British)" and "expensive" looking. To me the groovy colorful flowers on a black background are very late '60s-early '70s swinging London. Remarkably, the design has hardly changed at all throughout the years. Now it looks quite retro-chic. I'd love to have cushions with the flower design on them. (They do have wallpaper and screensavers, as well as printable stationery, available for free download.)
Chelsea comes in several flavors, but the most widely available and popular ones are basic butterscotch (which is very buttery and just slightly salty) and yogurt (yoghurt) butterscotch. They are my favorites, though I do slightly prefer the yogurt butterscotch. Other flavors have been introduced over the years, but these have remained constant. You can also get coffee butterscotch and fruit butterscotch variations. The candy comes either in rectangle or flat oval shapes. Even though the variety packs are a better value, I like to get the boxes because the candies in them are wrapped in a gold or silver foil paper with the same groovy flowers as on the boxes. It's not overly sweet, and the flat smooth shape melts slowly on the tongue.
The Chelsea song
A special song was commissioned for the first TV commercial for Chelsea. The song became such a big hit that they've kept the song for all subsequent TV ads. It's been recorded over the years by several artists, and there's even a complication CD of all the different versions! Here's a Chelsea ad from the '70s, though I'm not sure if it's the first ever version.
And here are a few versions from the '80s. The basic concept remains the same - a cute little blonde girl frolicking in a landscape that is supposed to be English or Scottish. At the end she says "anatanimo Chelsea agetai (I want to give Chelsea to you too)".
Where to buy Chelsea
You can buy Chelsea from any reasonably stocked Japanese grocery store. The regular mix bag like this one has plain butterscotch, yogurt butterscotch and coffee butterscotch flavors, and the mixed yogurt butterscotch bag has different fruit-yogurt flavored varieties. But if you're a retro-design fan, do check out the small black boxes too. (Here is their current product lineup).
About changing tastes and snack nostalgia
I think I still like Chelsea because it's not that sweet. There are other candies and snack from my youth that I can't eat anymore, mainly because they are just too sweet. For instance, the last time I had a Twinkie was some time in the early '90s - it was so overly sweet and weird tasting. I used to be able to eat 2, 3 and more at a time if I was allowed to! Sue Perkins was inhaling sherbet fountains on the Supersizers, but I can't stand those any more either.
Even some Japanese candy varieties, which are generally not as sweet, are impossible for me to eat now - Milky comes to mind. Some other sweet things that I used to love that I can't eat anymore: Hostess Cupcakes, Pixy Sticks (which are just sherbet fountains in a different format), old fashioned bubble gum, Milk Duds, marshmallows straight (I can eat them in hot chocolate or in s'mores but not just out of the bag).
What about you? What candies or sweets do you still like, and what are best left to childhood memories?
Submitted by
maki
on 2008-06-16 13:49.
Filed under:
japanese
sweet
retro