MasterChef 2009, the best and worst of food TV in 2008, and upcoming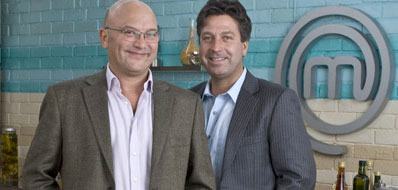 My favorite food TV show MasterChef is back for another round of competitive cooking fun! The hosts are John Torode and Gregg Wallace again, or Pasty and Toad as they are affectionately (or not) known in MasterChef fan circles. (I can't remember who is Pasty and who is Toad though.) See my thoughts on the 2008 MasterChef finals and you'll see why I love this show. I hope that 2009 will reveal equally exciting talents.
As with last year, the episodes will be shown Monday to Wednesday at 9:30pm (22:30) CET / 8:30pm BT for 30 minutes, then for one hour starting at 9:00pm (22:00) CET / 8:00pm BT on Thursdays. M-W and the first half hour of Thursday will be the first rounds, and the last half hour of Thursday will be the quarter finals. The quarter finals will have a repeat airing on Saturdays after Saturday Kitchen at 11:30am CET / 10:30am BT.
Unfortunately, it seems like the Beeb is no longer going to have a dedicated website section for MasterChef. The old MasterChef page has a big fat 'mothballed' alert on it. (They didn't have anything useful for MasterChef Professionals either.) This programme listing page is all you get now unfortunately. I guess this is a result of all the budget cuts at the BBC in recent times. (Maybe they can take some of Jonathan Ross' salary away for a decent site, heh.) I'll try to keep up with MasterChef news as it develops and post anything interesting here.
A brief look back at food TV in 2008
(See my look back at food TV in 2007.)
MasterChef 2008 was indeed terrific, but there were quite a few other food highlights in 2008. I do have to confess that this is the first year that I basically stopped paying attention to, or attempting to acquire by legitimate nefarious means, U.S. TV food shows with the exception of Top Chef. The current season of Top Chef is pretty interesting so far, and it's back on iTunes, which is a great thing. When I was back in the U.S. I did watch some Food Network, but...it was mostly just so 'meh'. Perhaps the highlight of food TV in U.S. terms was the return of the original Iron Chef on the Fine Living network. (I periodically get updates from their nice PR people about the series about special weeks and such, but all I can say is - if you're a fan, you should just watch it, period. And they actually have a nice dedicated site section.)
Anyway, UK TV had plenty of good to great food related programming. I guess some of it will make it to BBC America or BBC Prime, if it hasn't already.
The best
Best of 2008 for me was definitely the Supersizers Go series, which I reviewed in copious detail. It revived my interest in food history and retro cooking. Maybe this will be the year I finally open up a site section dedicated to Fanny Cradock, or throw a medieval banquet. And, it's supposed to be back later this year for another series! I give this 5 out of 5.
As I mentioned above, MasterChef 2008 was terrific, especially 18 year old finalist Emily. I give this 4.5 out of 5.
MasterChef: The Professionals was a spinoff of MasterChef, with young professional restaurant chefs competing against each other. The host/judges were Gregg Wallace (the 'bald one' of the Pasty and Toad team) and Michel Roux Junior, of the famed Roux family. It was much more tightly edited than the original MasterChef, and all in all excellent. 4.5 out of 5.
Celebrity MasterChef was yet another spinoff of MasterChef. Considering that it was a competition between 'celebrities' I'd mostly never heard of, it was pretty good, and the finals were surprisingly moving. 4 out of 5.
The good to ok
In Jamie's Ministry of Food, Jamie Oliver attempted to teach 'regular people' how to cook, on the theory that the health of Britain was so bad because people ate too much junk food/takeaways. I admire his apparent sincerity, but am not sure I totally buy the premise, and it got a bit forced, so I give it 3.5 out of 5.
Kill It Cook It Eat It, a show I thought was outstanding in its first series in 2007, was back for another round. It was basically more of the same, so I give it 3 out of 5. (Similar shows were Jamie's Fowl Dinners, where Jamie Oliver tackled the subject of battery grown chickens, and Hugh's Chicken Run, where Hugh Fearnley-Whittingstall set up his own chicken farm and so on.)
Top Chef seasons 4 and the current 5 are not bad. 3.5 out of 5 for both. (But really, it's no excuse to mess up Project Runway ffs! But I digress.)
Jamie's Christmas was a one-off At Home episode, but boy was it great! Pork pork pork! I recorded it and have already watched it 3 times. Jamie (with his mentor Gennaro) at their finest.
One reason I didn't feel the need to pursue extra food programming was that in 2008 we got access to Channel 4 and More 4 on free-to-air satellite. More 4 has lots of Channel 4 programming repeats, and that is where I discovered that guilty pleasure called Come Dine With Me. It's not really about food, it's about strangers giving each other dinner parties and the ensuing hilarity/cringe-worthiness. But it's a lot of fun! I understand there is a U.S. version of this show upcoming. I give this 3.5 to 5 out of 5, depending on the set of diners.
The bad and the meh
The new Delia Smith 'cheat cooking' series caused an uproar in the UK. I just thought it was ill conceived, like Sandra Lee style cooking executed by a someone who really should know better. 1.5 out of 5.
None of the straight-cooking shows on the Beeb were that interesting for some reason. The problem with both Chinese Food Made Easy and the second series of Indian Food Made Easy was the gimmick of getting a n00b to cook whatever it was that was being presented, I guess to show how 'easy' it was. Well...I don't really like seeing these n00bs fumbling around at all; it drags things down unnecessarily and ultimately put me to sleep. (I honestly could not watch at single episode of Chinese Food... without dozing off.)
Previously, I used to look forward to gorging myself on Food Network whenever I went back to the U.S. But this year, I found most of what I saw just bland and...meh. What happened to the old Food Network? Only Alton Brown and the Challenge shows were interesting enough to keep me there.
Upcoming
All in all, Channel 4 is doing a much better job with food TV programming than the BBC. Their upcoming Great British Food Fight programming looks interesting too, starting with Heston Blumenthal (who was lured away from the Beeb) trying to make over the menu of a tired roadside-cafe (pronounced 'caff' for non-Brits) chain in Big Chef Little Chef. Also, Jamie is back tacking the subject of pork in Jamie Saves Our Bacon; Gordon Ramsay is in Ramsay's Great British Nightmare which sounds exactly like Kitchen Nightmare with a scarier title, and Hugh F-W pesters Tesco about the quality of chicken they sell again in Chicken, Hugh and Tesco Too.
I ask you, wouldn't you be excited if Food Network came up with such innovative food-related programming?
Submitted by
maki
on 2009-01-05 14:06.
Filed under:
books and media
masterchef
tv
bbc