Lemon verbena and honey granita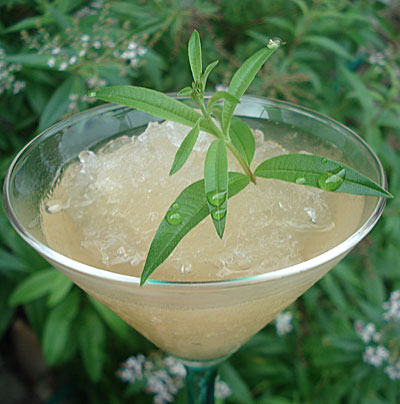 The lemon verbena plant that I planted last year and almost lost to a summer storm, is now firmly established and positively thriving. Whenever I pass it I can't resist rubbing a leaf, because it smells so wonderful.
Transferring that wonderful lemony scent to taste is quite easy - simply steeping it in some boiling water for about 10 to 15 minutes does the trick. This granita is infused with the aroma of lemon verbena, soured with a little lemon juice, and sweetened with a delicate acacia honey. Any light colored honey will work here instead. It makes a wonderful light dessert or palate cleanser, or cooling summer snack.
Lemon verbena and honey granita
About 8 large sprigs of fresh lemon verbena
3 Tbs. acacia honey, or a similar light-colored runny honey
1 small organic lemon
500 ml / 2 cups boiling water
Additional honey for drizzling
Additional lemon verbena leaves for garnish
Wash the lemon verbena if needed under cold water. Zest the lemon (peel off the yellow part only with a vegetable peeler). Juice the lemon.
Bring the water to a boil and put into a pan with the verbena and lemon zest. Smash the leaves down a bit if they are floating above the water. Let infuse for 10-15 minutes.
Take out the leaves and zest, and put in the lemon juice and honey (add more if you want it sweeter). Strain through a sieve to take out any leaf bits or lemon seeds. Let cool to room temperature.
Put into a flat plastic container and cover. Place in freezer for about 2 hours. Take it out and mash and scrape it into a slush with a fork. You can serve this right away, or put it back in the freezer to serve later. (If it turns into a block of ice, microwave it on the Defrost setting for about 3 minutes, and mash up with a fork.)
To serve, mound into a glass and garnish with a fresh lemon verbena sprig. Drizzle about 1/2 teaspoon of honey per glass on top (Drizzling the honey on the leaves makes it look like there are dew drops on the leaves.)
Variations
You can try this formula with any fragrant herb that you think would make a good granita base. Lemon balm would work fine of course, as would mint.
To turn the granita into an interesting cocktail, add some chilled vodka.
Submitted by
maki
on 2007-08-16 17:07.
Filed under:
dessert
lighter
vegetarian
sweet
summer
tea