iSnack 2.0 (Vegemite 2.0) and other bad product names
Emerging briefly from the fray: Long time readers of Just Hungry may know that I am a huge fan of mysterious dark brown yeast extract products such as Marmite. (See my exhaustive comparison of Marmite, Vegemite and Cenovis.)
As a fan, this story in today's morning news regarding the name for a new, 'milder' Vegemite (apparently they just mixed some cream cheese with original Vegemite ...how, uhm, original) almost made me spit up my morning tea. I mean, the name is just begging to be mocked: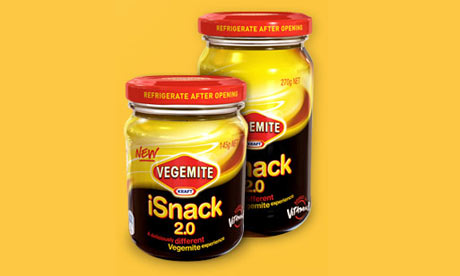 Apparently, the iSnack 2.0 name caused such an uproar in Australia that it has been scrapped, deservedly. Of course, the skeptic in me wonders if this was really a stupid executive decision or a devious marketing ploy. It does remind me of the New Coke brouhaha of the mid-80s, about which similar skepticism still lingers.
What other silly food marketing or naming decisions can you think of?
Submitted by
maki
on 2009-09-30 12:39.
Filed under:
offbeat
food news