Hundreds of squash and pumpkins: A great seed source in Switzerland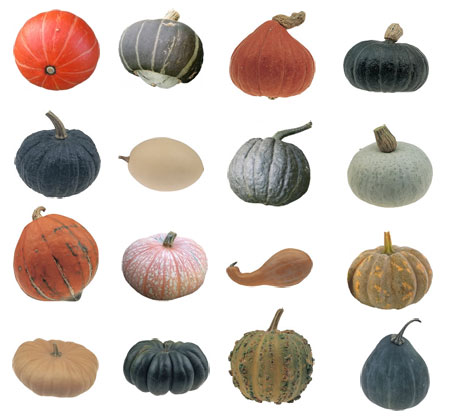 It always makes me happy when I find a small company, especially one that's (fairly) local, doing one thing in a big way. KCB Samen in Basel is such a place - they specialize in squash and pumpkin seeds, and they have literally hundreds of them! Just browsing through their site (which is available in German, French and English) is so much fun. I've been seing more and more squash and pumpkins at our local markets, but the variety on the site is something else. Who knew there were so many different shapes and colors of the humble curcubit? Besides hundreds of pumpkins and squash, they have 64 kinds of zucchini or courgettes, ornamental gourds, and other things too.
They list pricing in CHF and Euro, so I'm assuming they do ship in Europe. Even if you can't order from them the site is a great place to look up various squash and pumpkin types. I am a tomato-fiend, but growing tomatoes outside without any protection is a struggle in our microclimate, that seems to get more discouraging every year - especially like this year when the summer was cold and wet. Maybe I'll switch to squash and pumpkin love...I can't wait for spring to come already!
Link: KCB Samen
Submitted by
maki
on 2007-11-25 20:32.
Filed under:
shopping
produce
switzerland