House renovation and kitchen planning, an ongoing saga
My cancer treatments are over for now, and since my body is no longer being bombarded by gamma rays and such, I am feeling quite a bit better. So now it's time to get back to the huge task of renovating the old house we got more than two years ago. Renovations have been stalled for months due to all the other crap going on in my life.
One of the first things we are tackling is the kitchen. Folks, I am supposed to be a food blogger/writer. I've written a cookbook and everything. And right now, I have no kitchen. This is seriously cramping my style, to put it mildly, and accounts almost as much as my illness for the paucity of posts on my two food blogs. (I tried to keep up a positive outlook on things and had plans for recipes that didn't need a cooktop, etc. but I'm afraid all that enthusiasm went out the window when the burglars took most of our kitchen appliances.) Due to yet another unwanted dramatic episode I don't even have a microwave or a decent hotplate. We are getting by on one lousy cheap hotplate that was deemed too worthless to take by the burglars, and the old rice cooker. Oh, we don't have a sink in the kitchen area either, and the beautiful new sink in the bathroom already looks banged up because we're using it in ways it was never intended to be used, like scrubbing pots.
Sigh.
So anyway, we are finally back tackling the renovation. When we started this process early last year (!), we decided that we would be our own contractors/designers to save some money. We figured, I'm sort of creative/artsy (or I like to think I am) and The Guy is an engineer, so we can do this, no problem. Big Mistake. We should have hired a contractor for sure (managing the workers and trying to get them to come on time or even on the day they promise to show up, etc.) is a huge headache. Managing the ordering and delivery of materials, likewise. And as far as the design stuff goes - well, I know now why people hire designers. More than anything, it probably halts the confusion over too much choice and the procrastination.
Right now, the kitchen still looks more or less like this:
Except that the floor has been tiled with the new tile, and the blocks have been skimmed with builder's plaster or whatever it's called. The plaster has to be sanded down, covered with white plaster, then an undercoat, then painted or tiled. Ugh.
I did finally order the kitchen cabinets and countertops though.
The cabinets: I did lust for a while after some made to order painted wooden cabinets from a local (well, Marseille) company, like these:
But for all the cabs we needed, it would have cost like, way too much. Besides, sometime during the last year my taste in design seems to have shifted. Before I was all gung-ho for a sort of a 1900s-traditional French style industriel look. I still like that look, but now I'm also strongly drawn to a more modern, streamlined aesthetic too. (You can see some of my kitchen design procrastinations on my Kitchen and Pantry Pinterest board.
So, after much waffling and visiting countless kitchen showrooms, I went with IKEA cabinets. Seriously, I believe they are the cabinets with the best price/performance ratio. I looked at cabinets costing 2-4 times as much that weren't any better in terms of quality. Plus, they have all those neat things to organize the insides of the cabinets. Besides, the IKEA Kitchen Planner thing is addictive. This is how one wall looks, more or less.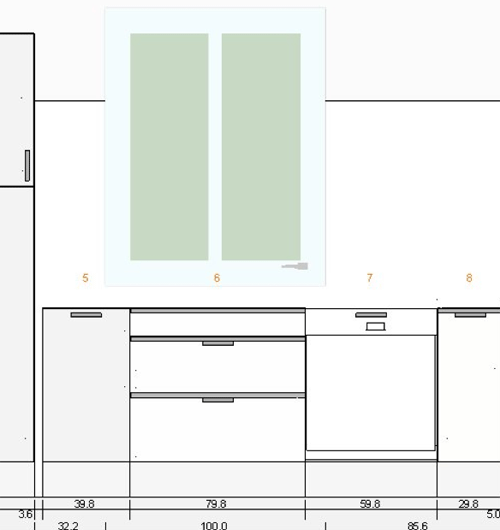 Since this is supposed to be my 'dream kitchen' (I've never planned a kitchen from scratch before), and because we are in an old house with odd-angled walls and floors and ceilings at different heights and such, I've been spending hours and hours and hours on the layout. I wanted to ensure I had plenty of storage space for pantry items, cooking equipment and such. It's really not easy at all.
Countertops: Initially I really wanted stainless steel countertops. I love the look of a professional kitchen, and how easy stainless steel is to keep clean. We briefly rented an apartment in Zürich that had a tiny kitchen with an old 'system kitchen' unit, that had a stainless steel top, and I loved it. However...here at least, stainless steel is prohibitively expensive. It's the most expensive countertop surface you can get. The countertops alone would have eaten up my entire kitchen budget. (One reason could be that they don't seem to be that popular here. We had the hardest time finding suppliers who made stainless steel plan de travail for home kitchens.)
I like the look of wood, but having had wooden countertops in my old kitchen in Switzerland, and knowing how it could get stained and damaged and warped a bit around the sink and things, I did not want wood again. The budget option would have been what's called stratifié here - Formica-type laminated countertops. But...but...I just didn't want to do that. I know they are serviceable and all, but I did not want.
Another option I looked at for a while was marble. I love the look of real marble. However, every dealer we talked to and every other website out there warned against using marble for kitchens.
So in the end, I went for a white colored quartz with a subtle faux-marble look (Compac® Carrara). This is pretty expensive and took up about 60% of our total kitchen budget, but still cheaper than stainless steel. It's said to be very durable, and it's a 'cool' surface, which is what I wanted for my future pastry making sessions. (I have a suspicion that in reality I'll be rolling out pastry 2-3 times a year at most, but it's the dream that counts, right?) Luckily the countertop place we ordered from had a sale going on sinks and taps, so we got those there too. (Stainless steel for those.)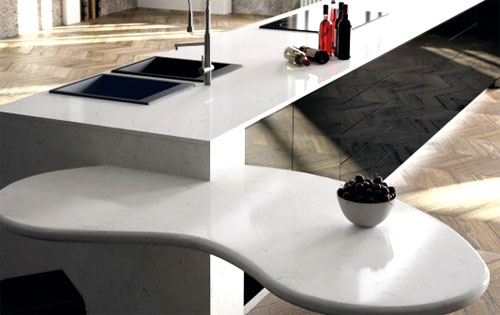 (Other surface materials that I also considered and rejected: resin aka Corian (looks like bathroom material to me, not kitchen); granite (I just don't like the look of most granite - I feel like you can never tell if it's totally clean); glass (I know it's very durable but we have someone in the house who is capable of breaking just about anything that can be broken...); ceramic tile (this is the traditional Provençal look, but I don't like it and the thought of cleaning the grout all the time is too depressing); cement (is cement supposed to be good for you...?) and other natural stone like slate (just did not want a dark surface.))
So, the cabinets are supposed to arrive this Friday. They need to get installed by the 3rd week of May when they come to measure for the countertops. Maybe soon, I'll have a kitchen again. Right now I'm still a bit pessimistic.
So, if you have any kitchen remodelling war stories to share, please do!
Submitted by
maki
on 2012-05-09 11:42.
Filed under:
kitchens