Guinness Marmite!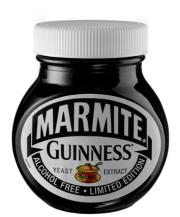 Wow, look at the gorgeous black and white special edition Guinness Marmite jar! Limited to a run of 300,000 jars, this special blend of Guinness and Marmite is on sale in the U.K. right now. I'm not too sure how different it would be in taste from regular Marmite, which is after all a yeast spread. I'm speculating it might taste like the slightly beer-y Cenovis. Now how to get my hands on one... (link via Coolest Gadgets and The Guinness Blog - yes, Guinness has a blog. The portal is a bugger...just say you are from England, and old enough.)
Update: I finally taste it!
Extra from the archives, for all Guinness and stout fans: Irish stout cake with whisky-sour icing.
Submitted by
maki
on 2007-02-19 22:57.
Filed under:
ingredients
offbeat
uk