Ganmodoki or Hiryouzu: Japanese tofu fritters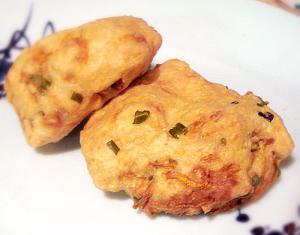 Ganmodoki or hiryouzu are small deep-fried fritters made of tofu and various ingredients. They are either eaten as-is or cooked in a broth. They are used as a meat substitute in sho-jin ryouri, vegan buddhist cuisine. (They are supposed to taste like deer meat, though they don't at all.)
Ganmodoki is sold pre-made in supermarkets, in the refrigerated section, and is usually eaten in an oden, a sort of stew of various fishcakes and such. But store bought ganmodoki, which has the texture of a sponge, is nothing like freshly made ganmodoki. Once you have tried a freshly made, piping hot ganmodoki, it's just about impossible to think about saving them for later.
I have tried baking these or pan-frying them instead of deep frying, but the texture just isn't the same. It just demands that crispy-crunchy delicate crust given by the oil. If it's any consolation, they don't really absorb much oil.
Yamaimo
One ingredient that gets omitted in a lot of English-language ganmodoki recipes is yamaimo, often called Japanese Yam. It is a root vegetable that is tremendously viscous in texture, sort of like the inside of an okra. It gives a sort of bouncy yet light texture to whatever it's added to. You can find fresh yamaimo in the produce section of Japanese grocery stores, cut into sections and wrapped in plastic. It's quite expensive but you usually only need a little bit of it, and keeps quite well in the refrigerator well as long as you re-wrap it in plastic to prevent the ends from oxidizing. The cut ends were traditionally dipped in some fine sawdust for storage. You may also be able to find yamaimo powder (Note to European readers - Japan Centre in the UK carries this). Regular grated potato can be used as a substitute if you can't find yamaimo - it gives a different texture but still adds that sort of bouncy quality. It has to be grated to a fine pulp, not into shreds.
The other ingredients
All the additions to ganmodoki are there to add texture, umami, or both. You can vary it quite a bit by adding things that capture your imagination. You can even turn it into a more Western-flavored item by adding things like green peas, finely chopped and cooked mushrooms, and so on, and eating them with a bit of Worcestershire sauce or even ketchup. However, to my mind the traditional Japanese flavor is the best.
Ganmodoki
400g / 10oz firm tofu, as fresh as possible
1 dried shiitake mushroom, reconstituted in water, squeezed dry, and finely chopped
About 2 Tbs finely grated (into shreds) carrot
2 Tbs finely chopped green onion
3 Tbs. finely grated (to a pulp) yamaimo or potato
1 egg white or egg white substitute
1 tsp. salt
1 Tbs. corn or potato starch
Oil for deep frying
Optional additions - choose one or several. I've listed them in the order I prefer them:
1 Tbs. canned or blanched gingko nuts, roughly chopped or whole if you have tiny ones
1 Tbs. dried sakura ebi (tiny little shrimp)
1 Tbs. boiled edamame beans (don't add both gingko and edamame, use one or the other)
1 Tbs. cooked hijiki
1-2 kikurage (tree-ear mushrooms), reconstituted in water, squeezed dry, and finely chopped (instead of the shiitake, or use 1/2 shiitake and 1/2 kikurage)
Dipping sauce: _karashi jo-yu_ (mustard soy sauce)
This step is very important and cannot be skipped to ensure your ganmodoki turn out properly. Drain the tofu, and wrap in a clean non-terrycloth kitchen towel. Place on a cutting board, then put another cutting board or similar flat item on top of the tofu. Place a weight on top (such as a small pan filled with water) and leave for about 15-20 minutes, to drain out some of the moisture from the tofu.
In the meantime, very briefly blanch the carrot in boiling water (about a minute).
If the tofu still feels a bit web, put the tofu in another cloth and squeeze very gently - you don't want the tofu to be totally dry, it should be the texture of small curd cottage cheese. Mash up the tofu with your hands or with a potato masher.
Mix all the ingredients with or without the optional additions in a bowl, until it's rather creamy.
Heat the oil to about 160°C / 320°F. Form the tofu mixture into small patties and fry 2-3 at a time (don't overcrowd the frying pot).
Drain well, and serve immediately with soy sauce and mustard (karashi jo-yu). They are also pretty good at room temperature, so are great for obento (pack with a soy sauce foil packet or wee plastic bottle).
Submitted by
maki
on 2007-02-21 14:49.
Filed under:
japanese
vegetarian
tofu
vegan