The Flying Spaghetti Monster!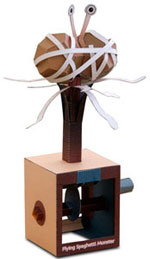 Not quite edible, but how can one resist an animated paper model of that august diety, The Flying Spaghetti Monster? This is the newest paper model by Rob Ives of Flying Pig, a UK company that makes paper animation and other fun paper model kits. This one is available for download/purchase. I have a few of their models and they are a bit fiddly to make, but once they're done they make adorable accessories for around the desk or cubicle. (Just be sure you put them in a place where someone won't sit on it...as happened to my Schoedinger's Cat.)
Submitted by
maki
on 2007-02-08 10:18.
Filed under:
offbeat
shopping
cute