A Frugal Eats blitz through Düsseldorf's Japantown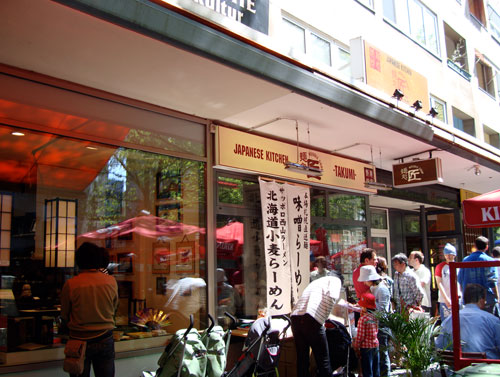 I've long been intrigued by the famed Japantown or Japan Quarter area of Düsseldorf, Germany, but haven't had a chance to go there. It's about a 5 hour drive from Zürich, and there was no work-related excuse to go there - until last week that is. So, following up on my mostly Japanese frugal eats blitz through Paris, here is my 2-day all-Japanese blitz through Düsseldorf.
Düsseldorf has a Japantown because a lot of Japanese businesses have their German or European headquarters there. It is said to have their third largest Japanese expat population in Europe. (I think the top two are London and Paris, though I can't confirm this.)
The Japantown, or Japanese quarter, is centered around Immermanstr.. There are restaurants, travel agencies, appliance stores and the like, all catering to the expat population.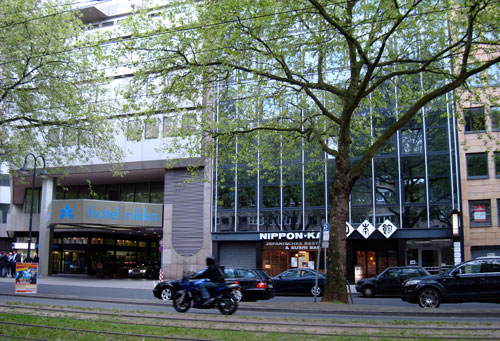 There are grocery stores too of course. The two that are on Immermanstr. are Shochiku and Taiyo Shokuhin. Shochiku is a cramped store that has just about all the Japanese groceries you could want. It seems to be Japanese owned and operated, since the store people were yelling out at each other in Japanese, though the cashier on the second day I went there was an extremely bored looking German woman. (She stared blankly at the Japanese customers asking questions in Japanese; eventually a young Japanese man showed up and sat near the register to politely respond to the Japanese customers. It was kind of funny.) It also carries a lot of Korean foodstuffs - about 60 to 70% Japanese food, 30-40% Korean. There's a nice looking fresh fish and meat counter, which had sashimi-grade fish, and a small fresh produce section. There's a small selection of prepared food like sushi and salads. I saw Japanese familes/couples with small children, Japanese businessmen on their way home from work juggling a shopping basket and a briefcase, and a few German people shopping there.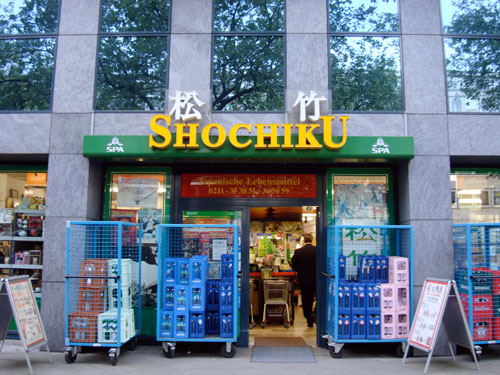 Dae-Yang Asiatische Lebensmittel or Taiyo Shokuhin is just a couple of storefronts down from Shochiku. It is Korean owned and operated (they were yelling at each other in Korean). The customer mix was similar to Shochiku, though there were more Germans there, perhaps because the aisles are bit wider here than at Shochiku. The stock is about 50/50 Korean/Japanese.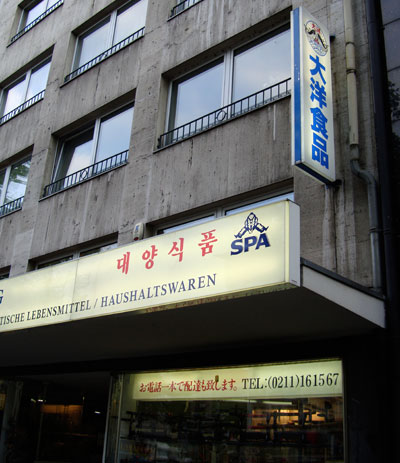 There are a couple of Japanese bakeries too. Here is Bakery Taka, again on Immermanstr.; they have things like anpan, melonpan and of course, Japanese white bread or shokupan. There's a small eat-in area.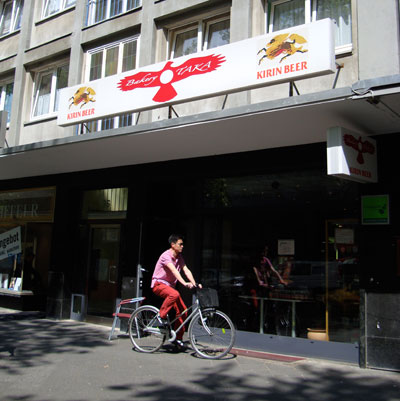 Maruyasu, with several locations in Düsseldorf, is a Japanese delicatessen. They sell bentos, sushi, and cooked food or osouzai. (I wasn't that impressed by their sushi or bentos though. The sushi at Shochiku was better and cheaper, and the bentos were just ok. The onigiri were pretty mediocre to be honest. Surely green seaweed is not supposed to dye the rice a bright green.)
At Takagi, a small bookstore on Marienstr., just a short block south of Immermanstr., there were a noisy group of German tweens squealing in delight at some cute manga or Hello Kitty or whatever. (Actually there were quite a few Germans who seemed to be treating the area like a tourist stop. There was a group of about a dozen older teenagers in Taiyo/Dae-Yang getting all excited by the Japanese candies, and a group of 5 middle-aged people loudly wondering amongst themselves what this or that food was and making rather rude comments, as though they thought none of the Asians around them could understand what they were saying. A bit off-putting.)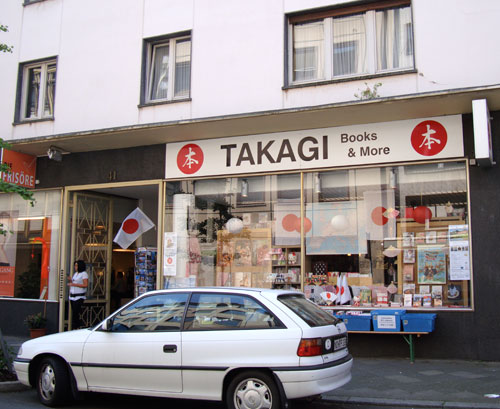 Once more to the ramen
What cheap Japanese food does a Japanese expat crave? That's right, ramen, as I did in Paris. From perusing some Japanese web sites, there aren't that many ramen places in Düsseldorf, but the one we went to, Takumi at Immermanstr. 28, was not bad at all. All the seats, including the outside tables, were filled at 12 noon on Saturday, mostly with Japanese families. (At the table next to ours, a young mother breastfed her baby under a discreet large bib before tackling her ramen. That kid is going to grow up to be a ramen lover for sure.) Takumi is a Sapporo style ramen-ya, which means the soup is a bit lighter than other styles (Kyuushuu style, Nagoya style, etc). Here is negi ramen with shio (salt/plain) soup. It was very good, though the noodles could have been better. A level better than the ramen I had in Paris I'd say.
The Guy had their egg ramen (it had some cute name, like Ajitama Ramen or something, but I may have that wrong) with miso flavored soup. It was really nice, but what blew us away were the freshly cooked, crispy, juicy and meaty chicken karaage.
So is Düsseldorf worth a detour?
As a tourist destination, the city itself lacks the character and atmosphere that you get in many other German cities. It's a strictly business kind of town. As for the Japantown itself, similar areas in say, New York's East Village or Los Angeles or San Francisco, or even Paris or London, are really more vibrant and interesting. On the other hand, if you live nearby (especially in Germany) and want to do a bit of Japanese grocery shopping and the like, it's a good place to go.
Overall though, I was a little underwhelmed by Düsseldorf. One thing I noticed was that the Japanese people walking around there really stood out, in the way that Japanese expats in Paris, or London, or New York, don't (it's easy to tell the tourists apart from the residents in New York for example). The way the girls/women dressed for instance was very Japanese and not at all adapted to their location, if that makes any sense. I am guessing that the Japanese community in Düsseldorf may stick to itself and doesn't really try to become part of the overall city or German culture much. I could be wrong, but that's the impression I got.
Addresses
Takagi GmbH Books & More 高木書店

Marienstr.41
40210 Düsseldorf
TEL: 0211 2107238
Japanese books, gifts, stationery; Japanese language learning aids. Has a small selection of Clickety-Clack bento boxes. The owner lady is very friendly.
Takumi

Immermannstr.28
40210 Duesseldorf
TEL: 0211 1793308
Mon-Fri 12:00 - 15:00 and 17:30 - 22:30, Sat-Sun 12:00 - 22:00
Sapporo-style ramen restaurant. The young staff don't seem to speak much German.
All the other addresses mentioned are listed on the Japanese food stores in Germany page.
Addendum: We stayed at a low-service apartment-hotel via Central Apartment. A low-service apartment-hotel means that they don't come to change your linens and make up your bed every day, but you have a small equipped kitchen, laundry in the building and other comforts of home. The apartment we got was in a residential area just a few blocks from Innermanstr., and was large, modern, light and impeccably clean. The kitchen even had a Zojirushi rice cooker, and JSTV was available on TV. (They seem to market quite aggressively to Japanese travelers.) The rates were very reasonable too. I liked it a lot more than a conventional hotel. The only thing against it was that the furnishings are on the Ikea level, and feel rather flimsy, but it's basically just like staying at a friend's apartment while they are out of town, without their clutter to deal with.
[Update: I got sick of all the debating about using the ß or double-s in the German word for street, so I've abbreviated all mentions to str. This is not a language/grammar site! No more comments on that particular subject will be published. If it bothers you, get over it.]
Submitted by
maki
on 2009-05-05 22:25.
Filed under:
food travel
japanese
restaurants
shopping
ramen
germany