Cherry clafoutis with browned butter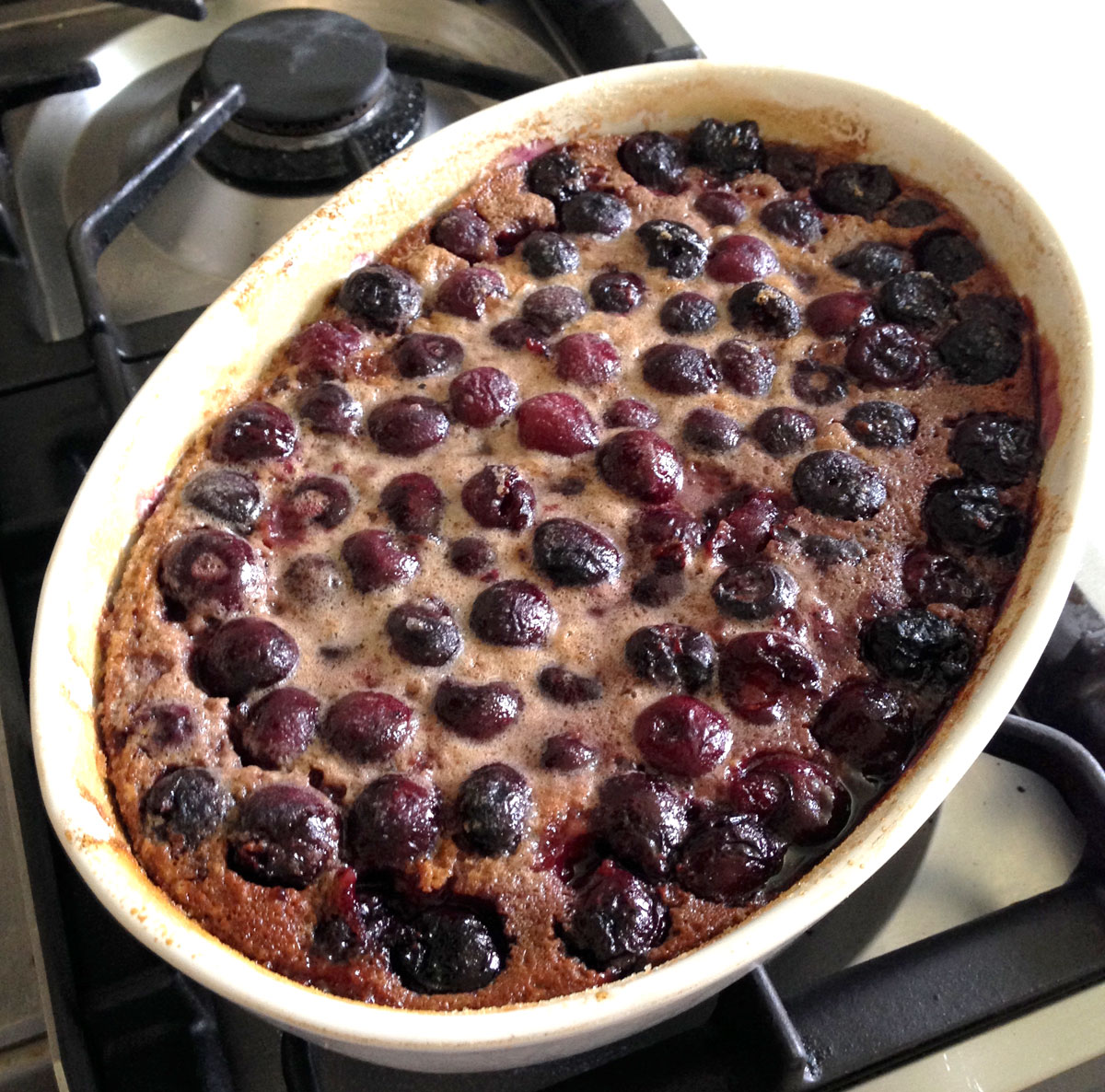 We're just about at the end of the cherry season here in northern Provence. This was a pretty good year for cherries, since we were able to enjoy them from early May onwards. Sometimes they are so freshly picked that the little flowers are still on the stems.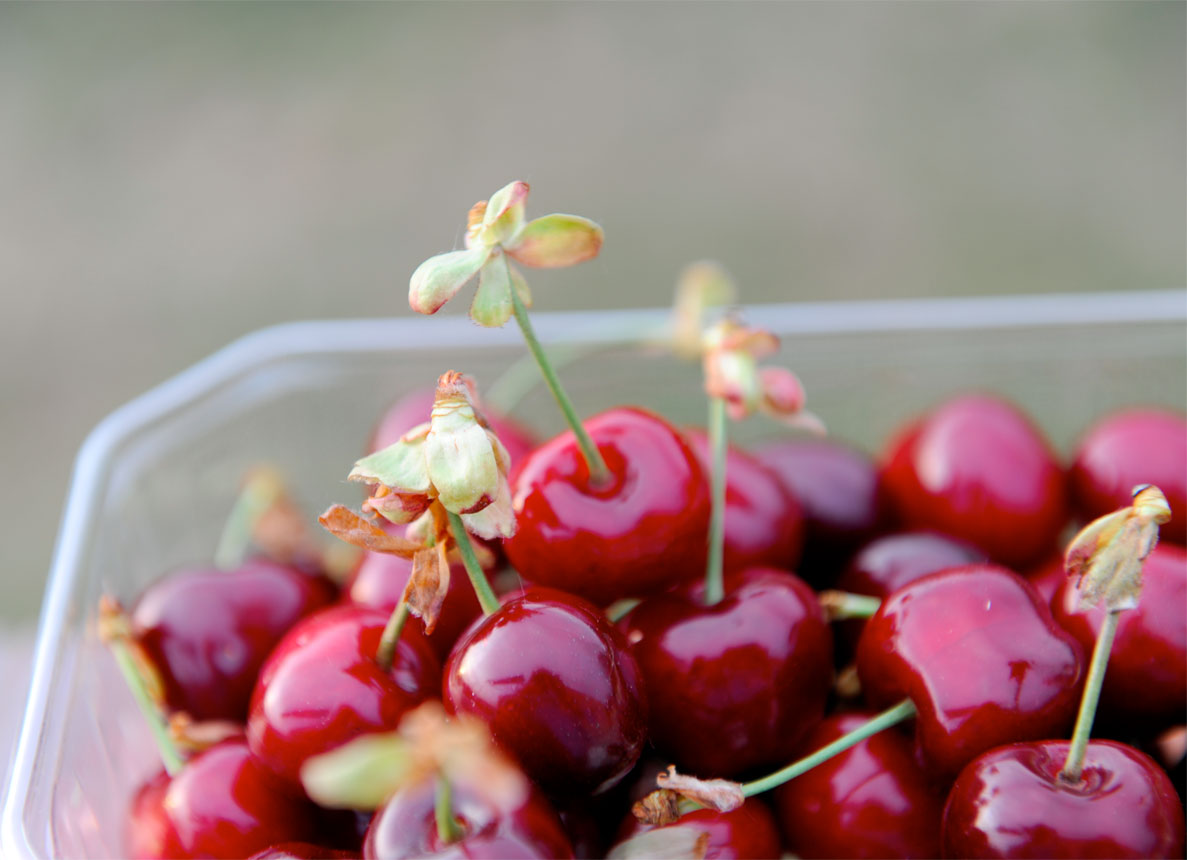 This cherry clafoutis however is best made with late season, ripe cherries - although slightly sour ones will do too. You do need to adjust the sugar amount a bit. But the rest is super easy.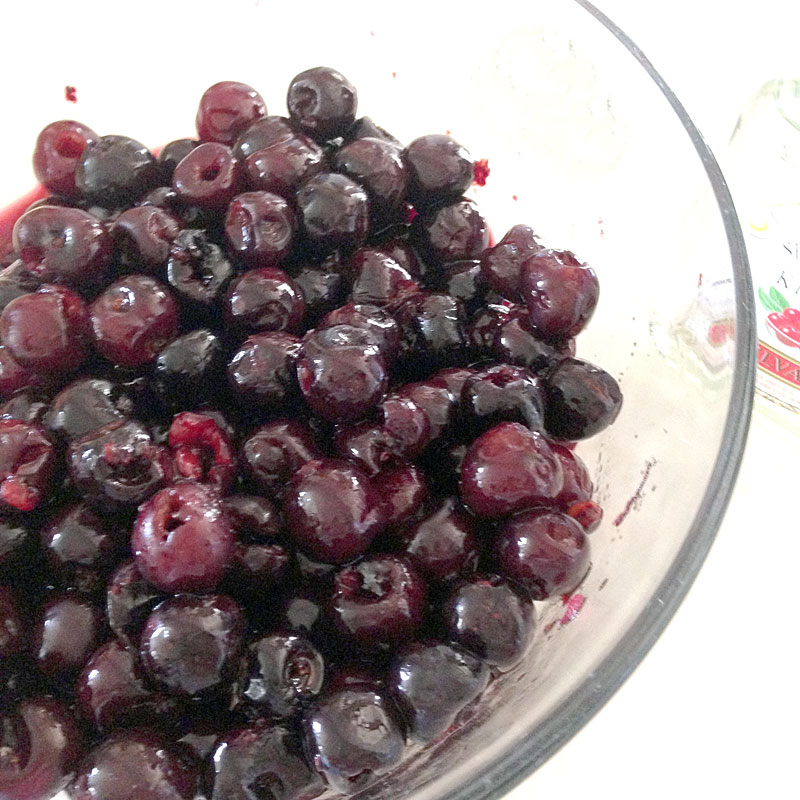 There are several recipes - maybe hundreds of recipes - available for cherry clafoutis. Some have almonds or hazelnuts in some form (sliced, ground, etc.) in them, and some have a lot more flour than this recipe has. My version is basically all about the juicy cherries, surrounded by just a bit of custard. A buttery, nutty flavor is added by using beurre noisette, browned butter. But again, no nuts are added - I prefer a smooth texture for this that is all about cherries. It is good warm (as in, cooled down a bit after leaving the oven) or chilled in the refrigerator, optionally served with whipped cream or vanilla ice cream.
If the name "clafoutis" makes it sound too difficult, just think of it as a cherry cobbler.
Recipe: Cherry clafoutis with browned butter (Clafoutis de cerises au beurre noisette)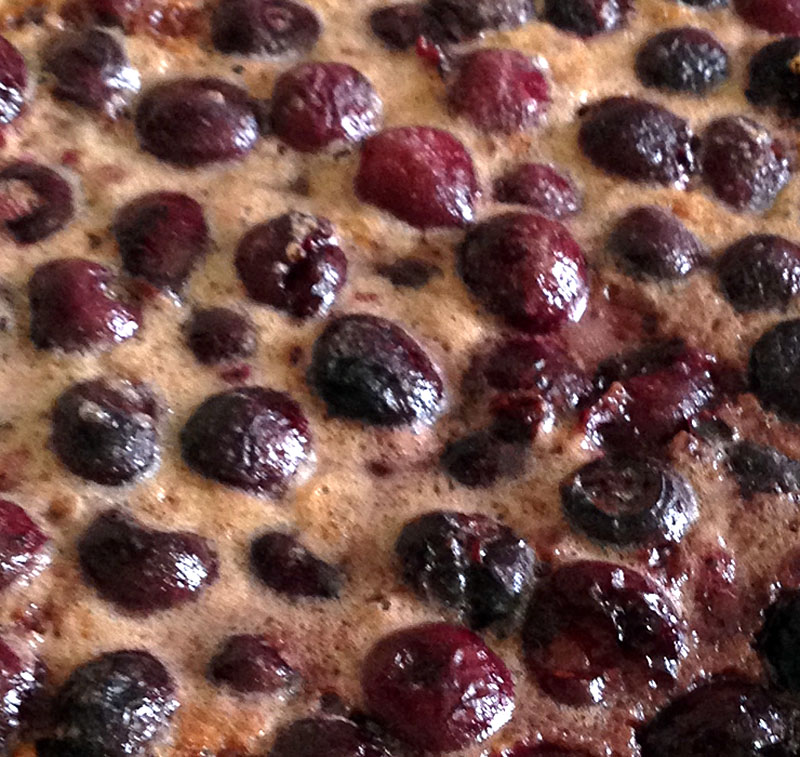 Type: dessert
A tender and juicy cherry-packed clafoutis with browned butter.
Prep time: :: Cook time: :: Total time: (plus additional time for macerating the cherries, and cooling the clafoutis)
Yield: 6 to 8 servings
Ingredients:
450g / 1 lb<

sweet cherries

3 tablespoons

granulated sugar

, for the cherries
2 tablespoons

kirsch

2

egg

, large
a few drops

vanilla extract

2 tablespoons

cornstarch

30g / 2 tablespoons

unsalted butter

125g / 1/2 U.S. cup

whipping cream

a pinch<

salt
Directions:
Prepare the cherries the day before: Wash, de-stem and pit the cherries. (A cherry pitter is a necessity in these parts, but you can just do this with your hands if necessary. It doesn't matter if the cherries get smushed a bit.) Put them in a bowl with 3 tablespoons of sugar and the kirsh. Mix, cover and refrigerate overnight (or at least an hour or two) to macerate the cherries
When you're ready to bake, preheat the oven to 180 °C / 350 °F. (Note: If you have a convection oven, lower the temperature a little bit - about 165 °C / 330 °F.)
Prepare the baking dish (I used a 31 / 21 cm (about 12 1/4 x 8 1/4 inches) oval baking dish). Butter the inside (with extra butter), and then sprinkle it with a little sugar, turning it around to cover the whole surface. Dump out the excess.
Put the 30g of butter in a small frying pan, and melt it until it turns a light to medium nutty brown color. Take it off the heat immediately and pour it into another container, or it will continue cooking in the pan and may burn.
Put the eggs, 3 tablespoons of sugar and vanilla extract in a large bowl and whisk until smooth and creamy. Add the cornstarch and salt and whisk well. Add the cream in a few batches, whisking well between additions, until you have a smooth batter. Finally add the browned butter and whisk rapidly.
Put the macerated cherries, juice and all, into the batter and stir to combine. (Taste a cherry at this point: if it's too sour, add a bit of sugar. If it's too sweet and you think it needs acid, add some lemon juice.) Pour the mixture into the baking dish, and sprinkle the top with a bit more sugar. Bake for 30 minutes or until a skewer inserted in the middle comes out clean.
Cool a bit and serve warm, or let it cool down completely, refrigerate, and serve with vanilla ice cream or whipped cream.
(created by Makiko Itoh; published: )
Notes:
This does not slice neatly - you will need to scoop it out with a spoon. But it will taste juicy, soft and lovely.
In my opinion it's a lot better served warm, but it's not bad when cold.
You can use flour instead of cornstarch - it's just needed to provide a bit of body to the custard. However, the flour will make the custard more flour-y, which is noticeable when it's served cold.
Submitted by
maki
on 2015-07-02 17:32.
Filed under:
french
desserts
sweet
fruit
summer
gluten-free