Borough Market, London: A Very Literary Food Paradise
When I found out that I'd be in London this week for a couple of days, my thoughts immediately turned to what food-related things I could fit into my schedule. Tea and scones, check. Curry, check. A visit to Japan Centre, check. But at the top of my list was a proper roam around Borough Market.
Long time readers of Just Hungry may know that I absolutely love markets, and go to them whenever and wherever I can. One big reason I've decided to move to the south of France is because of the wonderful markets here. So, how does London's oldest market compare to some of my favorites? While Borough Market is not the biggest market, nor does it have the widest selection, or even the best selection, of foodstuffs, it's a very special place. In my opinion, it's simply the most intellectually pleasing market there is.
Let's start with the literary quotes on colorful banners, hanging from the beams: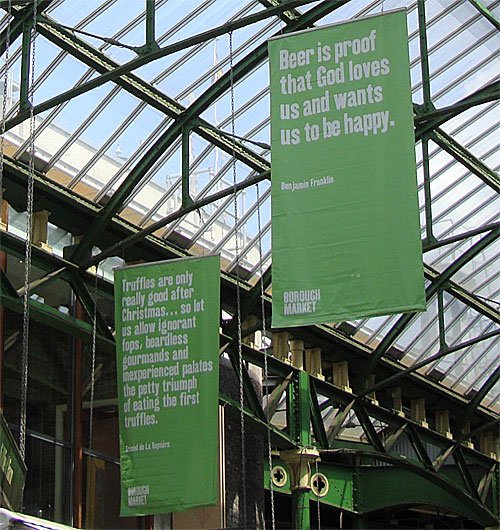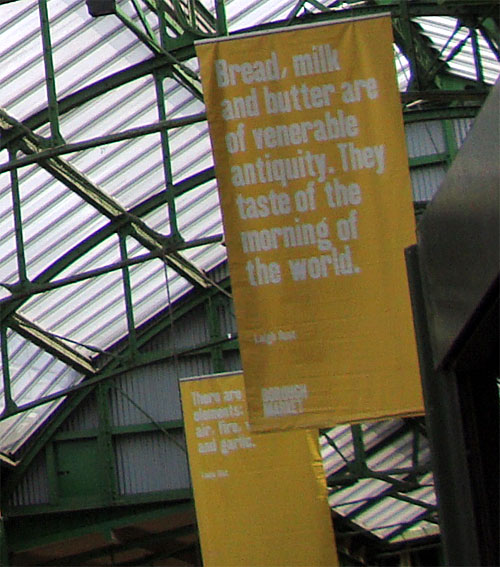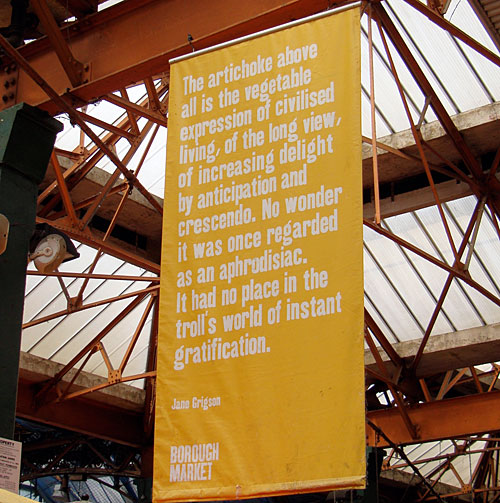 Of course, there has to be at least one from Shakepeare.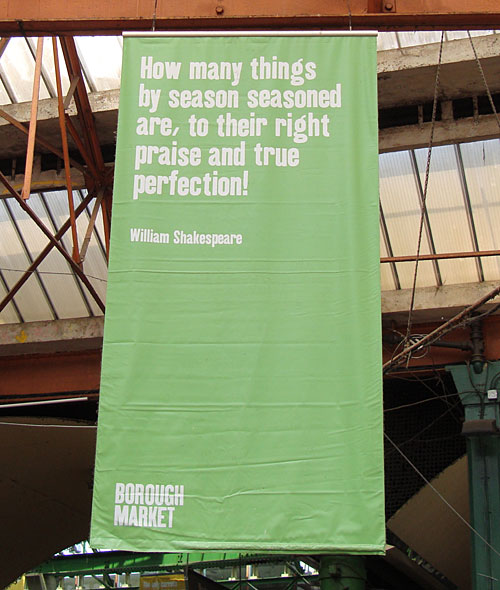 I think this one is my favorite.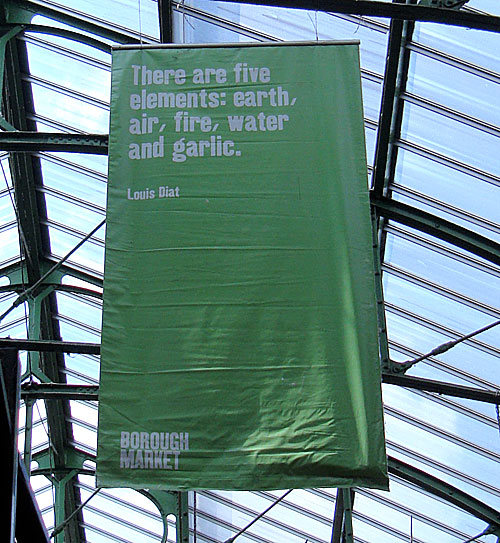 A little lower down, there are the boards displayed by individual vendors. This one is at the Fish Kitchen (aka Fish!), a fish and chips purveyor.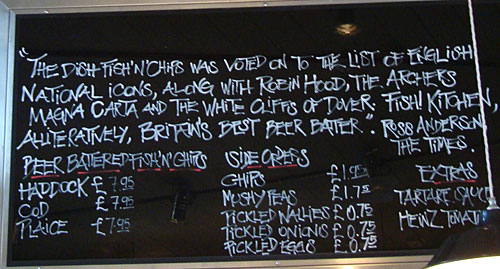 (This is the fish and chips they talk of, eaten sprinkled with vinegar and salt of course.)
This tree shaped sign stands next to a stall selling jams and chutneys.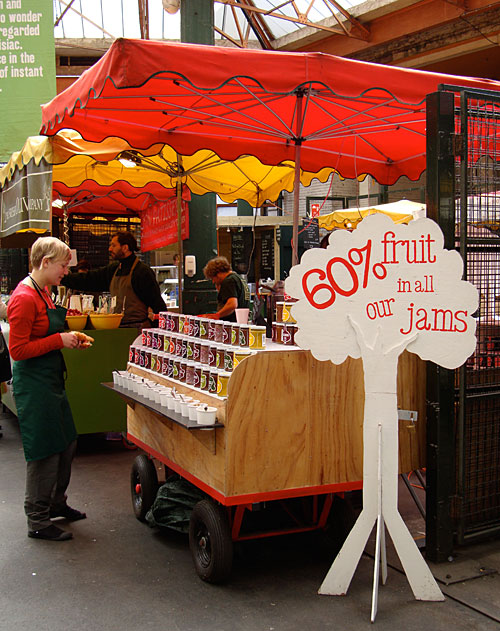 This one is so beautifully done, I wouldn't mind hanging it on my wall as art. I wonder if there are graphic design pros that create these display boards, or if the stall holders letter them themselves?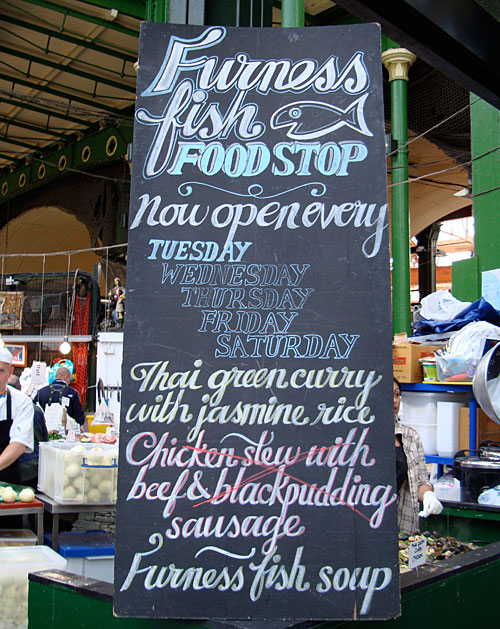 A sign of the times, but with a sense of humor.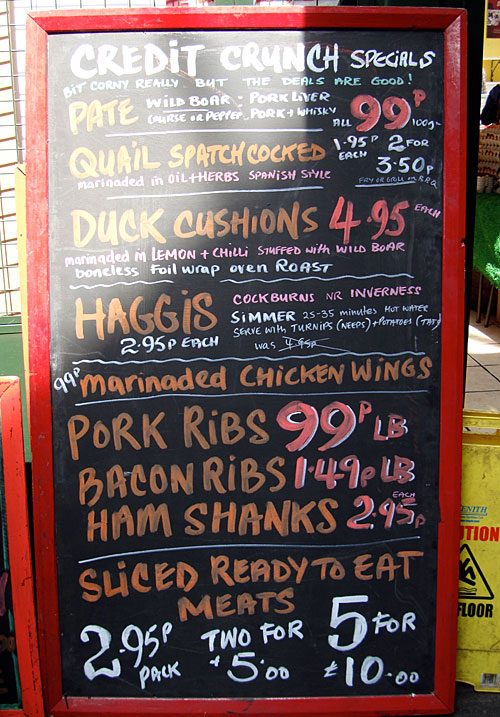 How could you resist pies with such cheerful features?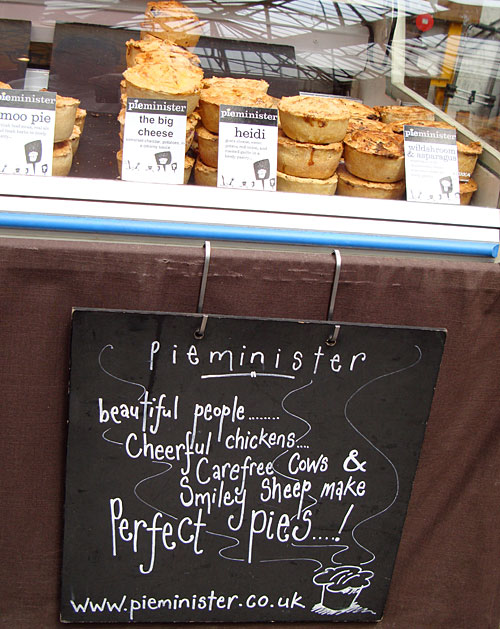 Here's the cheese display at Neal's Yard Dairy. The contents and provenance of each cheese is carefully noted, though of course if you ask the cheesemongers they'll happily explain it to you all over again, together with a sample.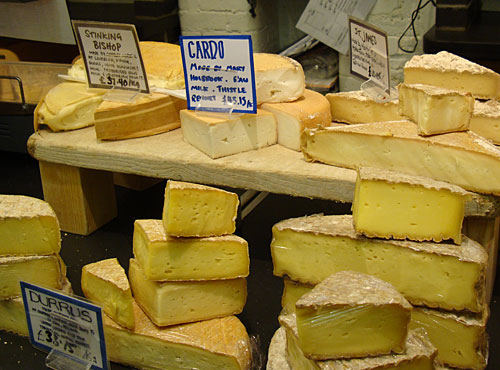 One big cheese, made with love.
It's not just the fans of the written word that are happy here. How about these displays of vegetables, just like still life paintings?
Even humble onions and potatoes get the artistic treatment.
I've seen witty signage and beautiful displays like this elsewhere in the UK, but at Borough Market you get to see the best, all in one place.
Food wise, the prepared foods are the main draw of Borough Market, especially for visitors. You can get everything from fish and chips to Thai green curry to hot dogs to chicken sandwiches. You can eat things on the spot, or take them home with you. And the samples are plentiful - here some rose-scented Turkish Delight; there some date and apple chutney; and how about some gluten-free chocolate brownies, or perhaps some Eccles cake? You could probably make a meal of just the samples. But don't miss out on the meat pies, the sausage rolls, the domestic and imported cheeses, and so much more.
Having spent some of my growing up years in England, I have a special spot in my heart, not to mention my stomach, for British food. I know that British food still has a bad reputation in other countries, but a visit to Borough Market will do a lot to rid you of such misconceptions. At its finest, British food is grand.
Borough Market is open to the public on Thursdays, Fridays and Saturdays. Check for hours and directions on the official website.
(Footnote: My favorite food of the whole market:)
Submitted by
maki
on 2009-06-12 18:44.
Filed under:
food travel
shopping
uk
london