Back! Apologies, and a mystery
I'm back home from Provence, both in the physical sense and the interweb sense. I actually lost Net access for the past two weeks (we thought we had something more convenient but it turned out we needed to drive 30 minutes one way to get to a WiFi spot, and well...other things sort of took priority). What I need to get into my head is that in this day and age, being offline for so long is not a good thing. It's sort of like being MIA, for a lot of people that know me. Yes, I confess I didn't even check my email for two weeks. So...if this affected you in relation to your food related questions and so on, I apologize. Next time I go away I'll make sure I can at least get online once a day.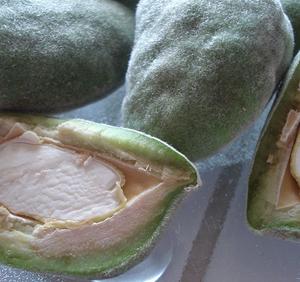 I'll have a lot, lot more to say about my trip later on, but in the meantime, here is a little mystery. Can you identify these? (Click on the image to get a bigger view. RSS readers will have to go to the site to do this.) I'd never seen them in this state before.
While the food in Provence is glorious - the freshest vegetables and fruit ever, tons of fresh garlic, and delicious cheeses, fragrant herbs - I really, really missed Japanese food. I did bring a (very small) bottle of soy sauce with me, but no rice or any other ingredients. (Curiously I found nori and soy sauce at the local hypermarché, but no Japonica rice, or most other needed ingredients. So I'm not sure what rice the people of Provence make sushi with.)
Last summer, I had to make an emergency stop at a small Japanese-Korean restaurant in Aix-en-Provence to take care of the withdrawal symptoms, but this year I toughed it out for three whole weeks. But anyway, the first thing I did when we got home last night? Make a potful of rice and have a bowlful with an umeboshi. I think the older I get, the more Japanese I'm getting. If my long term plans to Get A Place In Provence work out, I'm definitely going to have to sort out the Japanese food supply situation.
Submitted by
maki
on 2007-06-24 18:31.
Filed under:
food travel
site news