Another New York roundup: From Bagels to Madison Park
I still consider myself to be a New Yorker (technically I am) and go back there at least once or more a year. So I don't write about my trips there all the time. This time I did have more than a few notable food encounters, so here is a not-so-short roundup.
State of Japanese grocery stores in the NY area
The sad news is that JAS Mart seems to be closing up shop, one store at a time (the one on St. Marks Place was still open when I passed by, but who knows for how long? The other two seem to be gone.) The Konbini store in Port Washington on Long Island also was shuttered, even though they only opened earlier this year I believe. On the other hand, Sunrise Mart has a relatively new store (maybe a year old?) in SoHo (see the updated Japanese grocery store list for the Tri-State area) so the Japanese shopping needs of downtown residents are fairly well taken care of. Here's a takeout bento from Sunrise Mart. It was...okay, nothing special at all, but edible, and a reasonable lunch deal.
Mitsuwa is still going strong. I went to the Autumn Food Festival in late October, which was quite fun, though personally I think they should have tried to have more people who could explain, in clear English, what the food was about. It's quite clear to me (from repeated visits over the years) that the Mitsuwa customers are now more non-Japanese than Japanese at this point, but Mitsuwa management hasn't quite caught onto this yet somehow. The food festival people (mostly ladies) were quite sweet though, trying as hard as they could to explain things. Here's a ramen from some 'ramen master' only available during the festival that I had there...it was a shoyu ramen (meaning the soup has a soy sauce base), and pretty good. A level better than the ramen they usually have there.
Incidentally, for most of the time I was staying somewhere on Long Island, and getting over to Mitsuwa is more of a pain in the ass than I remember. It takes at least an hour and a half to get over there by car in non-rush hour periods, either avoiding Manhattan and going via the Whitestone or Throgs Neck bridges, or via the Midtown Tunnel or the 59th Street Bridge. So, I looked more closely this time at the Japanese stores on Long Island, and you know - for 95% of your Japanese grocery needs, Nara Foods in Port Washington and Shin Nippondo in Roslyn are more than adequate - and their prices are quite fair. So if you're living in Nassau or Suffolk, or even Queens, unless you are on a major shopping trip, save yourself the hassle of going to Mitsuwa and stick with these two long-established businesses (see the listings page for addresses and hours). In addition, the Korean supermarket chain H-Mart is opening chains at a rapid rate from Queens out to Nassau, and you can get a lot of produce and other foodstuffs that are used in Japanese cooking there - though make no mistake, this is primarily a Korean food store (it helps to know how to tell Korean writing from Japanese writing apart here).
Bagels, bagels, bagels, and the things that go in them
Ah, nothing beats a New York bagel. The thing is, it's possible to get perfectly acceptable bagels in many places in the area, not just from the famous ones. I personally am not a fan of the H & H Bagel style of slightly puffy bagel - I like mine to be on the slightly chewy, but not doughy, side. My favorite outer-burb bagelry may be Magic Bagels in Valley Stream (Yelp page) - their bagels fit my criteria of a good bagel quite well -- a bit chewy, shiny crust, and not too big. Another one that I went to a lot, especially on the way to court for jury duty (one reason I was in NY...) was Bagelman in Garden City, which is near my former home, ye olde Manhasset (Yelp page). Bagelman bagels are a bit on the doughy side for my liking, but still good. The point is that decent bagels are the norm rather than the exception...something I sorely miss here in Switzerland! I have to make my own to have decent bagels...and even I don't want to do that all the time.
I was rather surprised and more than a bit disappointed to find two of my former favorites to be beyond par, though I only tried them once each. One was Ess-a-Bagel - were their bagels always that overwhelmingly huge, and more than a bit doughy? Did they change? Also, although I know - and tell anyone that asks, or not - that bagels get stale very fast, I was surprised to find that Bagel Oasis bagels tasted really stale - like day-old stale - an hour after purchase.
Now, I am somewhat ashamed to admit that I have never before been to the New York institution called Russ and Daughters. What can I say - the furthest south I've lived in Manhattan is Murray Hill, and I never made it downtown much, except for targeting shopping expeditions to Pearl Paint or something. (When I lived for a year in Jersey City, I just passed through the World Trade Center from PATH to the E train, and only exited sometimes for sidetrips to Century 21 or J & R). This time around I went on a whim when I happened to be in the neighborhood (the Lower East Side)...and ended up going back four more times in the span of a a couple of weeks.
Russ & Daughters, for non-New York people, is gem of a store. It's an old time Jewish appetizer store - meaning they sell things that might be lumped together with 'deli' these days in most parts of the country. Their smoked fish are legendary, and they also sell all kinds of cream cheese or fish spreads, caviar, Jewish sweets, and more. For people who are afraid of 'those rude New York people', I can tell you that the Russ & Daughters store personnel are really, really nice. (Although I have to say I've rarely encountered truly rude store people in NY, contrary to stereotypes. Brusque sometimes yes, but not outride rude. Unless you count those rude/bored teenagers, who are rude/bored anywhere.)
I will not say that their bagels are the best - they are a bit on the overdone side for my taste - but the texture is just about right, and the fillings - oh my. I still dream of the whitefish and salmon salad on pumpernickel, or the scallion on an everything bagel, or the caviar cream cheese on anything, including my finger.
The tour de force is the Meshugge sandwich - a bagel with smoked salmon, smoked sturgeon, smoked sable and cream cheese inside. It's a bit on the salty side for me, though terrific washed down with ice cold beer (for lunch, you know, not for breakfast):
Speaking of Jewish cuisine...
Besides bagels, another very New York Jewish food I have to indulge in as much as possible when I'm there is matzo ball soup. Here's a typical 'cup' serving at a Long Island diner: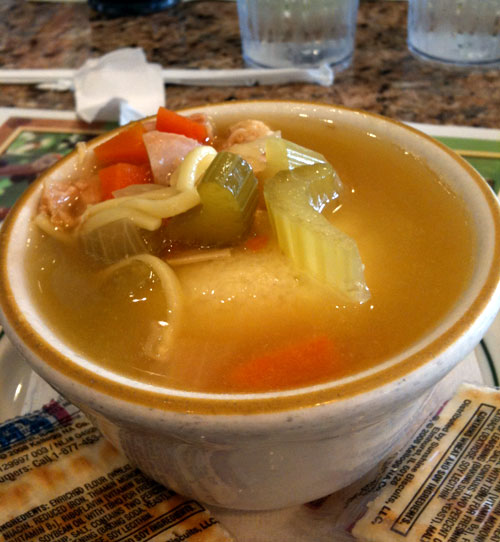 To me, a well made (light yet not insubstantial, fluffy yet still hefty, large yet not humongous) matzo ball in a rich, clear chicken soup is the best kind of soup dumpling there is, It mystifies me as to why it's not more highly lauded. Slap a French name on it and see if it rises up the culinary snobbery scale a bit. (I have similar feelings about canned corned beef...called it rillettes de boeuf americaine and let's see what happens.)
But yet...
For all the good to great bagels I had and all, I have to say that most of the food I ate in New York was disappointingly mediocre. I wasn't sure if it was me, or the food. For one thing, a combination of circumstances prevented me from doing too much in the way of cooking, so I relied more than I should have on takeout and eating out, mostly in the vicinity of Nassau County and the fringes of Queens, where my father lives. (My father's kitchen, which is only used to rinse mugs and boil water most of the time, is sort of unusable.) Eating out is fairly cheap and easy in this area - I counted 5 McDonalds, 4 Starbucks, plus at least one each of Wendy's, KFC, Burger King, Taco Bell and Boston Market within a 3 mile radius of my father's house, not to mention at least 6 diners and numerous Chinese and Indian places. But it was mostly really blah. It saddens me that that's what my father eats on a regular basis, but he never learned to cook and is not going to learn at his age, so there's not much I can do. And it rather seems to me that it's how many people seem to eat. Maybe my perception is skewed though - on one of my last nights there, as I was walking out of a diner after what I thought was a very lackluster dinner of Swanson's quality potroast, clearly made-not-from-scratch mashed potatoes, and the worst tasting steamed broccoli I've had in ages, I overheard a lady exclaim, "That was so good!" I should have had what she was having.
Maybe I am off key...
I did go to some other, more lauded eateries. (For various reasons I missed out on going to Flushing for a dim sum fix, or Sunnyside for Korean barbeque, which I regret. Next time!) I hate to do negative reviews, but let's say I did try a few of the places kindly suggested in the comments for this post, and I can't say I was impressed enough to dwell on the experiences for the most part. When I'm eating out, I firmly believe in getting a good price-performance ratio -- that is, there has to be good bang for the buck. I certainly don't expect a cheap neighborhood joint to match the quality of an expensive multistarred restaurant, but there should be good, honest food to be had at either place. I am not sure I encountered that enough during my weeks in New York this time, notwithstanding the positive experiences I've detailed above.
Maybe it's me. I don't know.
One final highlight: Eleven Madison Park
To end on a brighter note: The best restaurant I was able to get to was Eleven Madison Park. It seems to get mixed reviews on various sites, especially after getting the fourth star from the New York Times, but I absolutely loved everything - from the attentive and friendly yet not too in-your-face service (something to expect from a Danny Meyer establishment) to the understated yet delicious food. It was a thoroughly enjoyable experience -- and, I thought, even quite reasonably priced for the quality. The only minor quibble I had was that the former bank-lobby-ish space was a bit chilly. Also, and this is entirely selfish I know, but I was just a tiny bit disappointed to learn from our friendly waiter that the chef, Daniel Humm, is Swiss! I was looking for a more all-American experience! The food in any case is usual sort of your Californian-French kind of thing. Anyway, some food porn from there.
The amuse bouche was pretty, yet sort of unmemorable....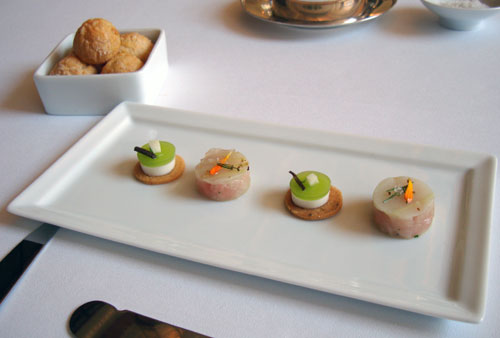 ...but the gougères (salty choux pastry puffs) with a sprinkle of salt were addictive. I wanted a whole basketful.
My dining partner's first course was this pretty beet salad.
Mine, which I thought was far superior yet curiously familiar (sort of reminded me of the creamy soups you get all over the place in Switzerland, in particular Geflügelcrêmesuppe) was this chicken velouté with crispy chicken skin bits...eh gribenes if you will...and truffle shavings. Just gorgeous.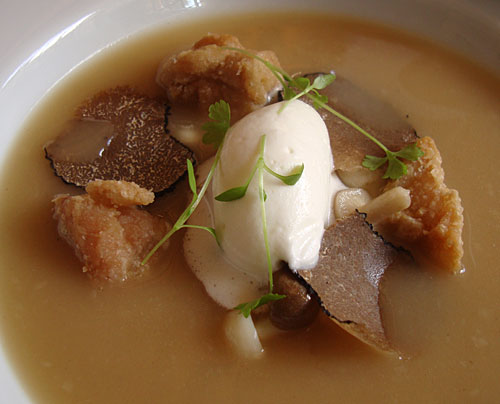 The highlight might have been the second course for me...this slow poached egg in a foam of...something (I should have taken notes) with a Parmesan crisp. The crisp was actually just a bit too much (added too much salt) - in my humble opinion the dish would have been perfect without it, with just a simple green garnish of some sort. But that egg - oh my! It reminded me of the onsen tamago (hot-spring egg) I had in Japan... (I guess that slow poached eggs are now one of the 'in' things.)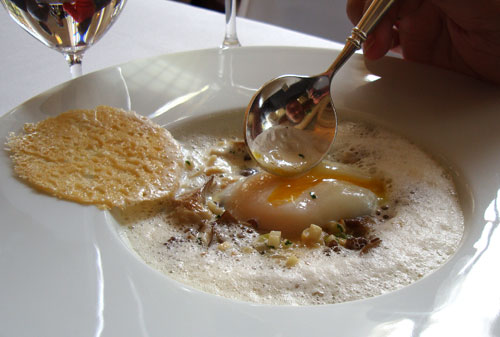 The main course for both of us was this suckling pig, which I think was poached in lard. The skin was paper thin and crispy, the meat was fork-tender. My dining partner thought there might have been a sous vide step in there somewhere, but we didn't want to sound like food dorks and ask 'does the chef use sous vide for this?' (Actually there was a fairly advanced food dork dining alone at the table next to us, constantly muttering to himself about the food and peppering the waiter with questions, but I digress.) For me it just lost in a photo finish to the poached egg dish.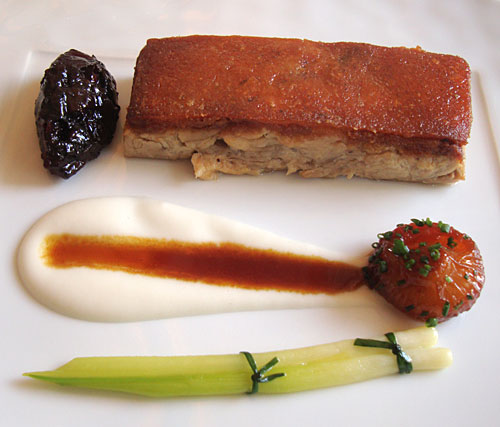 My dessert was a dense chocolate tart...all that a chocolate tart should be, dense and rich. A waiter asked me if I wanted to get artificial sweetener for my coffee. I looked at the tart, looked up at him and asked what's the point? We both laughed.
...but the friandises beat it - this plate of house made macarons. Now, I confess that I am not the biggest fan of macarons - I don't quite get why people go nuts for them (though they are awfully pretty) - but these were very superior macarons. The buttered caramel popcorn one, the fourth from the top I think, was my favorite - it really tasted like caramel popcorn!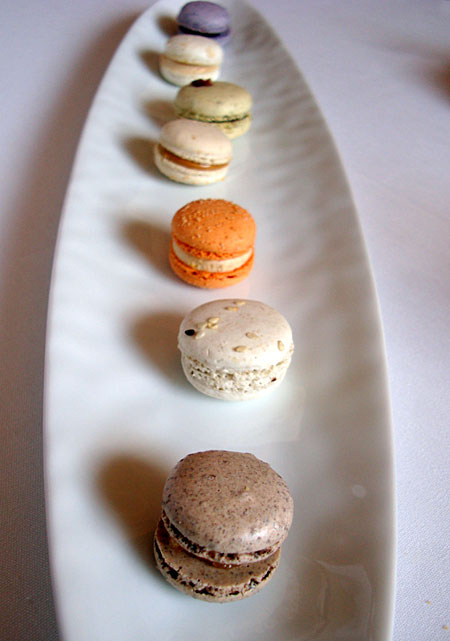 I'm leaving out a ton of things here, but all in all, New York is still a wonderful eating town, with terrific highlights, and some low lights that you just have to dodge if you are determined to eat well. And the best bagels, ever.
Submitted by
maki
on 2009-12-17 22:18.
Filed under:
bread
food travel
restaurants
new york
usa