Alimentum Summer 2008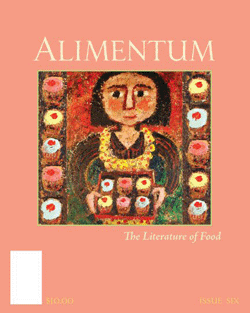 The Summer 2008 issue of Alimentum is out. This quarterly journal of food writing which includes non-fiction, short stories and poetry, is one of my favorite magazines of any genre, let alone food. In my current purge-decluttering mood, it's one of the few magazines that I am keeping all issues of. See my first review of it here. The summer issue is as wonderful as usual. Did I mention that the illustrations (proper illustrations, no photography) are as great as the writing?
If you're in the New York area, they are having an issue launch party this Sunday, June 29th. There will be a reading, wine, cupcakes(!) and maybe even omelettes. Details here. (This kind of event makes me almost with I still lived in New York, except for the July weather...)
Submitted by
maki
on 2008-06-27 14:58.
Filed under:
books and media