5-a-day lemon honey mustard salad pickles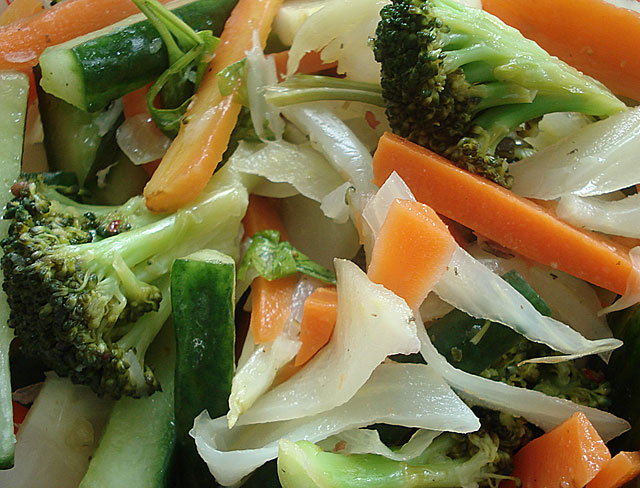 To finish out the week of instant tsukemono or pickles, here is a mixed vegetable pickle with the rather non-Japanese flavors of lemon juice and honey. Despite these flavors it does go pretty well with a Japanese meal, though you can drizzle a bit of soy sauce on top to make it more Japanese-y. It can be made in a batch, stored in the refrigerator, and eaten like salad until it's gone (though you should try to finish it within 3 or so days.) Using lemon as the acid is a nice change from the usual vinegar, as is the honey as the sweetener.
I've called it 5-a-day pickles because that's the recommended number of fruit and vegetable servings you're supposed to eat every day, according to the UK National Health Service, but I often hear people complain that it's hard to eat that many servings. A good sized serving of these mild, salad-like pickles would do the trick in one go.
I've used some winter vegetables since we're still at the tail end of winter (and it's been snowing hard here all week), but any vegetables in season can be used. You could use cauliflower florets, chard stalks, turnips, kohlrabi, celeriac, cabbage, etc. In summer I'm thinking of fresh cucumber, still-firm de-seeded tomatoes, green beans, peppers... Always blanch the tougher vegetables for a short time. Putting it in the marinade while still warm helps the vegetables to absorb the flavors better.
I love the idea of a big bowl of this ready and waiting in the refrigerator, so at least the veggie part of dinner is done.
5-a-day lemon honey mustard salad pickles
Please replace the honey with another sweetener if you have special dietary needs.
For the marinade:
1/2 cup freshly squeezed lemon juice
2 Tbs. honey or your favorite vegan or artificial sweetener
1 1/2 tsp. salt
1 Tbs. dry mustard, reconstituted with a little water to form a paste (optional)
1 bunch flatleaf parsley, stalks and all
1 Tbs. peppercorns
1 Tbs. red pepper flakes (optional)
The vegetables:
1 medium fennel bulb
2 medium carrots
1 small head broccoli
1 celery stalk from the inner parts
1 medium cucumber
Combine the marinade ingredients in small pan. Stir over low heat until everything is dissolved. Take off the heat.
Heat up a large pot of water.
Slice the fennel bulb thinly. Peel and cut the carrots into matchsticks. Cut the broccoli into small florets, and peel and cut the stem part into matchsticks. Cut the celery stalk into matchsticks. Deseed and cut up the cucumber into...more matchsticks.
Blanch the carrots and fennel in boiling water for 1 minute. Add the broccoli and boil for another 30 seconds. Don't overcook - they should still be very crispy! Drain well.
Put the hot vegetables in the marinade and toss well. Add the celery and cucumber and toss some more.
Leave in a non-reactive container, well covered, in the refrigerator for at least 3 hours or overnight. You may want to stir or shake it around occasionally. Here's my favorite container for this kind of thing, a big Pyrex Prepware 8-cup measuring cup with flexible, tight-fitting lid. (I have 3 of these jugs because I'm so afraid someone will break it and I wouldn't be able to buy it again.)
To serve, scoop out some and eat like a salad.
Notes
If you've made the tsukemono seasoning mix, substitute 2 teaspoons of that for the salt, for added flavor.
If you examine this recipe you'll realize that it's very much like European or American style pickle, except that there's no laborious canning and so on involved. In this day and age, unless you are dead set on only eating vegetables you've grown yourself or something and need to preserve your harvest for the winter months, there's not much incentive really to put up jars of pickled vegetables for long-term storage. There is an incentive to make things like jam and tomato sauce for the freezer, but these fresh pickles taste much better than ones that have been sitting around in a dark corner for months. Plus it assembles in minutes. That's been the main point of this week's recipes - to encourage people to re-discover the sour-sweet-salty pleasures of pickled vegetables, but without the fuss. Perhaps, like Manne, you'll be inspired to re-discover the pickles from your heritage.
That's the last pickle recipe for now, though I'm sure I'll be posting more as other vegetables come into season. I hope you enjoyed them!
Submitted by
maki
on 2007-03-23 20:26.
Filed under:
japanese
lighter
vegetables
vegetarian
vegan
salad
tsukemono