Top Chef Season 2, episode 9: Love and Hate
After a two week hiatus, the show returns to our screens big and small, with an extra-longish episode. The theme of the show can be summed up in two sentences:
Everyone loves Michael - even, this week, the judges.
Everyone hates Marcel.
I have been quite down on Michael, thinking he didn't even belong on the show, but this week he really did himself proud, winning both challenges! And with a painfully swollen face due to having a tooth pulled! (They did give away the fact that he won the main challenge didn't they, when the judges finished deliberating and chef Tom said "wow".) We'll see how long Michael can keep up his winning ways.
On the other hand, the main theme for this episode is how everyone absolutely hates Marcel. I know that he brings a lot of it on himself, but I thought that the others were acting very childishly, with the exception of Elia who is his friend. But, he is a little brat (or so he seems), and yes, he puts foam on everything, so I'll pick on him too in this recap. I just loved one of the guest's comments about the pinky foam on his tart for the main challenge, that it 'was like cat spit'.) It does look a bit, well, odd.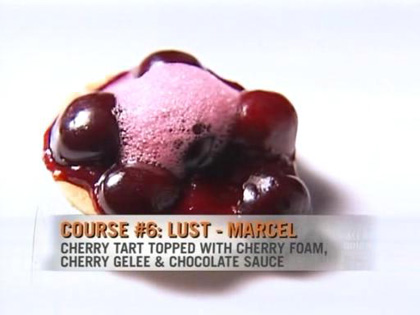 Marcel is really an example of someone who tries to think he's doing 'molecular gastronomy' without a clue, and I guess it's chefs like him who give the whole movement a bad name and make the prominent chefs known for that genre of food to distance themselves from it.
I loved the themes for both challenges this week. The Quickfire challenge of doing a dish based on one color was a lot of fun. Sam's and Michael's stood out for me, at least visually. And the one item from this episode that made me go "I want to try that" was Mike's carrot chips. Special kudos though to Cliff, who did quite nicely despite being color blind.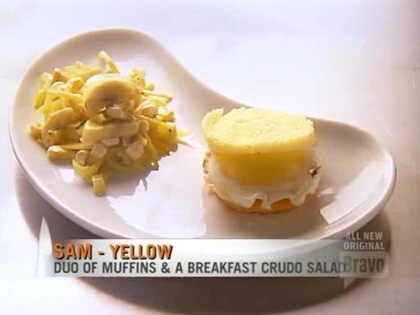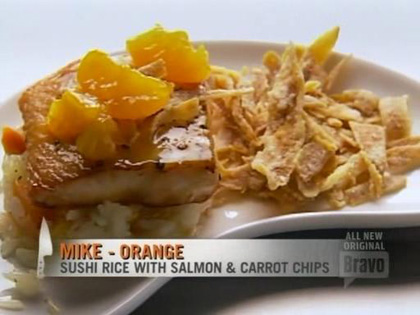 As for Marcel - what was he thinking? A sludge-like pool of coffee with grinds under the dish? Again...molecular gastronomy ideas gone all wrong.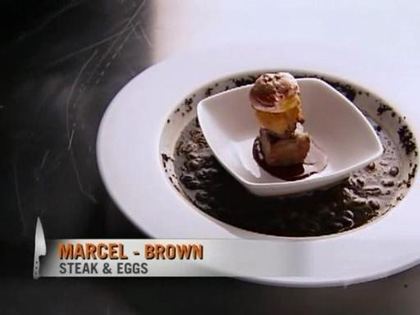 Betty, who may have had the easiest color of all, green, was deemed by guest judge Ted Allen as being the worst. It was basically a dish of vegetables. Not too inventive there.
Michael won as previously mentioned, swollen face and more-than-usual slurred speech and all. Unfortunately for him, there's no more immunity for winning the Quickfire.
The theme of the Elimination challenge, to do a dish as part of a 7-course menu based on one of the 7 Deadly Sins, was inspired, but somehow none of the dishes seemed to really exlempify the given sin that well to me. Sloth is three narrow wine glasses of soup? The two closest ones I thought were Sam's spicy appetizer with the popcorn and Elia's roast chicken, though if she had done something like whole quails or something with tail feathers that would have been even prouder. And...anger = spicy, seems a bit pat. Yes, I am nitpicking. I would have loved to have had a seat at this dinner.
Michael's winning dish had a clever concept for sure - the trout wanting to be a salmon, and "green with envy", covered in a green basil sauce. The recipe as demonstrated by Lee Anne is surprisingly sophisticated. Who knew that he had it in him?
The most awkward yet hilarious moment in the episode was the sight of Marcel feeding one of the female guests chocolate syrup from a spoon.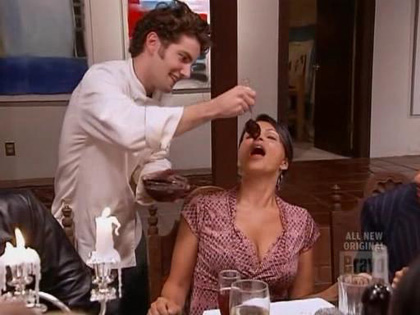 Michael wins but doesn't seem to get anything for winning..not even a box of Ginsu knives. (Maybe they edited something out...) And, despite Ilan's nastiness towards Marcel and "flaccid" (to quote Mrs. Rushdie) funnel cake, and Marcel's foam and the waves of hate directed towards him, Betty was the one to go, for her chunky soup (beetroot and red pepper??) served in wine glasses. And boy am I glad, because she was just way way too annoying.
Next week: the run-a-fake-restaurant challenge!
Submitted by
maki
on 2007-01-05 17:16.
Filed under:
top chef
tv