Top Chef Season 2, Episode 6
I hope everyone in the U.S. had a great Thanksgiving! Jumping into another Top Chef episode recap.
Quickfire challenge: Can you can can
Any decent cook has a stockpile of canned staples, and the contestants were allowed to use any of the fresh ingredients in the pantry as usual, so the only difficult thing about the canned food challenge was the 15 minute time limit. The fact that five contestants were chosen as the winners was the big twist in this episode. All five of the winning dishes looked good enough, though the one that really stood out for me was Ilan's dish. I mean, Vienna sausage, one of the all time great guilty pleasures! It just looked great.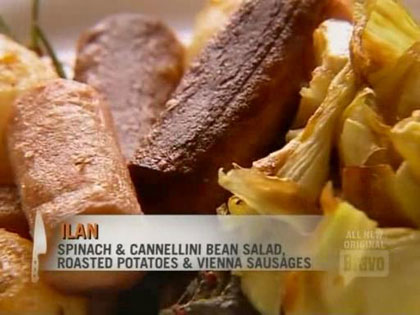 I'm a bit surprised that Chef Tom got so enthusiastic about Sam frying his anchovies - like he'd never encountered fried anchovies? Still, the combination of chick peas and beets with the anchovies sounded great.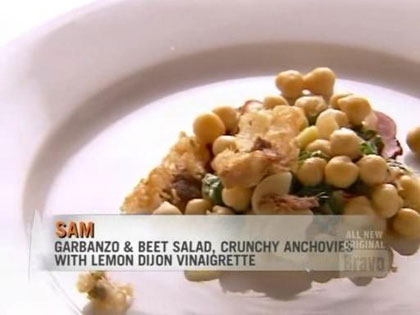 (If you noticed, three contestants - Sam, Betty and Mia - used garbanzos (chick peas). Canned chick peas are almost the same as ones you cook from dry, as long as you rinse off the liquid it's in which tends to have a sort of tinny flavor sometimes.)
Whiny Elia's dish looked like crap on a plate: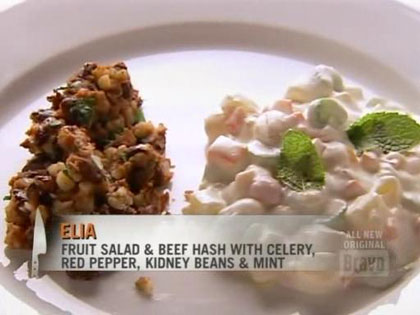 ...while Cliff's dish, which she said she had to spit out, looked neat and clean and appetizing, though I am skeptical about those canned potatoes. Canned or frozen potatoes are usually pretty horrible.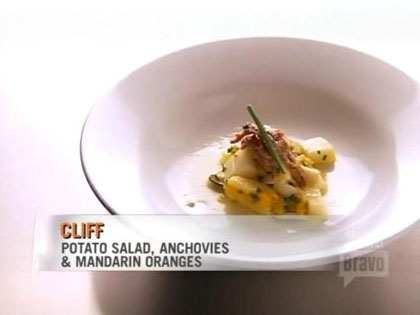 Elia is passively-aggressively annoying to the extreme, and the chocolate facial thing was totally odd. I'm sure Tom colicchio's palate is so much worse than hers...sheesh.
Elimination challenge: Thanksgiving!
If you happen to be reading this on Friday after Thanksgiving in the U.S. you are probably sick of anything to do with Thanksgiving food. But anyway we push ahead.
This part just went horribly wrong. There was very little cooperation or teamwork, people trying to shout each other down (especially the increasingly annoying Betty), and no one except for Marcel following the instructions and trying to create a 'new twist' on Thanksgiving food. Even if his turkey was overcooked, I think he should have won, not Elia - what is innovative about cream of mushroom soup? Adding walnuts makes it innovative? And while Marcel is a rather annoying little brat, I feel bad for him this time with the big bullies Betty and Frank and almost everyone else ganging up on him. I am positive that that whole Frank confronting Marcel thing was a show for the cameras, and it was ridiculous to see a 39 year old man threatening someone playground-style. I am not sure if the season 1 contestants were ever so nasty to Stephen. But anyway, Marcel's cranberry gelee thing with foam really looked nice (though perhaps there was too much of it in relation to the turkey roulade)...and yeah he overcooked his turkey. But at least he tried.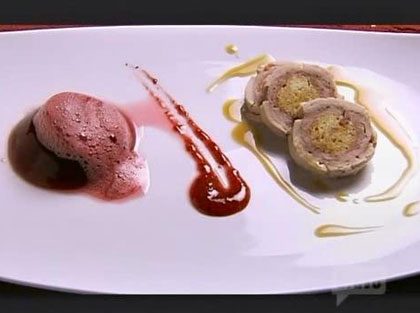 Betty it seems is a lady that cannot deal well with adversity. She lashes out at people, blames them, gets all hysterical, etc. It's not a pretty sight. I used to think she might be a frontrunner but unless she has a drastic change of attitude she probably won't last long.
And Michael...well watching him is so uncomfortable. He keeps up the front that he doesn't care too much but underneath that perpetual smile you can see the insecurity and slight desperation. Watching Anthony Bourdain sort of bond with him was interesting though. Did he really see something special in that guy? Maybe it's a male bonding thing? With at least three much stronger contestants in there in Ilan, Cliff and Sam, and he probably has no chance anyway.
Oh yeah, and Carlos got kicked. He was quite luckluster to me from the start, so I'm not sorry to see him go.
I'm sort of wondering if they need to get rid of the beer in the waiting room...or maybe the producers put it there so that the contestants will act extra-stupidly.
Bonus: Anchovy recipes from the archives
Sam and Cliff both used anchovies in their winning Quickfire challenges. Anchovies are a must in my pantry, always great for a quick meal.
Submitted by
maki
on 2006-11-24 01:03.
Filed under:
top chef
tv