Top Chef Season 2 starts next week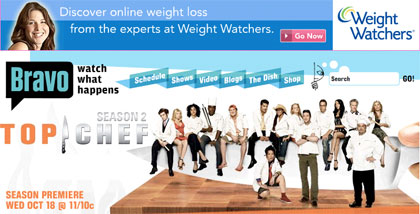 Set your TiVos or iTunes Music Store reminders. The second season of our favorite American cooking competition show is just a week away! New host, more contestants, change of venue to Los Angeles -- could be exciting! (Or, a disaster. We'll find out.)
The first episode of Top Chef Season 2 will air right after the finale of Project Runway next Wednesday. I will only be able to (legally) see it a couple of days later or whenever Bravo decides to put it on iTMS of course, but time permitting I do plan to have recaps of the episodes for this season too. (I'm going to be away for episode 2 and also for two weeks at the end of November, so things will get posted late sometimes.) As with season 1, I'll try to concentrate more on the food and restaurant kind of things since there are plenty of other venues where the reality TV drama/gossip/etc. aspects can be argued in finitum. Let's hope the producers don't misspell as many food terms this season (and that Mrs. Salman Rushdie is livelier than Mrs. Billy Joel was as host).
Incidentally, is it just me or is the big glossy Weight Watchers banner ad on the Top Chef home page, just a bit ironic? Is the message "watch yummy food, don't eat it"? Hmm.
Submitted by
maki
on 2006-10-12 19:55.
Filed under:
top chef
tv