A week of miso soup, day 2: Potato and wakame seaweed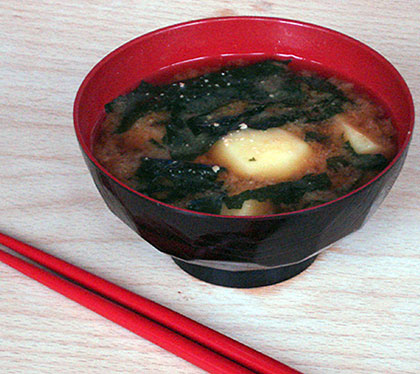 Potato and wakame seaweed is a classic combination, but one that you rarely if ever see on a restaurant menu. I think the reason for this is that restaurants generally cook a huge pot of miso soup in advance, and if you keep simmering potato, it will just fall apart. In any case potato-wakame is one of my favorite miso soups, and depending on the amount of potato you put in, it can be quite filling. I really like it for breakfast, sometimes just on its own.
Wakame is a very versatile seaweed that can be used in salads or soups.You'll see it often as a garnish for sashimi. It's sold in two forms - preserved in salt, or dehydrated. For occasional use, I would recommend dehydrated wakame (often labeled fueru wakame), which is a lot easier to use than the salted kind. Just be careful not to use too much - a little really goes a long way.
Note: if you happen to have some wakame garnish from a takeout sashimi, you can use that for the soup provided that it hasn't been sitting next to raw fish for an extended period. A lot of people find cooked wakame easier to eat than wakame in salads and garnishes. So, if you find yourself always throwing away the garnish, just set it aside as soon as you get your sashimi and put it in the fridge to make a soup. Or - make a soup to accompany your meal!
Potato and wakame seasweed miso soup (jagaimo to wakame no misoshiru
4 cups of dashi stock
2 medium potatoes
1 Tbs. dehydrated wakame
1/4 to 1/3 cup white miso
Prepare the dashi stock following the instructions for Day 1.
Peel the potatoes and cut into small pieces. Put in the dashi stock, and simmer until the potatoes are tender, about 10 to 15 minutes depending on how big your pieces are.
When the potatoes are done, add the 1 tablespoon of dried wakame and stir. It will expand very quickly. Simmer for an additional 3-5 minutes.
Add the miso to the soup. Serve immediately.
Submitted by
maki
on 2006-08-29 17:38.
Filed under:
japanese
soup
potatoes
seaweed