Provence, Part 5: A Heavenly Boulangerie
Baguette au vin et rosette from the village bakery in Montsegur-sur-Lauzon
I have a confession: I planned my vacation around a bakery.
Last year, when we stayed in an old house in the village of Grillon, Madame the owner of the house left us a welcome letter with several helpful notes. It listed local market dates, where the nearest supermarkets were, recommended restaurants, sites to visit. At the bottom of the list was one line: Boulangerie: Montsegur.
We looked at the Michelin map we brought with us. It took the 4 of us 10 minutes until we located Montsegur, which was actually called Montsegur-sur-Lauzon: a tiny spot on the map about 15 minutes away from Grillon.
Drive 15 minutes to go to a bakery? Even our group, dedicated food lovers all, thought this was a bit too much. Besides, the bakery in Grillon produced delicious bread, as most French bakeries do.
The more we tried Madame's other recommendations though, which were all spot on, the more we were intrigued by that boulangerie. So on the very last day, as a detour from driving back home, we decided to investigate this place: the tiny bakery in Montsegur-sur-Lauzon, a hilltop village that only gets a one-paragraph mention in the Michelin Green Guide for Provence.
That's where I encountered the best baguette I've ever tasted in my life. It was chewy yet soft with plenty of body in the crumb, just a bit salty, and a bare hint of sourness. It had character. It was so delicious that we ate it up in the car, ignoring the cheese and ham we'd bought to eat with it.
Since then I've been dreaming about those baguettes, and wondering about the array of other breads in that tiny bakery. When we were deciding where to stay this year, there was one important requirement: that it be within reasonable driving distance of Montsegur.
The place we found to live in for 2 weeks was a 20 minute drive one way to Montsegur. We went there every other day during our stay. And now that I'm back home, I'm dreaming about their bread again. Mind you, we can get very good bread here in Switzerland. But there is something about the bread baked in Montsegur that is extra special.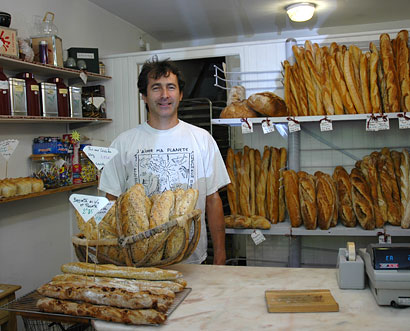 The young and enthusiastic boulanger/owner of the Montsegur bakery, Jean-Pierre Metaud.
This year, the one bread we couldn't get enough of was the baguette au vin et rosette; a crusty, twisty baguette with chunks of a dried sausage called rosette and red wine in it. Yes, a bread with red wine in the dough. We could actually taste the wine, very subtly, in the springy crumb of the bread intermingled with the saltiness of the rosette. It was so delicious and filling, half of one was enough for lunch. We called it the integrated sandwich and had it for lunch every other day, with just water or wine (depending who was driving) to accompany it, and fresh fruit or tomatoes to follow.
Every other bread we tried was terrific too: the baguette au levain or sourdough bagutte; the raisin bread, the muesli bread. One morning, the one who was given the task of driving there to fetch the bread was lucky enough to get there just as the freshly baked croissants came out of the oven. They were so crispy and flaky light that he had to eat them standing up on the street, before they disintegrated and flew away. Afterwards he regaled the disgruntled party waiting at the house, who vowed never to sleep in late again if it meant the chance of freshly baked croissants.
The bakery also has homemade nougat that is light, fluffy and melts in your mouth. I don't like nougat as a rule, but theirs is irresistable. Others assure me that their house made calissons (candys made of ground almonds, melon in syrup and honey) are great too, but I can't get to like calissons. The store is so small that there's often a line out the door. The shelves are decorated with great style, and are filled with a variety of teas, adorable confectionery, and pastries.
It may sound like food obsession gone too far to plan one's vacation around a small village bakery. But once you've tasted the bread, you'll understand why. Since I've come home, I've been thinking why that bread was so good. I've had bread from famed bakeries in New York, Paris, Rome, Strasbourg, Florence; but somehow none of them captivated me as much as this tiny little village bakery did. I think it's because the bread is made in small quantities, with passion, for a loyal group of regular customers who come back again and again. Or maybe it was the sunshine and the air that made it taste so good. Either way, I'm still dreaming about that bread and plotting my return.
Once you've found Montsegur-sur-Lauzon, there's no way to miss the bakery. It's right on the main square, overlooking the church.
[Update, Jun 24 2007] Unfortunately, M. Metaud sold the bakery in early 2007. I write about finding this sad fact out here. Unless something changes, unfortunately the current Montsegur boulangerie is not special enough to plan a trip around...
Some other stores I liked
I'm not sure if these show up in any guide books, but I can recommend them all highly.
Les Grignandises, Grignan. A tiny jewel-like confectionery store in the small town of Grignan, with rather pricey but delicious traditional Provençal candies, cookies, preserves, and more.
Tissus Gregoire, 309 avenue du 19 Mars 1962, St. Saturnin-les-Avignon. This big fabric store in a nondescript suburb of Avignon is like heaven for fabric collectors. Great selection and prices on things that are much more expensive elsewhere like Provençal prints, toile de jouy, etc.

The main Souleiado store in Tarascon. Actually, the store itself is not hugely better than the other Souleiado stores around the region (it is a bit bigger), but this store is worth a detour because it's right next door the the Souleiado museum, which is a real treat for any fan of folk art, Provençal prints, and crafts.

(Note as of 2010: I can no longer recommend going to the Souleiado store....it's gotten rather sad.)
Michel, 59 Cours Mirabeau, Aix-en-Provence. A big stationery and art supply store where I spent about 2 hours browsing...you could have left me there all day, really. (I am almost as nuts about art and stationery supplies as I am about food.)
Moulin Jean-Marie Cornille, Rue Charloun-Rieu, Maussane-les-Alpilles near Les Baux. (Warning: audio that you can't turn off when you load their web site.) I found this place in The Provence Cookbook by Patricia Wells. They make cold-pressed olive oil, basically in 2 grades, from various olives from the Vallée des Baux. Delicious if somewhat pricey. (If you can't make it here or are really pressed for time, they offer mailorder within Europe and in the U.S. too. For something slightly less pricey, I would recommend the cold-pressed olive oil from Nyons that you can even get at the local supermarkets! It has a very mild yet fruity flavor.) (Note as of 2010: I don't recommend this place anymore either. I've since found that the olive oil from Nyons is more to my taste than the ones from Mausanne. Go to the market in Nyons on Thursday mornings to get the olive oil from the producers!)
Submitted by
maki
on 2006-06-26 22:33.
Filed under:
food travel
provence
shopping
france