Let's hear it for ugly fruit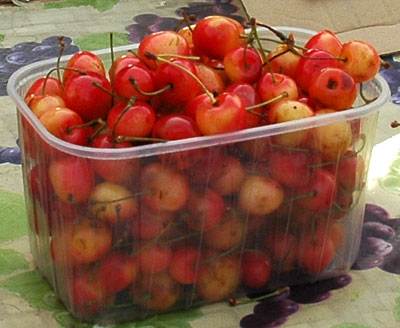 A common complaint that food lovers and cooks have with supermarkets is that they sell smooth, perfect looking fruits that are hard and tasteless. Tomatoes and peaches come to mind as the top offenders.
This week, Waitrose, an upscale UK supermarket chain, started to sell "ugly fruit", or Class II fruit that they are marketing as being perfect for making jam or for cooking. (Class I, II etc. are European Union classifications for produce.) They will be selling seasonal fruit like gooseberries, rhubarb, plums and strawberries this way. The "ugly fruit" will be sold for slightly less than their pretty counterparts.
This is great news for UK food shoppers and I hope that supermarkets in other countries will follow the Waitrose example. A ripe fruit is so tender that a little bruising is inevitable. The reason why I love to shop at markets, here at home or elsewhere, is that the stalls that are operated by the farmers themselves often have slightly damaged yet ripe and luscious fruits. I bought the carton of cherries in the photo for less than I would have to pay at a supermarket because some of them were just a bit brown on the outside. (Not rotten, just discolored.) I did actually buy then with the thought of turning them into a clafouti or something, but they disappeared into our mouths well before I could do that.
The blame for those smooth, superhard supermarket fruits lies as much with consumers as with the sellers though. Don't we tend to automatically reject a slightly blemished apple, or a nectarine with a soft spot? Since most of us are budget-conscious, if those slightly damaged fruit were a bit cheaper maybe we'd try them. I do hope that the Waitrose attempt will be a big success in the UK.
Submitted by
maki
on 2006-06-23 09:03.
Filed under:
essays
fruit
ethics