A Food Lover's Way Of Exploring Provence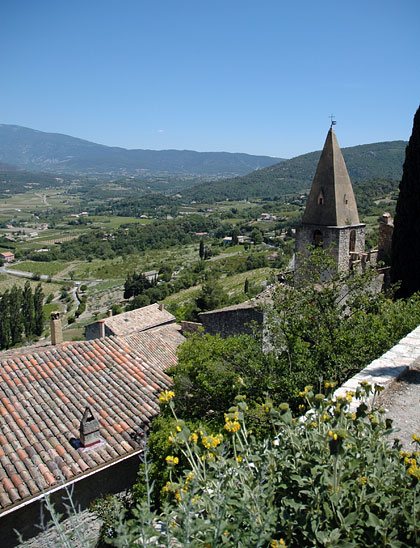 I'm certainly not unique in my love of the Provence region of France. Nevertheless, it's a truly magical place for me. I've been there for at least a week every year for the last four years, and whenever I leave, I dream of the day I can go back again.
There are so many ways to appreciate Provence; the scenery, the culture, the gorgeous weather, the amazing (if slightly maddeningly white) light. And above all, the fabulous food and wine. Since I'm a food lover, and presumably you are too if you are reading this, I'd like to describe how we arranged our recent trips so that we could immerse ourselves in the glories of Provençal cuisine.
The markets are the stars
If I were to arrange a food-centric visit of Paris or New York for example, I'd make sure that I had enough in my money and time budgets for plenty of restaurant visits. But in Provence, the stars for me are not necessarily the restaurants, though there are many fine ones; they are the gorgeous marchés (open-air markets). I love markets anywhere, but the ones in Provence are art, entertainment, education and social event all at the same time. Above all, the quality of the fresh produce is something to behold.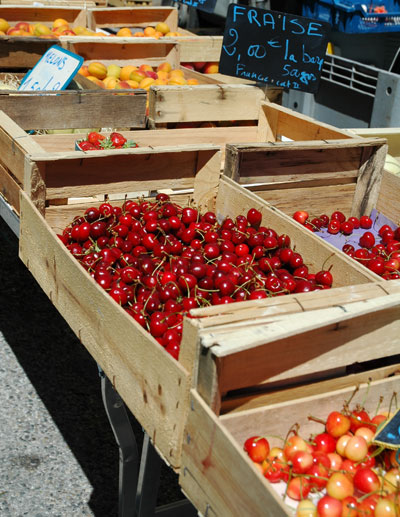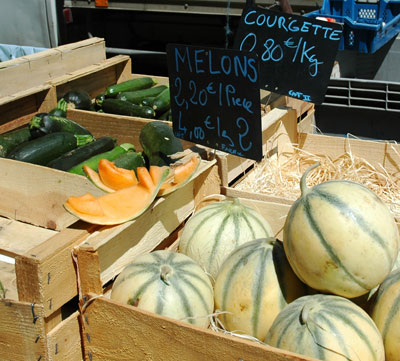 When I visited Provence four years ago with my mother and sister, we stayed at a beautiful hotel and ate most of our meals in restaurants. We loved every minute of every meal. But yet, being food lovers and cooks, we couldn't help feeling a bit wistful when we saw the mouthwatering fruits and vegetables and cheeses and charcuterie and such at the markets we visited almost every day. We could buy some wine and cheese and bread and a few tomatoes and have a picnic, of course, but we wanted to try cooking those wonderful ingredients right there too.
For this, we needed a real kitchen to play in.
Renting a house, with character
Last year, we decided to rent a house in Provence. People in Europe seem to be more used to what are called 'self-catering' holiday homes in the UK than Americans are. A self-catering holiday home basically means that a kitchen in which meals can be prepared is provided. These homes can range from modern "holiday cottages" in purpose-built communities that cater to tourists to luxury villas complete with pool and maid service.
My preference is for something with character, and a little history if possible. The internet is a wonderful place to find such places, and I found a restored 16th century townhouse in the quiet village of Grillon, in the region of northern Provence called the Drôme. It was big enough to comfortably sleep 4 adults, beautifully decorated, and had a pool, a full kitchen and even a barbeque grill on the terrace. All for the cost of a 3-star or so hotel.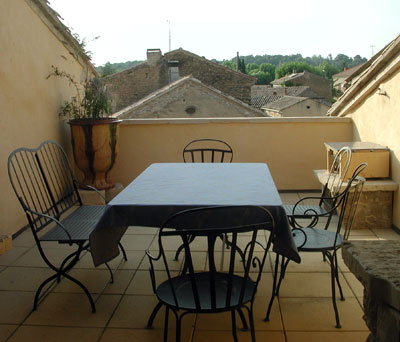 This year, we went for another type of house: a gîte, or simple country house, in the middle of the vineyards of another area of Provence called the Vaucluse. No pool this time (we barely used the pool last year) but I loved waking up to a view over the vines, which were literally at our doorstep.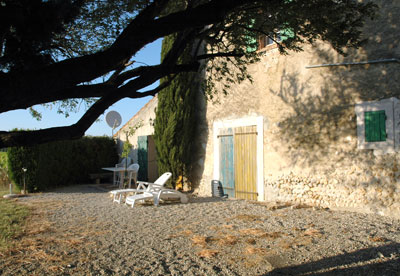 To me, staying at such places that are unique to the area is just as exciting as staying at a 5-star hotel - even if we have to make our own beds and wash dishes. And of course, there's that kitchen. With all the wonderful ingredients available to me, my creative juices were at full flow whenever I'm in Provence.
We found both places on a French web site called Homelidays. This site (available in multiple languages, including English) lists thousands of holiday properties all over France, with the largest number in Provence. So far we've rented 3 properties through Homelidays, and all met or exceeded our expectations.
(Incidentally, we like to rent homes wherever we travel now. We don't mind the bed-making part at all, and love to stay in what are essentially comfortable people's homes. We've rented apartments in New York and San Francisco, houses in England, and houses in Florida. We've only had one sort of iffy experience out of many. Having a kitchen available not only lets us try out local ingredients, but helps to save money too - so that we can splurge on really nice restaurants if we want to.)
Getting Around
My main co-conspirator is a die-hard public transportation fan, but even he agrees that in Provence, you need a car. Train service is really only practical to get to the main cities such as Avignon, Orange, Aix-en-Provence, Arles and Marseille, and frankly the cities are not where Provence is at, as nice as those places are. Besides, you need a car to transport your market purchases.
For people flying into France, the best option is probably to go from Paris to Avignon via TGV, and to rent a car from there. (Look out for Rail and Car type deals.) If you can afford it, a car with a GPS navigation system is very handy because driving around Provence is a bit tricky for the uninitiated. Be sure to equip yourself with good road maps in any case. When navigating, look at the town that is closest to where you are in the direction you want to go to on the map, and look for that town on the Direction road signs at intersections and roundabouts.
For pre-planning and mapping out road directions, the Via Michelin site is the best (much better for France than the U.S.-centric alternatives like Google Maps, as you might imagine.)
Beyond your car, you will be doing a lot of walking, so be sure to wear comfortable shoes.
The essentials
We've found that there are few things that are essential for travel around Provence in summer.
Lots and lots of water. The weather is Mediterranean - that means hot and dry during the day. I normally try to drink around 2 litres (two large bottles) of water a day, but in Provence I think I drink at least 3, if not more, not to mention lots of cool drinks at cafés and such. Water is cheapest if you buy the bulk packs at the supermarkets.
Sunblock, sunglasses and hats!
A cooler. Our typical day was to go to a market in the morning, have lunch (either a picnic lunch with our market purchases or a simple one at a restaurant) then take off on other adventures in the afternoon. For this to be possible you need a good cooler (with ice packs of course) to keep your market purchases nice and cool. It's also handy for keeping your drinking water cold. Even if you just buy a cooler in France and then leave it behind, it's worthwhile. Coolers are available at the large supermarkets at reasonable prices (the LeClerc supermarkets have some very cute yet inexpensive ones).
A lightweight jacket. While during the day it's hot and sunny, it can get quite cool at night and in the mornings.
A decent knife and vegetable peeler. The rental homes rarely have good knives, and a vegetable peeler is very handy for processing all those vegetables you'll be buying. (We have a "house-staying kit" with a small cutting board, peeler, salt shaker and pepper mill, a smallish chef's knife and a small fruit knife.)
The language issue
A lot of people who have never visited France are wary of the reputation the French have for being rude and so on. While you may encounter some of that kind of thing in the big cities, especially Paris, on occasion, I think this is much less of an issue in the countryside. The people of Provence are generally extremely friendly and polite. If you go to a store two times you are a regular; if you go three times you're greeted like a long-lost friend and the proprietor comes to shake your hand. (The exception is certain drivers...)
That being said, it does help if you know at least a few French phrases; French people are generally not very comfortable speaking other languages, compared to say the Swiss or Dutch. (I'll never forget the time I was on a TGV train from Geneva to Paris, where a Greek couple were sitting in seats that a French lady thought were hers. They were trying to communicate with her in English, and at one point she screamed out in frustration, "je suis française, parlez avec moi en français!!!" (I'm French, talk to me in French!!)) If you have the time, the best preparation you can make for any trip to France is to take a basic French conversation class. Failing that, bring along a small phrase book, and don't be shy about saying bonjour, merci, au revoir and such. In the past I've found the Rick Steves phrase books, such as the French one, to be quite handy. (Having taken 3 1/2 years of French in college, my own rusty French is sort of enough to get by without totally embarassing myself, and it's quite handy to port along a French-fluent Swiss or two. Unfortunately I can't rent out one to you though...)
Pick a region to concentrate on
We have learned the hard way that driving distances in Provence are much longer than you might think, since many roads wind their way through tiny villages or through mountainous passes. So, when planning where to stay, it's best to pick one region you want to explore the most and plan on spending most of your time there, with occasional forays elsewhere. My favorite areas of Provence are:
Drôme Provençal and Vaucluse: The Drôme has vineyards, olive groves, apricot trees, cherry trees, lavendar fields...and mainly small, still relatively untouristy towns. This is my favorite region of Provence. The Vaucluse is to the immediate south and east of the Drôme; it's a large area dominated by rolling vineyards and the Mont Ventoux, made famous as the ultimate challenge on the Tour de France. The famous Côtes du Rhône wines such as Chateauneuf-du-Pape and Gigondas come from this area.
Bouche-du-Rhône: This is the area south of Avignon, around Arles, St. Remy, and Les Baux. Olive trees dominate here, and there are also vineyards, fields of sunflowers and some spectacular hilly scenery. It also includes the Camargue, a peninsula south of Arles (actually most of it is within the city of Arles in civic terms) that has the famous horses and bulls, rice fields, flamingos and other flora and fauna in protected nature preserves, salt fields, and gorgeous, uncrowded beaches.
Other regions are the Var, Alpes de Haut Provence, Alpes-Maritimes and Haut-Alpes. Also although they are technically in the Languedoc and not in Provence, the Gard and the Ardeches areas are also sort of part of Provence from a touristic point of view.
So that's the introduction to my kind of Provence travel. In upcoming articles I'll get into details about places to see and things to eat - and drink, of course!
Update: Here are the links to the complete series!
Submitted by
maki
on 2006-06-20 17:26.
Filed under:
food travel
provence
france