The Vienna Vegetable Orchestra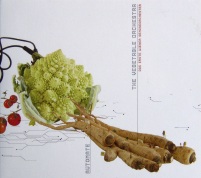 Veggies are good for you. They are also pretty to look at. But did you know you can also listen to them?
The First Vienna Vegetable Orchestra (Das Erste Wiener Gemüseorchester) is an Austrian group that makes music with vegetables.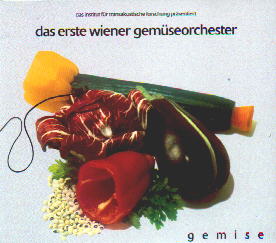 the first viennese vegetable orchestra consists exclusively of vegetable-based instruments, although where necessary, additional kitchen utensils such as knives or mixers are employed. this creates an autonomous and totally novel type of sound which cannot be achieved with conventional musical instruments. marinated sound ideas and canned listening habits beg for expansion! this music is a playful departure from the conventional way of looking at vegetables as mere means to still an appetite.
Um, sounds interesting. But my favorite part is this:
the instruments are subsequently made into a soup so that the audience can then enjoy them a second time...
Their website has some audio samples (my favorite is the Radetzky March) and info on where to buy their music. Yummy. I think.
Submitted by
maki
on 2006-04-23 11:08.
Filed under:
books and media
offbeat
music