The Swiss Spaghetti Harvest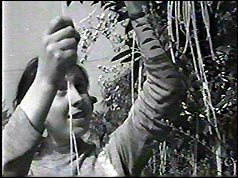 Today is April Fool's Day of course. Every year this day rolls around I remember the best food-related April Fool's hoax ever: the Swiss Spaghetti Harvest documentary broadcast by the BBC.
The Beeb is well renowned for its great documentary and news programming, and Panorama was, and still is, one of their flagship shows. In 1957, in an era when what is now BBC One was the only TV station broadcast in the U.K., Panorama described, in a perfectly serious tone and accompanying video footage, how Swiss peasant farmers in the Ticino (in the Italian region of Switzerland) hand-harvested strands of spaghetti from spaghetti trees. The mild winter, the viewers were informed, meant that there was a bumper crop of spaghetti that year.
I wasn't even born in 1957, but I do very vaguely remember watching this program on the TV when we lived in England, so it must have been rebroadcast sometime in the '70s. I wish they would show it on every April Fool's Day. Even seeing it as a re-broadcast, it was so convincing that my mother mentioned recently how she thought after watching the show that spaghetti did grow on trees until she realized it was sort of ridiculous!
Back in 1957, most British people had never traveled abroad, and pasta was still a very exotic product. Most pasta came in cans (or tins as they're called in Brit-English), in tomato sauce. And the BBC producers showed pure genius by showing Swiss-Italian farmers, rather than Italians. Probably hardly any British person had even heard of the Ticino at the time, never mind been there, so as far as they were concerned it was as exotic as Paddington Bear coming from "darkest Peru". Finally it has that touch of authenticity to it that makes the best hoaxes so convincing: even now, most Swiss farms are small, family-run affairs.
I do wish the whole show will someday be available in some format--if they put it on DVD, I'd be first on line to order it. In the meantime though, there is a nice summary of the show on the BBC website, together with a short and regrettably blurry video clip (Real Player) of the actual broadcast. Dig that marvelous Queen's English of the sonorous narrator, the legendary Richard Dimbleby! Nowadays not even the Queen herself talks like that. No wonder the viewers were convinced...how could you not be, by a voice like that? There is also a summary of the show on the wonderful Museum of Hoaxes website, which ranks it as the top April Fool's hoax of all time. I simply love this quote:
But soon after the broadcast ended, the BBC began to receive hundreds of calls from puzzled viewers. Did spaghetti really grow on trees, they wanted to know. Others were eager to learn how they could grow their own spaghetti tree. To this the BBC reportedly replied that they should "place a sprig of spaghetti in a tin of tomato sauce and hope for the best."
It's probably impossible to pull off a hoax like this on TV nowadays. Imagine the complaints! The enraged parents saying that the Beeb were corrupting youth by spreading falsehoods! The lawsuits! We've sadly lost a lot of our innocence.
I think I'm going to hang up some freshly picked spaghetti now--the weather is so nice today. There's nothing like real homegrown spaghetti.
Happy April Fool's Day!
Submitted by
maki
on 2006-04-01 13:23.
Filed under:
books and media
swiss
tv
bbc
offbeat