Making Chocolate Easter Bunnies In The Heart of Switzerland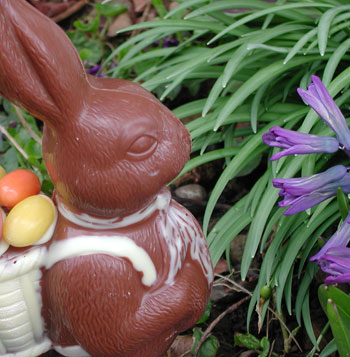 See update at the end of the page.
In most countries with a sizable Christian population, Easter candies are abundant at this time of year. Switzerland is no exception. Here, while Easter eggs are quite plentiful, the candy of choice seems to be the chocolate Easter bunny (Osterhase). Window upon window is filled with rows of Easter bunnies, from the cute to the comical to the frankly grotesque.
I spent Sunday afternoon learning how to make chocolate Easter bunnies in the kitchen of a small artisanal pastry and confectionery maker in the sleepy town of Kaltbrunn in the canton of St. Gallen. Chocolate, fresh spring air, gorgeous Swiss mountain scenery. Life doesn't get much better than this.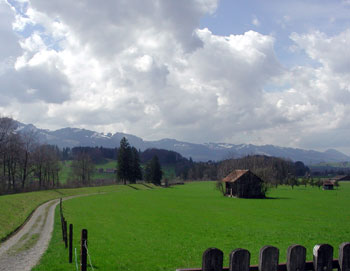 Half of our fellow classmates for the Easter bunny course were kids, and the rest were eager adults. The class was lead by Martin from Isler Torten and Robert from Lienert Konditorei, and held in the kitchens of Isler Torten. We all had loads of fun, and best of all we got to take home all of our creations.
In 3+ hours, we learned how to decorate a chocolate mold, how to coat it, and finally how to fill it. Each step was carefully clearly demonstrated by Robert and Martin. I've always wondered how molded chocolates were made, and I learned a lot.
Here are some pictures from the afternoon.
The stages of making a molded chocolate. First the mold is painted and decorated on the inside surface, then coated with a layer of chocolate. Then it's filled and cooled, and finally it's unmolded. In the background are the chocolate tempering pots, which hold the melted chocolate at a constant 45°C.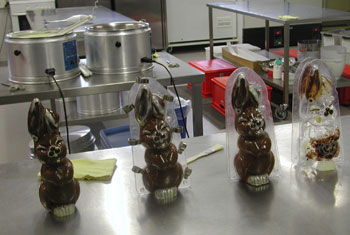 Martin shows how to decorate the inside of the mold with small parchment paper piping bags, pastry brushes and your fingers, while the students look on intently.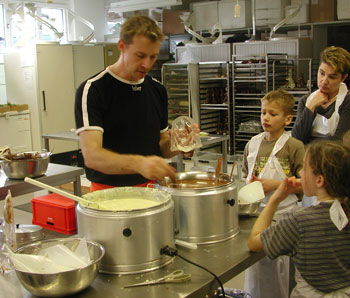 Our chocolate molds, painted strategically on the inside with white and dark chocolate. (We used white and dark chocolates for decorating, and filled them with milk chocolate.)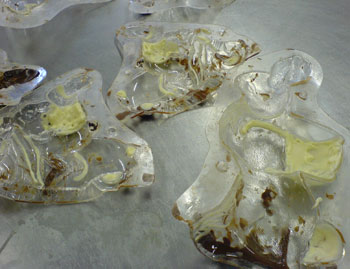 Martin shows how to coat the inside of the painted mold with a thin layer of milk chocolate.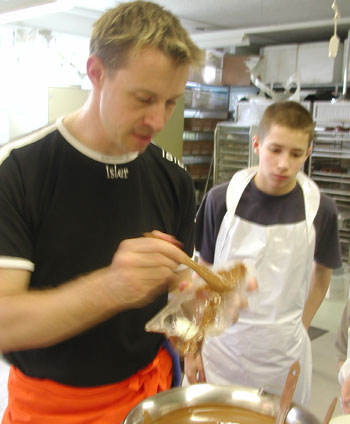 Some of our decorated and coated chocolate molds, clipped together and ready to fill.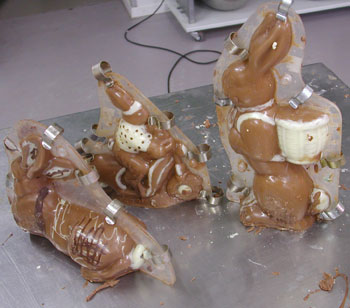 Filling the molds with melted chocolate. Lots of sticky fingers of course.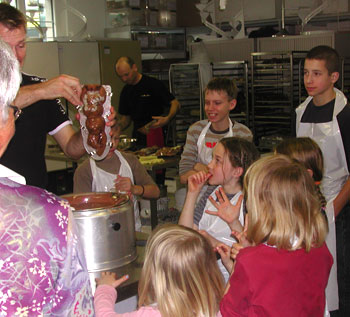 Nothing says heaven like industrial sized slabs of chocolate. Mmm. Incidentally, the milk chocolate here was just wonderful. I've been rather into those trendy varietal dark chocolates recently, but this really restored my faith in really good, smooth, creamy milk chocolate. (To attest to how good it is, one of the bunny creations has already disappeared...) One lady purchased a slab of the chocolate to take home, besides all the molded ones she and her 4 kids had made.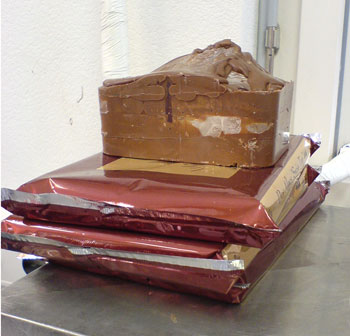 Molten chocolate is poured over a large sheet, on which the molds are placed bottom (open) side down, then placed in large refrigerators to cool.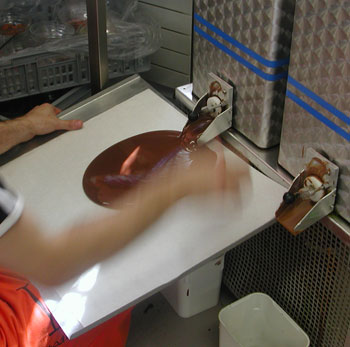 Taking the cooled molds off the sheets and unclipping them, very carefully...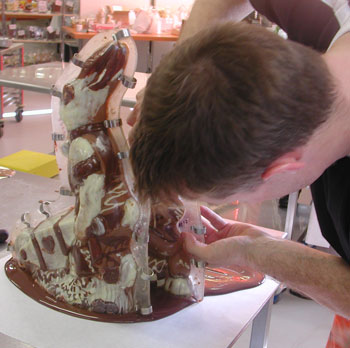 Our chocolates all came out intact, looking adorable. In the back are some small chocolates made by someone else.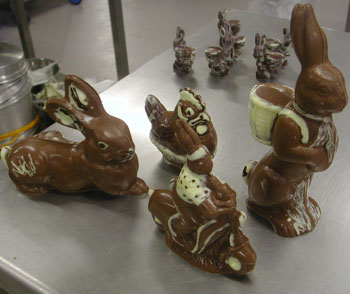 Presentation is important. Robert shows how to wrap the chocolates in cellophane and tie them up with pretty ribbons.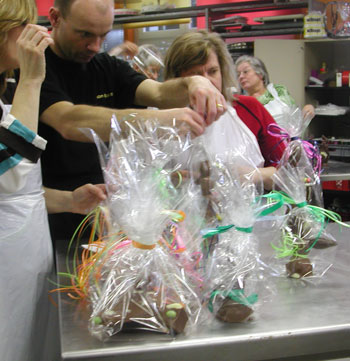 Our proud creations make it home intact. In front is a chocolate cup made by Insler Torten.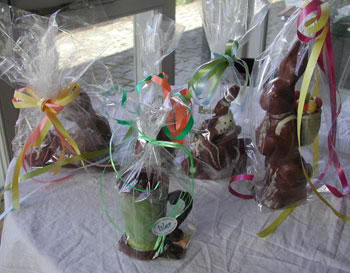 I made two molds, but my favorite is this jaunty bunny-with-child on a Vespa, sporting a headband and a polka dot shirt.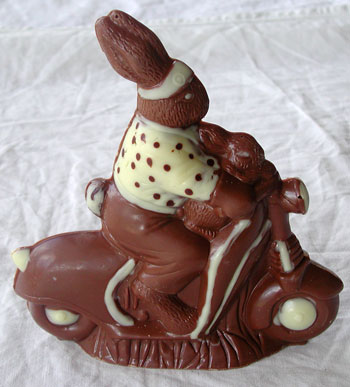 Vielen Dank to our wonderful teachers, Martin and Robert!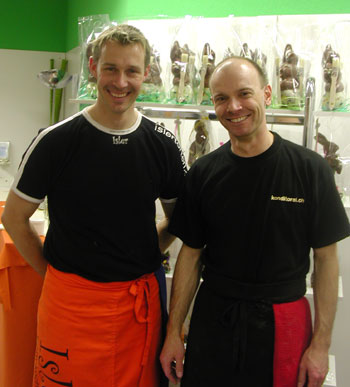 This class was conducted in Swiss German, but Robert (who very kindly gave us a lift back to the train station) told us that they also do chocolate seminars in English all over Switzerland and Germany too, especially specialized events for corporations. They also sell their own handmade chocolate and other sweet creations from their web sites, and Isler Torten provides party catering and a cooking class too.
I think it's people like Martin and Robert that make Swiss chocolate so good. Besides the well known large corporations like Cailler and Lindt, and multi-store boutiques like Sprüngli, there are the small artisanal chocolatiers like them who make people happy with their handmade creations. Is there any wonder why the Swiss are the world leaders in per capita consumption of chocolate?
They are going to be offering a Weihnacht (Christmas) chocolate seminar too. I've already marked it on my calendar.
Information (all links are in German, but most Swiss companies speak English!):
Candy.ch is a listing of many small independent confectioneries, pastry, cake and chocolate makers in Switzerland.
Update: Posted July 2009
As far as I know, Isler Torten still conducts chocolate workshops. As I wrote in the article they are in Swiss-German, unless you can get together a big enough group for them to do a private English class. Several people have emailed me in the last 3+ years since this article appeared here, asking me to get into contact with the company for them, sign them up for a workshop, and so on. I can't do that, but honestly, they do speak English (most Swiss people younger than say, 50 or so do) even if their site is in German! So don't be scared, go ahead and email or call them directly please.
I did take their Christmas chocolate truffle class a year after the Easter Bunny workshop. It was great fun too, but the bunny one was more involved. If you have a choice, I'd go for the bunny workshop.
Finally, I also can't help you with where to get Easter bunny molds/moulds like the ones you see in the photos either. Google/Yahoo/Bing/your search engine of choice is your friend!
Submitted by
maki
on 2006-04-04 03:15.
Filed under:
chocolate
food travel
swiss
easter