Masterchef challenge day 21: Anchovy bread pudding, Lamb Bourgignon, Barley Pilaf and Braised Swiss Chard Stems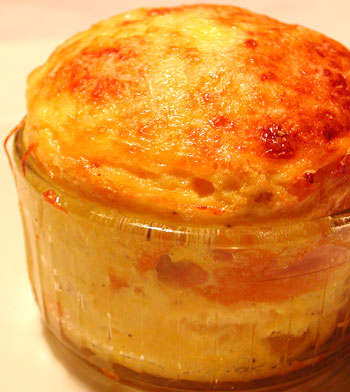 I almost gave up on continuing the Masterchef challenge when it was revealed that for the final week of preliminaries, they were going to make the candidates do two dishes within 50 minutes, instead of one dish in 40 minutes. The reason for this is that this week's candidates are also-rans from last season, who were invited back because they demonstrated potential.
Nevertheless, at least the first day of this two-dish round had some interesting ingredients, so I was able to do something with them. Those ingredients are:
Anchovies
Savoy cabbage
Rainbow chard (Swiss chard with colorful stems)
Honey
Bananas
Chocolate
Brioche bread
Lamb filet
I decided to make a savory bread pudding as a starter, and Bourgignon-like lamb stew with pearl barley as a main course. The anchovy bread pudding is sort of like a souffle, light and eggy, and as you can see from the photo it does puff up like one. But it's much easier to make and is just about foolproof. The anchovy in it is very subtle, just adding an intriguing salty background flavor; I've used chopped up filets here, but anchovy paste can be used too. Since brioche is so full of butter, no further oil or butter is added. This is a very impressive little item for a dinner party. It just has to be served immediately as soon as it exits the oven, just like a soufflé does.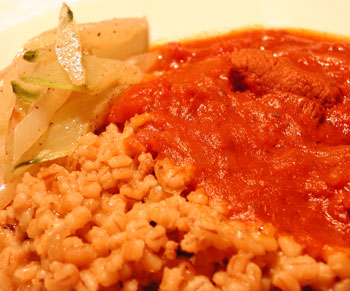 For the main course portion, I made a quick stew base with onions, garlic, red wine and a can of tomatoes, flavored with dried herbs, with sautéed thinly sliced lamb added to it in the last minutes of cooking. It's not authentic bourgignon of course, but it is very tasty for something made within such a short time. Accompanying it is pearl barley cooked like a pilaf, in a vegetable stock. Barley is a fantastic grain that swells up like nothing else (just 1 cup of dry barley will make 6 cups of cooked), absorbs any flavors, and is a great accompaniment to stews.
I couldn't get the rainbow chard they used on the show, but that didn't bother me - I've grown the colorful chard in the garden before, and it's pretty but not as useful as regular Swiss chard with the fat white stems. Those stems have a wonderful crunchy texture that's like a mild version of celery; they are great in stir fries, or braised like I have done here. The leaves of the chard can be reserved for another meal.
Unused ingredients: bananas, chocolate, honey, savoy cabbage.
Menu note: The bread pudding must be cooked last. The rest of the menu can be prepared a bit in advance, though you should add the lamb slices to the sauce at the last minute.
Anchovy bread pudding
This makes 4 small ramekins of the pudding.
1 50g / 2 oz tin anchovy filets
2 cups of roughly cubed brioche bread (about 2 slices)
2 eggs
1/2 cup whole milk
a pinch grated nutmeg
2 Tbs grated Parmesan or Grana Padano
Preheat the oven to 225°C / 450°F.
Drain the anchovies, and chop them up finely.
Beat the eggs and milk together. Add the cubed brioche to this mixture with the nutmeg and the anchovies. Let this stand for at least 10 minutes.
Butter 4 small ramekins. Pour in the egg-milk-bread mixture into them evenly, nearly to the top rim. Sprinkle the tops with the grated cheese.
15 minutes before the start of dinner, put in the hot oven and bake for 15 minutes or until the tops are golden brown and puffed up. Serve immediately!
Barley pilaf
To make 3 cups
1/2 cup barley
3 cups hot stock (water + vegetable stock cube is fine)
1 small onion, chopped
1 garlic clove, chopped
3 Tbs chopped parsley
Olive oil or butter
Heat the oil or butter in a heavy bottomed sauce pan.
Sauté the onion and garlic in the oil or butter until softened, then add the barley. Cook until the barley is lightly browned. Add the hot stock and parsley, and bring to a boil then lower the heat to a simmer. Put on a lid and cook for about 30 minutes or until all the water is absorbed and the barley is done. Add extra water or stock if necessary.
If you serve this on its own, adjust the seasoning with salt and pepper.
Quick lamb bourgignon
300g lamb filet, sliced thinly against the grain (crosswise)
2 large onions, sliced
2 garlic cloves, sliced
1 400g / about 8 oz. can of chopped tomatoes
1 cup red wine
1 tsp dried thyme
1 stock cube (beef or vegetable)
1 bay leaf
Oil or butter
3 Tbs flour
Salt and pepper
Sauté the onion and garlic in oil or butter until limp and transparent. Add the tomatoes, wine, thyme, bay leaf and stock cube. Add a canful of water.
Simmer this sauce until the onions are very tender, about 20 minutes.
In the meantime, heat 2 tablespoons of butter in a pan, until it stops sizzling. Add the flour, and stir around until it turns a toasty brown. Set aside. This is your brown roux.
Sauté the lamb slices very briefly in a hot pan; season lightly with salt and pepper.
Add the brown roux to the sauce, and simmer for 5 minutes. Add the lamb together with any pan juices. Take off the heat right away; adjust the seasoning if necessary with salt and pepper. Serve with the barley pilaf.
Braised Swiss chard stems
About 3 cups of Swiss chard stems, trimmed of the green parts and cut into pieces
Oil or butter
Salt and pepper
Heat the oil or butter in a pan, and add the Swiss chard. Let this cook over a medium low heat with a lid on, turning occasionally, until the stems are just a bit brownish on the edges - about 15 to 20 minutes. Season with salt and lots of black pepper.
Submitted by
maki
on 2006-03-04 21:52.
Filed under:
masterchef
vegetables
rice
anchovies
lamb