Masterchef challenge day 18: Syllabub with Vin Santo and Almond Tuiles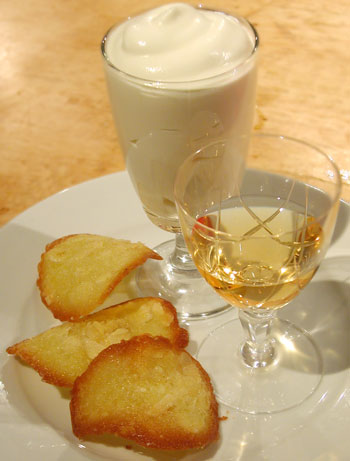 It's day 18, and here are the ingredients:
Wild mushrooms
Lemons
Ciabatta bread
Anchovies
Tallegio cheese
Turnips
Vin santo
Steak
This is the oddest ingredient list so far, because one item just doesn't belong with the rest - the vin santo. Vin santo is an Italian fortified wine, that is quite sweet and heavy in flavor. It's similar to a Tokay or an Eiswein, though not as sweet as the latter. In other words, it is definitely a dessert wine. At least one of the contestants tried to cook with it (she used it for the mushrooms), and her dish was not praised.
I could have omitted it and made a savory dish with the other ingredients, but I wanted to do something with the vin santo. That lead me to this dessert for adults: a syllabub made with the vin santo plus a smidgen of lemon juice, almond tuiles, and a small glass of the wine to accompany it.
Syllabub is one of the easiest desserts to make. All you need is heavy cream, sugar, white wine, and a little lemon juice. The amount of wine defines how alcholic it becomes. You can also make it with a light cream, and serve it as a drink. It's a very old fashioned dessert, that was often made with top-of-milk cream or fresh milk. In the 17th and 18th centuries, the syllabub was left out for a while to ferment.
The one thing to be careful of is to not over whip the cream. If you want to be sure to avoid overwhipping, use a hand whisk. If you chill the syllabub in the refrigerator for a while, it may separate a bit, but don't worry - just stir it gently before putting into the serving glasses.
A traditional Italian accompaniment to a dessert wine would be biscotti, but I prefer delicate, thin cookies. Tuiles are a French classic, and they are fairly quick and easy to make, provided you watch them in the oven like a hawk, and work rapidly when you take them out. You don't want to burn them, and since they are so thin they do burn very easily. If the little circles are a bit misshapen though, don't worry. Once you have bent them over the rolling pin to give them that tuile (roof tile) shape, no one will notice that they are not perfect spheres.
This is a great dinner party dessert because it's light yet creamy, boozy, and can be made several hours in advance.
Unused ingredients: basically everything except the vin santo and lemon!
Almond tuiles
120g / about 4 oz. unsalted butter, softened (or 1 stick)
100g / about 3 1/2 oz. white sugar (or 1/2 cup)
50g / about 1 3/4 oz. plain white flour, sifted (or 1/3 cup)
2 egg whites
a pinch of salt
a few drops of almond extract
1 cup of sliced almonds
Preheat the oven to 200°C / 400°F. Line a couple of baking sheets with silicon pads.
Cream together the butter and sugar. Stir in the egg whites, salt, flour, and extract. Don't whip it in, or the egg whites will get a bit foamy, making the texture cakey. You want the cookies to be flat and crispy, not spongy. Stir in the sliced almonds.
On one of the lined baking sheets, put teaspoonfuls of the mixture at least 3 cm / 1 1/2 inches or so apart. (The reason you only want to bake one sheet at a time is because it's hard to handle two sheets full at once to turn them into the curled tuile shape.) Put in the oven and set the timer for 8 minutes. Start checking them from that point - the cookies should be golden brown on the edges and just starting to turn brown in the middle. In the meantime, make ready a rolling pin - a marble one is best, but a wooden one would do too.
Take the baking sheet out, and rapidly scoop up a cookie with a spatula - use two if you need to. Drape the cookie on a rolling pin, and very lightly press down on the sides if it's sticking up. Repeat with the rest of the cookies. Let them cool on the rolling pins until they have hardened, then slide them gently off. Bake the rest of the batter in the same way, in batches. Tuiles keep in an airtight container for a few days (though to be honest, they never last beyond a couple of days!)
Syllabub with Vin Santo
2 cups heavy cream
1/2 cup white sugar
1/2 cup vin santo
1 Tbs. lemon juice
Whip the cream lightly with the sugar. Add the vin santo and the lemon juice and continue whipping until soft peaks form. Cover and put in the refrigerator until ready to serve.
Serve in wine or cocktail glasses, with the tuiles on the side and a small glass of the vin santo.
Submitted by
maki
on 2006-02-27 22:44.
Filed under:
dessert
drink
party food