Masterchef challenge, day 11: Calamari fritti and roasted red pepper salsa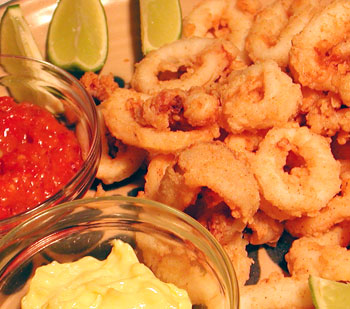 It's day 11 of MasterChef! The ingredients:
Chicken breast
Squid
Bok choy
Leeks
Sweet peppers
Pancetta
Noodles (they were using dried Chinese style noodles)
My immediate reaction to this list was to make some sort of stir-fry, served on or with the noodles. But I have a prejudice against the kind of dried Chinese-style noodles sold in regular Western supermarkets: they suck. Also, I am feeling some slight ingredient fatigue at this stage. So I decided to go for something very simple: calamari fritti, or fried squid. This is one of those very straightforward yet so easy to screw up dishes - how many times have you ordered calamari at a restaurant, and were served a plate of rubber bands with doughy goo on them? You shouldn't go too wrong if you follow my directions, and your friends will be very impressed.
I made a roasted red pepper salsa, because calamari really goes with sour things I think - I always serve lemon or lime wedges with it. (I realize this is the second day in a row I roasted peppers, but I love them so much, and they bring a welcome taste of summer during these cold months.) The consistency of the salsa makes it good for putting on toasted bread slices, or using as a dip for tortilla chips too.
To show off a bit, I also made mayonnaise, but the recipe is not given here since homemade mayonnaise deserves its own detailed article. Store bought with an extra squirt of lemon or lime would work here.
Unused ingredients: chicken breast, bok choy, leeks, pancetta, noodles.
The order to make this is:
Heat up the grill or broiler and roast the peppers.
Chop the onion, and crush the garlic.
Clean your squid, slice and put into milk.
Cool and peel the blackened peppers. Chop it up and assemble the salsa.
At this point, make the mayonnaise or just dollop some store bought in your little serving bowl and mix in some lemon or lime juice.
Put the salsa in another little serving bowl.
Start heating the oil.
Put together the seasoned flour.
Fry the calamari. It should be piping hot when you serve it.
Roasted Red Pepper Salsa
2 large red peppers
1/2 small red onion, finely chopped
2 garlic cloves, crushed
1 Tbs. olive oil
a pinch of Herbes de Provence
2 Tbs. lime juice (less if you prefer it less sour)
Salt and pepper Roast the peppers on a grill or under the broiler in your oven, turning frequently, until charred all over. Let cool in a paper bag, and peel off the blackened skin. Chop up very finely.
Combine all the ingredients, and adjust the salt and lime juice amounts as needed. Ideally let this sit in the refrigerator for a while so that the flavors can mellow.
Calamari
2 medium sized squid
Milk
1 cup plain flour
1 tsp salt
1/2 tsp paprika
1/8 tsp (or a small pinch) red chili pepper powder
Several grindings of black pepper
Peanut oil for frying
Clean the squid: pull out the head by grasping the tentacles, then cut off the fins on the back. Peel the body, and cut in half crosswise - this makes it much easier to remove all the slimy stuff inside, and that plastic-y looking piece of cartilage. Cut the body tube into thin, even tubes. You can also cut up the fins and the tentacles, if you wish.
Put the cut up squid into cold milk to cover.
Sift together the flour and the other dry ingredients.
Heat up at least 2 inches of peanut oil in a deep pan until it's quite hot.
Toss the squid in the seasoned flour, then put the calamari in a sieve to shake off the excess flour. Fry it in small batches (don't overcrowd the pan!) until a very light golden. It will cook very fast so watch it at all times, and don't overcook or you will get those rubber bands! 2-3 minutes should do it, provided your oil is hot enough. Drain the calamari and serve immediately with the mayonnaise, salsa and some lemon or lime wedges.
Note: when you are frying squid, it can sometimes 'explode' - the water trapped under the outer layer can burst out. So don't lean your face right over the oil pot and keep children and scaredy-cat spouses well away.
If you're making a large batch of calamari, you may want to change the oil midway through - in order for it to be freshly crisp, you need the oil to be as clean as possible. (This is why restaurant calamari can taste oily sometimes - they don't change the oil often enough.)
Submitted by
maki
on 2006-02-12 15:09.
Filed under:
masterchef
party food
snack
fish