Happy Valentine's Day!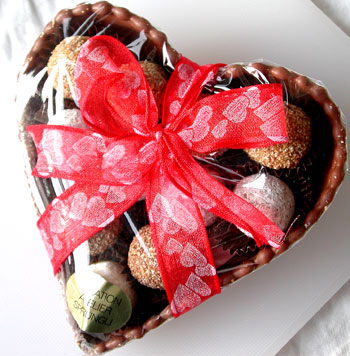 Will you be staying in or going out for dinner tonight? If you are staying in, the best Valentine's Day present may be a meal cooked by the partner in your relationship that doesn't normally do the cooking.
Here are some easy to prepare yet impressing looking - and of course, delicious - dishes from the archives of Just Hungry:
For starters, nothing is as warming as soup. Soup can also be made in advance, leaving you free to tackle the rest of the meal. A simple yet very attractive way to present an intensely flavored soup that is used by restaurants is to serve it in a demitasse - a small espresso cup, or a tea cup. The spoon should be small, to match the receptacle. Two soups that have a touch of heat in them to get you going are:
Really Asian Fusion Soup, which is a combination of the sweetness of coconut milk, the salty-sweetness of white miso, and the sourness of lime and fresh ginger. You can omit the fish and fish sauce to make it vegetarian.
Carrot-Ginger-Orange Soup also has those hot-spicy yet sweet undertones.
If you would prefer a starter that is not soup, how about Grilled asparagus with balsamic vinegar? This is so delicous you could make it a main dish. They do say asparagus is an aphrodesiac...
For the main course you want to serve something that looks extra-special, but is easy and fairly foolproof. Go for something that cooks very quickly, and watch the pan until it's all done. Don't worry, these dishes cook in 20 to 30 minutes. (The exception is he handrolled sushi - unless you have a rice cooker, then it's just a matter of assembling the ingredients you want to roll.)
Saltimbocca and Risotto Milanese. Risotto is surprisingly easy - just have the stock you're adding hot before adding, and keep stirring and adding the liquid to the rice. The saltimbocca are dead easy to make yet very pretty.
Chicken Karaage - Japanese-style bite-sized fried chicken nuggets flavored with soy sauce, ginger and sake is very light and more-ish. You could serve this perhaps with the sweet-and-sour and totally fat free Scandinavian cucumber salad.
Or, maybe you prefer something like Baby lamb chops with stove-top Pommes Anna. Baby-sized food is so much prettier than the full-sized kind.
If you want to an interactively fun meal, try assembling the ingredients for Hand rolled sushi. The ingredients can be all-vegetarian (avocado, cucumber, pickles, etc) if you wish.
Really pressed for time? Buy some handmade fresh ravioli (perhaps stuffed with ingredients you've never tried, like wild mushrooms or pumpkin), and serve them with a little herbed butter: just chop up your favorite fresh herb (thyme, parsley, sage and rosemary all work) and sauté it briefly in butter; pour the butter over the cooked ravioli, and toss about a bit in the hot pan. Yummy.
As for dessert - you may choose to make something of course (just look through the chocolate index for some ideas... handmade dark chocolate peanut butter cups perhaps?) but there's no better end to a perfect romantic meal than some chocolate pralines or truffles, with espresso or tea. And it's one less thing to worry about so you can relax and cuddle for the rest of the evening. (And, if you don't have a sweetie to cuddle with this year, the next best thing is a nice box of chocolates!)
Submitted by
maki
on 2006-02-14 17:10.
Filed under:
chocolate
dinner
valentine