MasterChef challenge, day 4: Lamb Pilau with Beet and Kumquat Chutney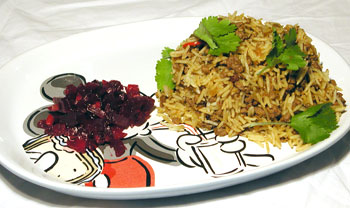 First off, I must apologize for this picture and the placement of the chutney on the plate. I didn't realize until all the food was consumed, thus making it too late for a re-shoot, that it looks like Mickey Mouse had a very unfortunate accident and got his brains shot out.
Well now that I've whet your appetite, the ingredients for of the MasterChef preliminaries were:
Beets
Ground lamb
Red chili peppers
Kumquats
Coriander
Long grain rice
Red onions
This was a difficult one to get a handle on initially. Kumquats are not something I'm used to cooking with, and my favorite way to cook beets is to bake them. But again, the time constraints played against that idea. So I settled on a vaguely Middle Eastern combination of a pilau, or pilaf, with ground lamb, the red chilis, raisins and spices, with a sweet-sour chutney made from the beets, kumquats and onion. The coriander was used just as a garnish. The flavors this time worked a lot better than the day 3 items, so the recipes follow. The key is to make the chutney fairly sweet to counterbalance the spiciness of the pilau.
This meal was completed quite quickly, within about 30 minutes. With a green salad I think this might enter the regular rotation.
Lamb pilau
250g / 8 oz. ground lamb
2 cups long grain rice
1 small onion, chopped
2 cloves garlic, chopped
1/2 cup raisins
1 red chili pepper, chopped
spices: ground coriander, cardamon, cinnamon, or use a "falafel spice mix". (You can also use curry powder instead)
olive oil
4 cups of chicken stock (water + soup cubes is fine)
Salt and pepper Heat the chicken stock.
Sauté onion in oliver oil until limp, and add the garlic and chili. Add the rice, and sauté until the rice has absorbed much of the oil. Add the raisins.
Add the hot chicken stock, and immediately put the lid on the pot and turn it off. Leave it like that for at least 20 minutes, then check the rice - it should be tender but not sticky. If not, put the lid back on and leave for another 5-10 minutes. Drain any excess moisture off by putting the rice in a sieve.
In the meantime, saut´ the lamb until browned in some more olive oil. Add your spices - start with maybe 1/2 tsp. of each spice you have selected, or 1 tsp. of a mixed falafel spice mix. Add more if you think it can stand more spice.
Fluff up the rice and stir in the spicy lamb, and season with salt and pepper. Garnish with coriander leaves.
Beet, red onion and kumquat chutney
1 medium sized beetroot, cut into small cubes
1 small red onion, chopped
2-3 kumquats, cut into rounds then halved
1/2 cup red wine vinegar
1/4 cup water
1/3 cup sugar
1/2 tsp salt
Heat up the vinegar, water and sugar in a small pan to melt the sugar. Add the onion and simmer for about 5 minutes. Add the beetroot and kumquats, and simmer for an additional 20 minutes, until the liquid is almost gone. (The beets will still be a bit crunchy.) Add salt to taste.
Submitted by
maki
on 2006-01-29 22:12.
Filed under:
masterchef
rice
lamb