MasterChef challenge, day 3: A plate of nibbles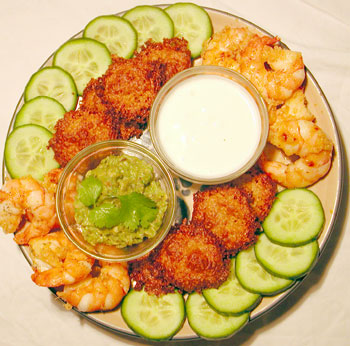 The ingredients for Day 3 of the MasterChef preliminaries were:
Red chili powder
Ketchup
Manchego cheese
Prawns (shrimp)
Avocado
Couscous
Ingredient notes: I was pretty sure the red chili powder specified here is not the American chili powder, which is actually a mixture of various spices, but full-on red hot powdered hot chili peppers - a common Indian ingredient. Manchego cheese is a relatively mild yet salty hard cheese from Spain. It's sort of like a young Parmesan or Grana Padano.
Now...I have to confess that I'm not overly fond of instant couscous. When couscous is steamed for a while with vegetables and things in a couscousier as it is in a proper Moroccan restaurant it can be wonderful. But I couldn't do that within the allotted 40 minutes, so I only had instant couscous. Instead of soaking it in hot water and softening it, I decided to try and take advantage of its crunchiness by mixing it with the grated Manchego cheese, to make crunchy cheesy crisps. 2 cups of grated cheese were mixed with 1/4 cup of couscous, and kneaded together into a ball. This was divided into small balls, flattened, and baked on a sheet lined with silicon paper in a hot oven (200°C/400deg;F) for about 10 minutes.
With the avocado, I went the traditional route and made a guacamole - mashed avocado mixed with chopped onion, coriander a few chopped pickled jalapeño peppers, and lime juice.
The white sauce you see is simply yoghurt mixed with a little salt and a crushed garlic - sort of like raita without the cucumber.
The prawns (shrimp) were sautéed with some chopped garlic and a sprinkle of the red chili powder, salt and pepper, in olive oil. This was fast and tasty - but then you shouldn't fiddle around too much with shrimp anyway.
The tasting verdict from the panel of judges (the eaters) was a bit mixed. The cheese crisps were probably the most successful, but it didn't quite match the guacamole. I'm not sure I'd repeat this menu, which is why I'm not writing down the recipes, but I think I'll try to refine the cheesy crisps. Also, while the cucumber slices were pretty, I think that taste-wise celery sticks would have been better as vegetable crunchies.
Unused ingredient: ketchup (I could have used it for the shrimp, but I just forgot!
Submitted by
maki
on 2006-01-29 21:06.
Filed under:
masterchef
snack
fish