Samosa-like lentil snacks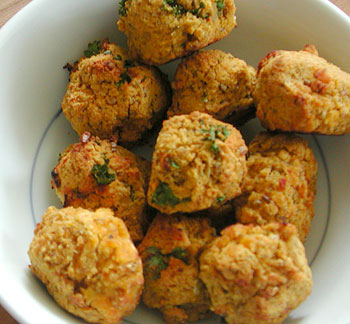 Hooray! The Hungry Tiger is back! New link to the original recipe Here is a variation on these lentil snacks over on Just Bento - it's not the same, but very similar.
As I have mentioned before, The Hungry Tiger is one of my favorite food blogs. Ms. redfox, the owner, recently posted about a delicious looking lentil snack called kibbeh. Lentils are one of my favorite things, so I just had to try it.
The first time, I used some black-and-white lentils that I'd bought some time ago from an Indian/Tamil food store in Zürich. This didn't turn out too well, because the lentils were quite firm and kept their shape even after an hour or so of cooking. The resulting lentil snacks were quite crunchy and tasty but did have a rather unfortunate after effect on everyone who munched on them several hours later.
So the next time I tried red lentils, like the ones redfox uses. This turned out very well - the lentils turn suitably mushy after about 20 minutes. The texture reminded me of samosas, so for the third attempt I changed around the spices from Middle Eastern to Indian sub-continent. This has been the biggest hit so far - this batch disappeared astonishingly fast. I was able to rescue a few for a photoshoot before they were gobbled up.
So, here are the instructions: follow the original instructions for cooking the lentils, and for soaking the bulgur in the excess moisture of the lentils. To the sautéed onions, add about 1 teaspoon each of ground coriander, cumin, cardamon, and turmeric or curry powder, then add some crushed red pepper flakes. The amount solely depends on your fondness for heat. Optionally you can also add some chopped pickled or fresh red chili peppers, which I did here. And instead of tarragon, add a handful each of chopped fresh coriander and parsley. The original recipe calls for a little lemon juice, which I forgot to add each time until after I'd made the balls, so I sprinkled the balls with the lemon juice instead and that worked pretty well. Then cook them in the oven as per the original instructions.
And, as Ms. redfox speculates, these go amazingly well with a yogurt sauce which is dead easy to make: roughly chop up a couple of garlic cloves, and add about a teaspoon or so of salt to it on your chopping board. (If you are fastidious, you may have a small chopping board devoted exclusively to garlic tasks. I don't.) With the tip of a knife, crush up the garlic - the salt holds your garlic in place as you crush, and also takes a bit of the edge off the rawness. This, by the way, is a classical way of crushing garlic that's to be used raw, such as in salad dressings. Add the garlic and salt to plain, creamy yogurt, taste and adjust for more salt if needed. This is so good that you may find yourself just spooning it up into your mouth as-is.
These really are the perfect snack - filling, tasty, and fairly low-fat. If you omit the bulgur, which does add a pleasing texture, they'd be almost all-lentil and thus a great low-carb snack too.
Submitted by
maki
on 2005-06-21 21:36.
Filed under:
snack
legumes
vegan