Chocolate May (June) bug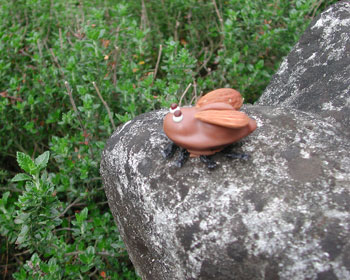 People in the northeast and mid-Atlantic states of the U.S. are now experiencing an assault of cicadas, that only occurs once every 17 years or so. No such insect attack here in Switzerland fortunately, but one sort of "bug" we see a lot of around this time are chocolate Maierhäfer, or May (June) bugs. They come in all sizes, from tiny foil-wrapped ones to monster bugs up to around 30cm long with bristling legs, which frankly look way too scary to eat to me.
This little fellow however is just about the right size. It comes from Sprüngli, the finest patisserier and chocolatier in Switzerland in my opinion (the more internationally known Teuscher is a distant second). The body is a creamy chocolate filled case, and the wings are almonds. He looked so cute that I could barely stand to eat him but, of course I did, right after I took this photo.
Submitted by
maki
on 2004-05-19 10:40.
Filed under:
chocolate
essays