Stuffed bread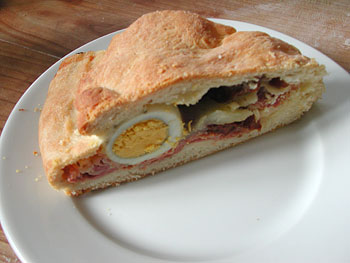 This is the other thing served at at our Oscar-watching party. Since the show went on from 2 am to about 6:30 we were quite silly, so the food had to be low-stress, no utensils, and tasty. Both this bread and the soup (in the previous entry) were a hit.
This bread is a Jamie Oliver recipe, which I saw the other day on his "beach barbeque" episode. It's not exactly like his because I didn't write down the instructions but it's pretty close I think. I don't think he let the dough rise though, and I did since I think dough can always benefit from a preliminary rising. Like many Jamie Oliver recipes this is very easy and tasty. The bread dough is basically a focaccia or pizza dough, so if you can't be bothered to make it (though I do guarantee is is one of the easiest doughs you can ever hope to tackle) you can do it with store-bought frozen.
The stuffing could be varied to whatever you like. Jamie Oliver made two kinds on his show, one with the stuffing similar to what I did for this one, and a sweet variation with Nutella, sliced bananas and toasted hazelnuts, and served both with some yogurt before that for a brunch. (Personally I can't imagine eating something so substantial for breakfast...but I've put it in the breakfast category nonetheless.) I can also imagine it with some sautéed julienned vegetables, or sausage meat (I like sausage rolls but can't stomach that rich pastry too much), or even some char siu (Chinese roast pork) or something like that. Or simply with a sort of calzone filling of mozzarella, ham and ricotta.
Stuffed bread
The dough:
5 cups of white flour (regular or all-purpose flour: no need to get high-gluten flour for this)
2 packets of dry yeast
1 Tbs sugar
1 Tbs salt
About 2 - 2 1/2 cups of lukewarm water
1/2 cup of olive oil
Mix together the flour, sugar, salt, and yeast in a bowl. Gradually add the water, mixing with your hand or a wooden spoon. Add the oil. Add more water or flour as needed to make a dough ball.
Turn out onto a floured surface and knead for a bit until the dough is soft and smooth. Put the dough ball in a plastic bag, blow up and seal, and leave in a warm place for about 30-45 minutes. (You can also let it rise in a bowl covered with plastic, etc. I just prefer the bag method because it's easy cleanup.
In the meantime, prepare the filling, and preheat the oven to 200° C / about 400° F.
The filling:
6 - 8 boiled eggs (1 per serving. Try to soft-boil the eggs so that they don't turn blueish around the yolk when they are baked.)
A jar of sundried tomatoes marinated in olive oil, well drained
400g / nearly 1 lb of cheese: in my case I used sliced mozzarella and grated Grana Padano. You could use any combination of cheeses you like.
Fresh basil leaves, or dried herbs (I didn't have fresh basil so I used some Herbs de Provence)
200g / about 1/2 lb of proscuitto or similar dried raw ham. I used a Spanish ham which was quite good .
Punch down the dough, and roll it out into a long rectangle. Line the middle of it with the ham. Line up the eggs on top of that, evenly spaced out. Fill in the gaps with the sundried tomatoes, herbs, and cheese.
Bring the dough up to encase the filling, being careful not to pull too much and tear the dough. Seal the edges quite firmly. Bring the ends of the big sausage together to form a ring, and seal the ends together. You'll end up with something that looks like a very ugly huge doughnut.
Sprinkle a baking sheet with some flour and/or cornmeal. Very carefully place the big doughnut on the sheet. Brush the surface with olive oil.
Bake in the oven for about 40 minutes, until golden brown.
Submitted by
maki
on 2004-03-01 16:38.
Filed under:
bread
breakfast
party food
baking