Carrot-Ginger-Orange Soup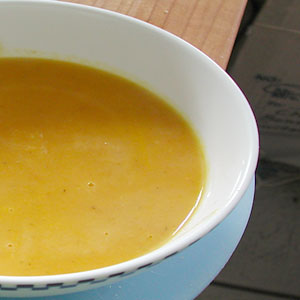 We had a small Oscar-watching party last night, and the two things I served were this soup (in mugs) and the stuffed bread described in the next entry.
Carrot soup can be a rather boring thing, but adding fresh grated ginger and orange juice really perks it up. The pleasant sourness of the orange juice adds a nice undertone to the sweetness. To me, cardamon goes well with this too, though you can omit it. Ginger is a must however, and it has to be fresh, not dried.
This is another of those so-easy to make soups - dump everything in the pot, let simmer for a while, then purée, adjust seasonings and voila. Great soup. The type of cooking I love the most for everyday.
If you omit the 3 tablespoons of cream, it's also quite low calorie, though I suppose not low-carb.
Carrot-ginger-orange soup
1 kg / about 2 lbs of fresh, organic carrots
1 medium onion, peeled
2 medium potatoes, peeled
2 vegetable soup stock cubes
1 Bay leaf
1 bunch of parsley
1 tsp cardamon
A chunk of fresh ginger, about the size of two thumbs
2 cups of orange juice (from a carton or freshly squeezed)
Salt and pepper
3 Tbs. heavy cream or "double-cream", or creme fraiche or sour cream (optional)
Wash the carrots and cut it up into chunks. (If you are using non-organic carrots, peel them.) Chunk up the onion and potatoes also.
Put the vegetables, stock cubes, parsley and bay leaf into a pot and add enough water to cover. Bring to a boil, then lower the heat and simmer until all the vegetables are very tender, about 40 minutes.
Peel and grate the ginger. Add it and the cardamon to the soup.
Purée the soup with a stick blender or in batches in your mixer or food processor. (If you use a food processor, you may need to pass it through a sieve to make it smooth.)
Return to the heat and stir in the orange juice. Season to taste. Swirl in the cream just before serving.
Submitted by
maki
on 2004-03-01 16:04.
Filed under:
soup
vegetables
winter