Roulade au Chocolat Saint Valentin: Chocolate Roulade Cake for Valentine's Day
From the archives. The very iffy photo shows that it is from the very early days of Just Hungry! I look back at this with nostalgia, because not only have my photography skills improved somewhat, it reflects a time in my life when I was into a far more complicated kind of cooking than I am now. I no longer bake things like this, but if you want a pretty spectacular chocolate dessert for Valentine's Day, and have the time and patience, I do highly recommend this rich yet feathery light little confection. I've edited it slightly to be more accurate (what the heck did I mean by 'small container of cream' anyhow). Originally published on February 14, 2004.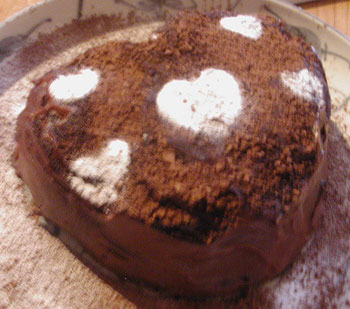 This is a small but quite spectacular chocolate dessert, that I made this afternoon and now is waiting for us to devour tonight. It is basically a rolled cake, with a featherlight chocolate bisquit (sponge) made without any flour and rolled with almond buttercream; this is then covered with creamy chocolate ganache, and finally dusted with cocoa. It's not that hard to make but it is a bit involved, so if you'd like to try it please follow the steps carefully.
It's a perfect St. Valentine's Day dessert of course when it's formed into a heart shape as I did here, but it can be enjoyed at any time. You can simply make one round cake, or make little bite-sized rolls (rather like the big sushi rolls), and ice each one individually with the ganache.
Now, this recipe does use rather precise weights, unlike most of the recipes I post here. But in this case it really is worth the effort to take out the kitchen scales and measure everything.
Since the recipe is given in steps, here's the whole shopping list:
200g / 7 oz (2 bars) of best-quality Swiss or Belgian dark chocolate, 70% cacao content
180ml / about 3/4 US cups, or 1 container of whole or heavy cream
1 block of unsalted butter
Pure vanilla essence
200g / 7oz of ground almonds
White sugar
5 large eggs, pasteurized or very fresh organic
Cocoa powder (not drinking chocolate powder!)
Powdered sugar (optional)
Incidentally, you can tell that it was originally a recipe from a Japanese source because of the rather precise amounts listed for the ingredients - for some reason, Japanese recipes are very exact. This originally appeared in a 1970s issue of Today's Cooking Magazine, the companion magazine for a long-running cooking show on NHK TV of the same name. I have more than 100 of these magazines, and I treasure them dearly. The older issues belonged to my mother but now I own the lot, from the '70s up to 2009.
Recipe: Roulade au Chocolat Saint Valentin: Chocolate Roulade Cake for Valentine's Day
I've divided this into 4 steps: the bisquit or sponge, the almond buttercream, the ganache, and finally the assembly. [Edit: I had an extra egg in the original ingredients..there is no egg in the almond buttercream. Also, the yolk is just mixed in at the very end to the chocolate ganache.]
Part 1: The bisquit (sponge cake) base
3 large eggs, separated
45 g / 1 1/2 oz. sugar
30 g / 1 oz of dark chocolate
Preheat the oven to 150°C or 300° F. Line a sponge pan (or a metal pan about 30cm x 20cm, or 12 inches x 8 inches or so, with a lip) with a teflon baking paper like Bake-o-Glide or buttered kitchen parchment paper.
Add 30g/ 1 oz (or about rounded 2 Tbs) of sugar to the egg yolks, and beat at high speed until the mixture is a very very pale yellow (sort of the color of undyed cheddar), and it falls in ribbons from the whisk.
In a separate bowl, beat the egg whites until foamy. Add the rest of the sugar (15g / 1/2 oz, or about rounded 1 Tbs) and beat until it forms soft peaks. Don't overbeat or your sponge will be rather dry.
Microwave the chocolate for about 45 seconds to 1 minute until softened. Beat it with a spoon to liquify it. Add 1 Tbs of hot water drop by drop (it will seize up, or turn stiff and dull looking, at first, then loosen up) to the chocolate.
Add the chocolate to the egg yolk mix. Mix in half of the egg white into this, then fold in the rest, being careful not to over mix. Pour the mixture into the pan and smooth out the top with a wide spatula or even a piece of clean cardboard.
Bake for 20 minutes. Take out and let cool. Put a damp kitchen cloth over this to prevent it from drying out.
Part 2: Almond buttercream
80g / 2 1/2 oz finely ground almonds
50g / 1 1/2 oz unsalted butter, softened to room temperature
33g / 1 oz sugar
1 tsp. vanilla
Put the ground almonds in a frying pan over medium heat and toast lightly, stirring all the time. As soon as it is toasted just enough so that it has turned a golden brown and smells great, take it out of the pan (or it will continue cooking and may get burned and bitter tasting).
Whip the butter and sugar together until the sugar is totally incorporated into the cream. It shouldn't feel gritty when you are done. (Do this in a small food processor if you have one.) Add the vanilla.
Mix in the toasted almond powder.
Part 3: Chocolate ganache
170g / 6 oz. dark chocolate
160g / 5 1/2 oz heavy cream
100g / 3 1/2 oz unsalted butter
1 egg yolk, very fresh organic or pasteurized
Heat the cream in a low heat in a thick-bottomed pan until hot but not boiling. Add the chocolate, cut up into chunks or shredded, and mix until thoroughly melted.
Pour out the chocolate mixture into a bowl and let cool for a bit until it's just rather warm when you stick your finger in. Add the butter to this, mixing rapidly until it's totally incorporated. Mix in the egg yolk. Let it cool in the refrigerator for about 30 minutes.
Part 4: Assembly
Cut the bisquit (sponge cake) into strips about 2 inches / 5 cm wide. You want them to be pretty even, so it's helpful to use a ruler to make sure the strips are of the same width. Spread the tops with the buttercream.
Carefully peel the cake strips off the parchment paper with a spatula. Don't worry if the strips tear though. Roll the strips one by one around and around until you end up with a roll about 15cm / inches in diameter.
With a knife and your hands, form the roll into a heart, by pressing the back of a knife into the top indentation, and making the end rather pointy. (Of course, you can just leave it as a circle too.) Smoosh the top a bit if necessary to make it more or less even.
Cover the sides of the heart or roll with a thin layer of the chocolate ganache. Cover the top with a thick layer of the ganache, smoothing it out so you keep the heart shape.
Dust the top with cocoa, through a fine sieve or tea strainer.
To make the heart pattern, cut out some hearts in a piece of paper about the same size as your rolled cake. Place the paper on top of the cake, and dust lightly with icing / powdered sugar.
Some other chocolatey things from the archives
For something more manly and assertive, try Guinness Cake with Whisky-Sour Icing. This remains a favorite cake in our house, since it's very easy to make and creates a bit of a sensation.
This mousse au chocolat is also a perennial favorite - very easy and very delicious.
If you are a vegan or on a strict diet, try the chocolate version of this tofu-based pudding.
On the other hand, what could be more indulgent than homemade dark chocolate peanut butter cups?
Submitted by
maki
on 2009-02-13 15:21.
Filed under:
chocolate
dessert
baking
cake