Does food make you feel sexy?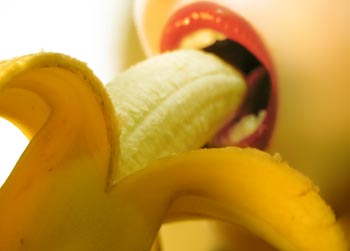 It hasn't been a good cooking week for me, since I've been very busy. Saturday is my birthday though, and we have been wondering whether or not to go out for dinner, or to cook something (well, for Max to cook something) at home.
This got me wondering a bit about the connection between food and romance, or feeling sexy. Is there any truth to the beliefs that have persisted over the ages that food is an aphrodesiac? I don't know about you, but eating oysters for example has never made me feel sexy. Neither does chocolate - chocolate is great, and can taste very sensual. But even the heavenly truffe du jour or the even more intense truffe du nuit from Sprüngli, a dark chocolate morsel of heaven, has made me want to jump into bed!
Is the idea that food can be an aphrodesiac a myth perpetuated by restauranteurs eager to get people in to their establishments on Valentine's day, birthdays and other "special" days? On the Star Chefs site, there are several recipes that are supposed to be "love potions". Some of the recipes look delicious - but is a dish of eggs and white truffles really a "love potion"?
What I do think is that if you do love food, and your partner shares that love, then each meal together can become a communion of spirits. This can of course extend to large groups - for example, I think that a family that loves food and enjoys their meals together is a joyous one. But sharing with the one who is your soulmate is a very special kind of experience. And, it doesn't have to be limited to "special" meals.
Both Max and I share a love for food, and wine. We can discuss the subject endlessly, and we love to share meals together. One of the most special meals I remember early on in our relationship, was when he made me one of his special menus; risotto, saltimbocca, and a simple salad, followed by mousse au chocolat. The whole meal was utterly delicious, and prepared with a lot of care and love. I think it certainly helped to make my mind up that this guy was the one for me. And I think that it's that care and love that really makes a shared meal special - and makes it the ultimate aphrodesiac.
I think I am going to ask Max to prepare this special meal for me for my birthday - so we can stay in. :) (I will check on his recipes for risotto, saltimbocca and mousse au chocolat and post them at another time.)
Are there any special meals that your partner or spouse has prepared for you, or a particular food that makes you feel sexy?
[the photo accompanying this entry is from iStock Photo.]
Submitted by
maki
on 2004-01-22 06:48.
Filed under:
essays
philosophy