Basics: tomato sauce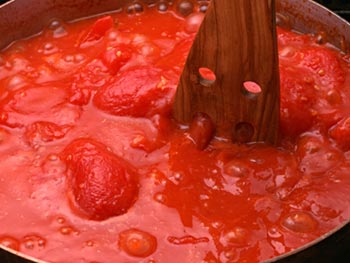 I've been posting some of the basic building blocks of Japanese cooking, and I thought I would add some other basics too. While I like to experiment with a new recipes sometimes, for everyday cooking this isn't too practical. So I rely on a few basic recipes that I have more or less memorized, and vary them to produce different results.
This tomato sauce is one of them. It's very easy, and can be frozen if you make it in bulk. It's best made with fresh tomato pulp from really ripe tomatoes in the summer, but can be made with half tomato pulp and half canned crushed tomatoes, or just canned tomatoes. I don't add any spices or herbs to the basic sauce - these can always be added later.
To skin tomatoes, dunk them for 30 seconds in a pot of boiling water. To de-seed them, cut in half and squeeze each half so the seeds pop out. You can be tidy and chop up the tomato pulp with a knife or in the food processor, or - just smoosh them up with your hands.
Basic tomato sauce
1 large can of crushed tomatoes, or about 4 cups of peeled, seeded tomato pulp, or a mix of half fresh tomatoes and half canned
1 medium onion, chopped
2 large garlic cloves, chopped
1 bay leaf
Olive oil for cooking
Salt to taste
Sauté the onion in the olive oil until golden. Add the garlic and sauté a bit more. Add the tomato and the bay leaf. Let simmer for about 30 minutes. You can add other flavorings and herbs such as thyme, oregano, saffron etc. but I prefer to keep it fairly plain and add herbs later as needed. This produces a fairly thick tomato sauce that is great over plain pasta or as a pizza topping. It can also form the basis for many other sauces.
Submitted by
maki
on 2004-01-11 01:06.
Filed under:
basics
sauce
favorites