Zürich style veal in cream and wine sauce (Zürigschnätzlets)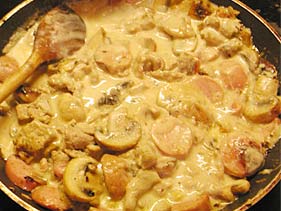 Cream based sauces abound in traditional Swiss cuisine, as does veal. This dish, officially named Zürcher Geschnetzeltes but always called Zürigschnätzlets by the locals, appears a lot on traditional restaurant menus in Zürich and around the country. It's very easy to make at home, but it's very rich, so I don't make it that often, but it is very good and very Swiss. It could easily be turned into a vegetarian dish by omitting the meat and adding a meat substitute, or just increasing the mushrooms.
Zürich style veal in cream and wine sauce (Zürigschnätzlets)
(adapted from the Betty Bossi Schweizer Spezialitäten cookbook)
400g (a bit less than 1 lb) of veal, cut into pieces (if you are anti-veal, use turkey instead.)
200g (about 7 ounces) calf's kidney, cut into pieces (I usually substitute a couple of fat cervelas, or frankfurter style sausages, for this, as I've done in the version in the picture. This is not very traditional though! Another possiblity is to use sweetbreads. Or, just increase the veal)
1 Tbs. butter + butter for sautéing the meat
1/2 of an onion or 1 shallot, chopped fine
200g (about 7 ounces) mushrooms, sliced
1 cup of a young white wine (see notes)
1 cup cream
1 Tbs flour
1 Tbs cornflour
Sauté the veal and heart or cervelas briefly until browned, season with salt and pepper, and drain on paper towels. Don't overcook the meat - it should just be browned on the surface at this point since it will cook more in the sauce.
Add butter to the pan you sautéed the meat in, and cook the onion until transparent. Add the mushrooms and sauté. Add the flour. Add a pinch of dried thyme (optional).
Add the wine and cook down rapidly over high heat. Add the meat back.
Dissolve the cornflour in the cream, and add this to the pan, stir and let bubble just until the meat is cooked but still tender.
Take off the heat and adjust the seasoning. Serve with plain rice, buttered rice, boiled potatoes, pasta, or (most traditionally) with rösti.
This is a very rich dish, so a little goes a long way. Serve with a crisp salad of mixed greens or an endive salad.
Rösti is a crispy pan-fried potato dish that was all the rage in some trendy restaurants a few years ago. I'll give the recipe for rösti soon. (Since it is so rich however, I prefer it with plain rice or pasta.)
The use of young, rather sour white wine does cut down on the richness of the sauce. Try to find a young Sauvignon Blanc or Chenin Blanc - not a full-bodied Chardonnay or so. Of course, getting a Swiss wine is best but that's difficult to find outside of Switzerland. If your wine is too mellow, add some lemon juice to the sauce (as you would do for fondue).
Submitted by
maki
on 2003-12-18 09:09.
Filed under:
swiss
zurich
veal