Sushi dane: Tuna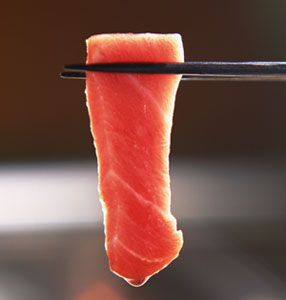 I wrote this article originally for the Sushisay New York web site. I've edited it a bit for this version.
Tane or dane is the stuff that goes on top of, or inside, sushi rice to make sushi. Sushi dane is very seasonal. Right now, tuna, probably the most popular sushi dane of all, is at its best.
Tuna or Maguro is undoubtedly the king of fish when it comes to sushi. While tuna is available all year round, as the weather turns colder, the fish start to store some fat in preparation for the winter. This increases the amount of chu-toro (medium fatty tuna) and o-toro (fatty tuna) available. Now is also the season when Hon-maguro or black tuna, considered to be the best-tasting type of tuna around, is available. Due to very high demand for hon-maguro in Japan, it's quite difficult to get it outside of Japan, though good sushi restaurants manage to secure a supply.
A mature tuna is very big. A typical tuna fish sold at the wholesale fish markets can be up to 5 feet or 160 cm long from the tip of the nose to its tail. They are also so heavy that the dealers much haul them up with special hooks. However, much of the tuna is not suitable to be eaten as sushi, such as the chiai which is the rather muscular and dark part in the middle of the fish. (This is the part that often ends up in cans.)
Here are the three different cuts of tuna that are used for sushi and sashimi.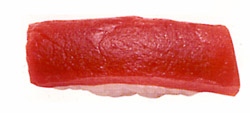 Akami literally means "red meat", and is the leanest part of the tuna. As its name implies, akami should be a bright red color and have a translucent quality to it. It's the most abundant part of the fish, which makes it less expensive than the other cuts. A lot of people prefer akami because it's very low-fat and it has a clean, bright flavor.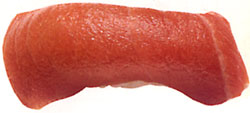 Chu-toro means "medium fat". In the summer months, a tuna only has chu-toro and akami parts since the fish is swimming around a lot more and is leaner. The best chu-toro is meltingly soft, and has a very different flavor from akami.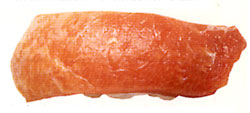 O-toro means "big fat" and that's what it is - a piece of well-marbled o-toro looks like a top-quality porterhouse steak. When you dip your sashimi or sushi into the soy sauce, you'll even see a glisten of oil left behind. Since a good piece of o-toro can be 50% fat or more, it's not necessarily diet food! However, keep in mind that unlike animal fat, fish fats and oils are generally considered to be good for you. But o-toro is quite expensive since we can only get a small piece of it out of a huge tuna fish, so unless you are very rich there's little chance you can overeat o-toro.
Buying tuna, or any other raw fish to use for sushi, can be a tricky business since the restaurants buy up most of the best. If you do want to try tuna sushi at home, only buy sushi-grade. Chances are you can only get a hold of akami, but that's ok. One easy way to enjoy tuna is as tekka-don: fill a bowl with steaming hot plain rice, top with a lot of cubed raw tuna, shredded nori seaweed and optionally a tiny bit of wasabi, and drizzle a bit of soy sauce over the whole. Mix and enjoy.
Submitted by
maki
on 2003-12-24 02:50.
Filed under:
japanese
ingredients
sushi
fish