Romancing the truffle in Richerenches, Provence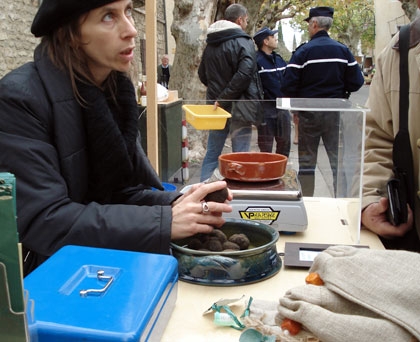 Originally published on December 9, 2006: We won't be able to go to Provence this winter because of work, but I still dream about it, and plan for the next trip hopefully in the spring. Here is an article from our trip last year, about a wonderful truffle market in northern Provence. I hope you enjoy it!
The lady vendor with the intense blue gaze and the black beret on her head looks a little like a French Resistance worker from an old movie. She gestures with her hands as she talks, occasionally taking one of her wares gently in her slender fingers. Around her a curious group of people gathers, looking and sniffing intently, asking questions. I slowly inch my way to the front and look into the bowl, then up to her face, my meager French deserting me. She smiles and tells me to pick one.
I choose a modestly small one, a tad bigger than a golf ball, too shy to touch one of the big, multi-lobed ones. I take it to my nose, and inhale. I wish that at this point I had more poetic words to describe the sensation, but the only thing I can say is "Wow". That pungent aroma is so unique that it's impossible to articulate. Earthy? Slightly gamey? It's just what it is - truffle.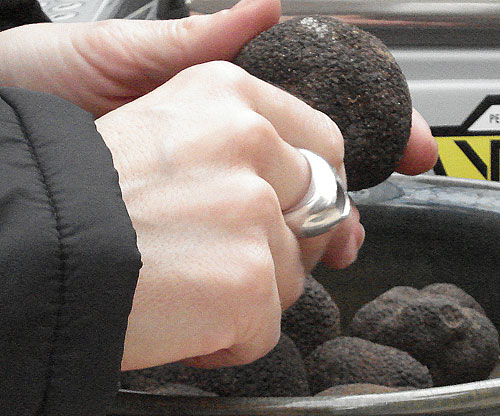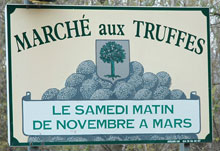 We are at the Marché aux Truffes in Richerenches, a tiny village tucked away in a corner of the Drôme, the north western part of Provence. For most of the year it's off the beaten track, barely visited by outsiders. But every Saturday morning from November to March, it is one of the most important destinations for lovers of that expensive and pungent tuber. It's the largest truffle market in Provence, and is said to be the largest in terms of quantity of truffles traded in Europe.
Just walking around the market it's hard to tell that it's so important at first glance. The main market is just a few tables set up along the main street in the middle of the village, and of those only a couple are actually selling truffles or truffle-related items. The rest are selling the usual market things like fresh vegetables, juices, cheese and cured meats.
We've heard though that the main drag is not where the real action takes place. Sure enough, at the end of the road is a tree-covered parking lot filled with small white vans.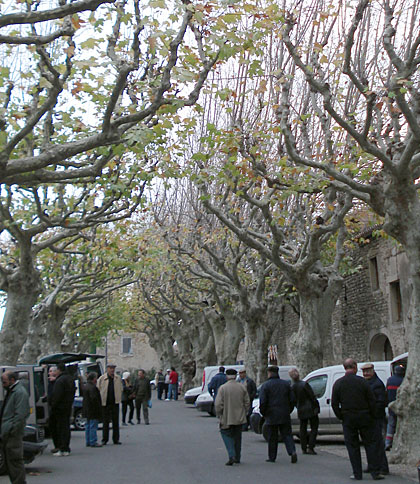 The parking lot under the old plane trees, where most of the serious truffle action takes place
There are little groups of people huddled together, heads down, whispering closely. There are some men leaning into the back of a van, deep in discussion. I feel that I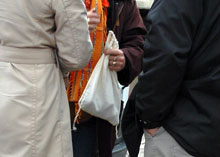 shouldn't be trying to photograph them up close, so I put the camera away and stroll through the parking lot, trying to look as casual as possible. I catch glimpses of small cloth and plastic bags weighted down at the bottom, of hands coming out of pockets with black clumps in them. Wads of currency are being pulled out and passed from hand to hand.
It all feels very clandestine. I'm not really sure if it is actually that, since it's not like the people are totally hiding what they are doing. It's clearly a strictly cash-only trade, in any case.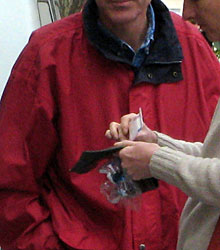 I once read somewhere that the buying and selling of truffles appeals strongly to the French character - it's expensive, rare, something delicious to eat, and not quite legal since much of it is cash-only, under the table. (There were a few policemen hovering around the main market street, but they seemed to be there for general security. There must be quite a few euros being carried around there.) I am sure that the intrigue and secrecy simply adds to the appeal of the truffle.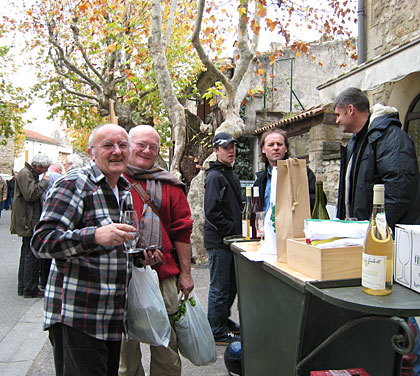 Some Richerenches market goers enjoying some wine..maybe they're celebrating a good day of truffle selling...
I wish that I had the guts to go up to one of the sellers and ask to see their wares, but...well I don't. Instead, I get my truffles from one of the open and above-board market street stalls. The truffle stalls are all selling the black knobbly fungi for the same price: €500 per kilo. That may seem like a staggering price, but it is somewhat cheaper than one might pay elsewhere. Since a little truffle goes a long way, it doesn't feel too outrageous. (For what it's worth, matsutake, a fungus that is highly prized in Japan, can cost 5 to 10 times that.)
Cleaning, preparing and eating the truffle
The final objective is to actually consume these black lumps of mystery and aroma, which I proceed to do as soon as we're back at our rented house. (This is why I love to stay in rented houses or apartments nowadays when I travel, as I've explained here before in my Food Lover's Guide to Provence series - I love the chance to try out freshly acquired ingredients right away!) I'd never cooked with fresh, whole truffles before this, but it is less intimidating than I'd thought. The two modest sized truffles I've purchased (legitimately) came with a small pamphlet explaining how to handle them. Following the instructions, I carefully brush off as much of the fine dirt clinging to the outsides as I can with a damp paper towel. As I rub the surface, the aroma becomes even stronger - it's almost overwhelming.
I don't have a truffle slicer, but the elegant silver ones on sale at the market look very much like a vegetable peeler or cheese slicer to me, so I tackle a truffle with a humble stainless steel peeler. This works quite well. The texture is firm, quite unlike other fungi, and rather buttery. Each slice seems to release even more aroma, which fills the kitchen, drawing in appreciative sniffers.
For my first meal, I shave one truffle lavishly over freshly cooked tagiatelle that's been tossed in a little butter and a few drops of truffle oil. It feels wildly extravagant (though if you think about it, one truffle costs less than a mediocre meal at a restaurant.) This accompanies some magret du canard for dinner. It's rare that a duck breast plays a supporting role but in this case the truffled pasta is the star, drawing oohs and aahs of appreciation as each diner puts their heads into their plates and inhales.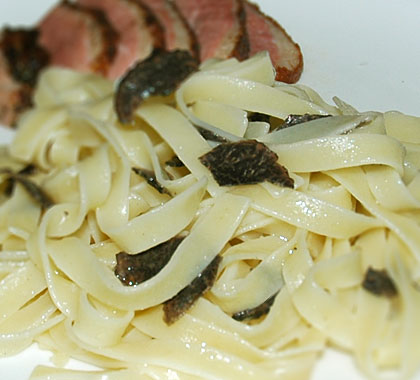 The next day, I make a Pommes Anna with truffle slices scattered between layers. I had something like this some years ago at the Restaurant Buerehiesel in Strasbourg, the first time I'd had a dish with serious chunks of real truffle, and have never forgotten it. This was an even bigger hit than the truffled pasta. The bland butteriness of the potato is a perfect vehicle for the truffle aroma and texture.
Pommes Anna with truffles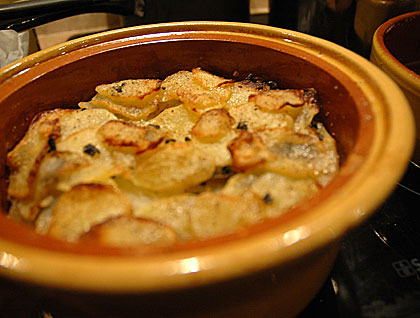 To serve 4-6 people as a side dish, or 2 as a luxurious feast
about 8 medium-large firm boiling type potatoes (not fluffy baking potatoes; in the U.S. Yukon Golds would be perfect, in the U.K. Maris Pipers; in Europe Charlottes or Bintjes would be good. I used Charlottes.)
2 Tbs. light olive oil
2 Tbs. butter
1 Tbs. truffle oil
1 medium or 2 small truffles
crunchy sea salt and freshly ground pepper
Preheat the oven to 150°C / 300°F.
Heat the oils and butter in a small pan just until the butter is melted.
Slice the truffle thinly (but not too thinly) with a slicer or a vegetable peeler.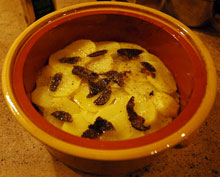 Peel the potatoes and put them in a bowl of water as you work. Slice the potatoes as thinly as you can. Layer the potatoes into a round casserole dish, and sprinkle each later with a little salt and pepper and a drizzle of the combined oils. Every few layers, sprinkle on some of the truffle slices. Continue until all the potatoes are used up, then drizzle on the rest of the oils. Finish up with any remaining truffle.
Bake for an hour in the oven, until a knife stuck in the middle goes through easily and the top is golden brown. Serve immediately.
If you can't get a hold of fresh truffles, try this just with some good quality truffle oil to get the aroma experience.
Related reading: More truffles..
Submitted by
maki
on 2007-11-06 18:31.
Filed under:
food travel
ingredients
mushrooms
winter
provence
france