You may have already seen this story [1] about the animals in the Zürich Zoo being fed frozen meat and fruit "alternative ice cream" to cool them down. It seems that this isn't so uncommon. 20 Minuten, a free paper that's distributed in Zürich and other Swiss cities, has a great slide show on their web site [2] of animals cooling down, using ice treats and other ways.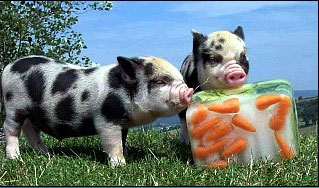 Everyone say awwwww... (or in Swiss-German - yööööö)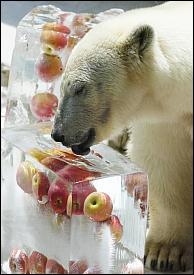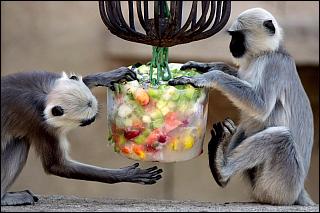 Go to this page [3] and click on the Bildstrecke starten link below the tiger to see the whole slideshow. Warning: you may faint from the cuteness overload!
(This isn't about human food but I just couldn't pass it up. Besides...the ice treats look kind of good!)
Links:
[1] http://news.yahoo.com/s/nm/20060727/od_uk_nm/oukoe_uk_swiss_zoo
[2] http://www.20minuten.ch
[3] http://www.20min.ch/news/diashows/index.tmpl?showid=8387
[4] http://www.technorati.com/tag/animals
[5] http://www.technorati.com/tag/cute
[6] http://www.technorati.com/tag/heatwave
[7] http://www.technorati.com/tag/ice
[8] http://www.technorati.com/tag/zoo