I'm in New York this week for a book promo event (see the schedule over on JustBento [1]). Yesterday, I got to visit the world headquarters of my favorite group-run food blog, Serious Eats [2]. As you probably know if you follow food blogs at all, Serious Eats is headed by food writer and critic Ed Levine, and includes a group of blogs such as A Hamburger Today [3], Slice [4], and Serious Eats New York [5]. I've known Robyn Lee, aka The Girl Who Ate Everything [6], for years now online - she's the one responsible for most of the fabulous photos on Serious Eats - so it was a great chance to finally meet her in person too, as well as other Serious Eat members I've known online for some time like Adam Kuban, who started up Slice and A Hamburger Today way before Serious Eats was born. (Slice is actually around the same age as Just Hungry.)
Serious Eats HQ is housed on the entire floor of an old building right in the middle of the Fashion Institute of Technology campus, in the West 20s in Manhattan. It's the type of space that houses a lot of creative people in the city. Here's a view of one of the large, open offices they occupy. The sign on the windows reads "Welcome Little Serious Eater".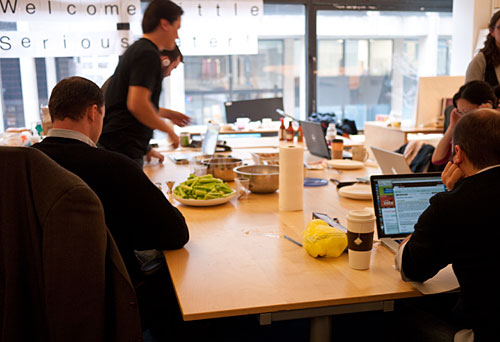 The front office is a bit chaotic and very lively, with workstations along the walls and a big table in the middle. The back office, which has several desks including Mr. Levine's in the back corner, is a bit more sedate and has several bookshelves full of cookbooks. (Incidentally, they chose The Just Bento Cookbook as one of the top Asian cookbooks of 2010 [7] a couple of weeks ago, yay!) The office in between is reserved for staff member Dumpling. I couldn't get a good mug shot of Dumpling unfortunately (and he has quite a cute mug), but he was fascinated by Guruman's pants.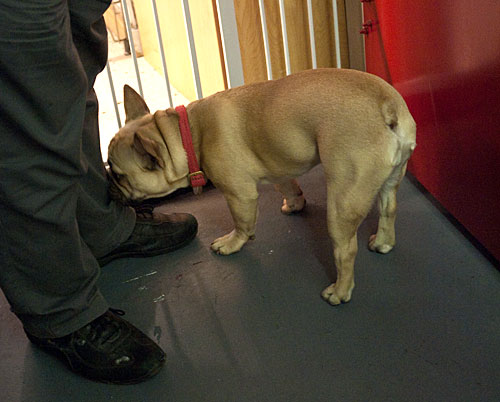 Besides books, there are food, wine and cookware samples all over the Serious Eats offices. Apparently companies send stuff to them all the time, which is not at all surprising. Of course sending stuff to any food blog (even a tiny operation like Just Hungry/Bento) is no guarantee of a mention. Robyn shared some chocolate covered potato chips with us sent by a company in Philadelphia. They were…interesting.
We were there mainly to participate in a hot sauce (on chicken wings) and blue cheese dressing tasting session, part of Serious Eats' series of Superbowl party food taste comparisons. Here is J. Kenji Lopez-Alt lining up bowls of hot sauce and plates of fried wings coated in sauce.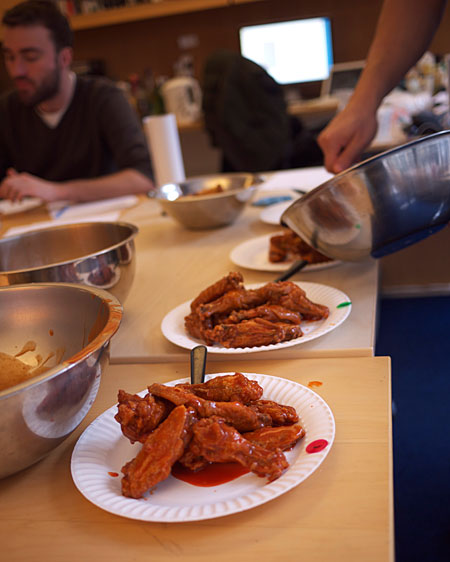 Here's part of the setup for the blue cheese dressing tasting. We each had a survey form to fill out, where we had to rate the dressings or sauces on criteria such as "chunkiness" for the dressing, or "tanginess" for the sauce.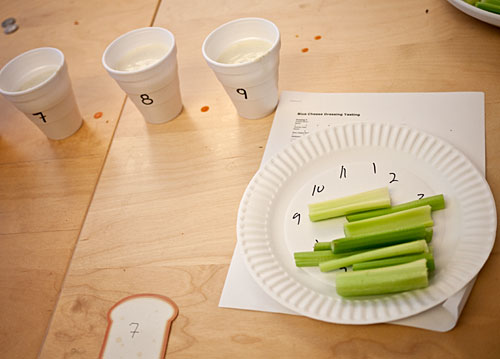 In case you think that these tests are not serious because of the light hearted tone they're written up in, think again. Everyone testing them - which included friends of Serious Eats (including us) as well as staff members - was dead serious, chewing or licking silently while contemplating the taste differences. If Consumer Reports tested things any more intently, I'd be surprised.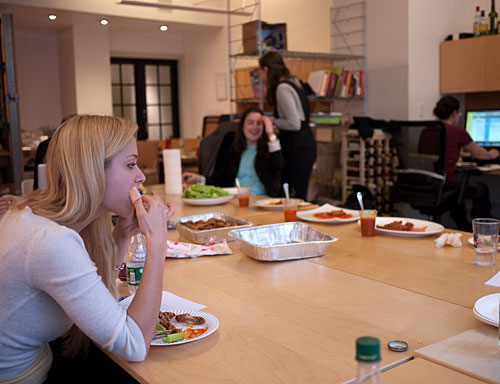 Afterwards, we gathered together to briefly discuss which ones were better than the others and so on. I'm looking forward to seeing that article on the Serious Eats site.
What struck me the most about Serious Eats HQ is that it's a really creative space, a real working space. Everyone is pounding away on their computers (most, if not all, are Macs) earnestly, and there are signs of food-related research going on everywhere. It reminded me of the graphics design offices I used to work in when I lived in New York, way back in the day. It's clear that everyone is having fun, yet it's a serious, businesslike fun. In short, it looks like a great place to work if you're passionate about food.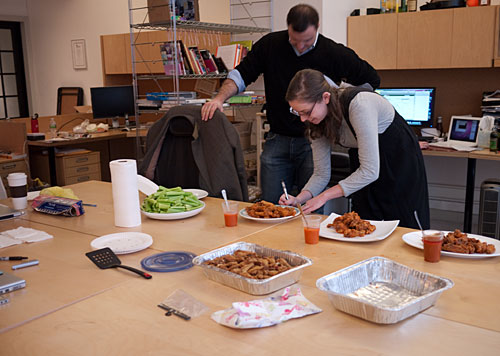 Come to think of it though, even Just Hungry/Bento HQ is a businesslike place too, on a much smaller scale of course. Food blogs have come a very long way, and those of us who have persevered for years at it, and have progressed to a point of actually being able to make a living at doing this food writing/photography thing that we love, have been able to do so because we've treated it like a real, serious profession. (For instance, Robyn and I had a little discussion about accepting gifts and freebies and the ethics involved; we both agreed that it's a very sticky area.)
There are still people, especially those entrenched in traditional mainstream media, who belittle blogs in general as being too unreliable and so on, but they are simply wrong. There are good blogs and bad blogs, just as there are good newspapers or TV stations and bad ones. Sites run with integrity like Serious Eats - and yes, I do believe Just Hungry and JustBento too - can be relied upon for good, solid information. It's up to the reader of course to judge that.
Many thanks to Serious Eats for letting us visit, especially to Robyn, who's the same sweetheart in person as she is online! I'm looking forward to meeting more food bloggers next week in Seattle.
(ETA: Check out the doughnuts I brought [8] for Robyn and the Serious Eats peeps. ^_^)