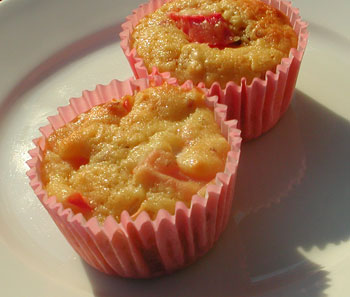 As if last month's IMBB muffin (and cupcake) orgy weren't enough, here is another muffin that has definitely entered my must-make list. It's yet another way to enjoy the tanginess of rhubarb, with the added twist of preserved or crystallized ginger. (I used my precious homemade crystallized ginger, but you can use the store-bought kind with no problems.)
I almost hesitate to call it a muffin, because it's rather dense and moist. I don't really want this sort of denseness early in the morning. It's very well suited for a mid-morning snack, or for afternoon tea. It tastes better the day after it's been baked, and subsequently seems to improve in flavor. The little cakes or muffins turn out with a very appealing pinky hue, which I've enhanced here by using pink paper cups.
Rhubarb-ginger muffins
Makes about 24 medium sized muffins.
1 large egg
3/4 cup non-runny (if you can get a hold of it) honey
1/2 cup melted butter
3/4 cup orange juice, fresh squeezed if you can manage
1/4 cup freshly squeezed lemon juice
2 cups of chopped up rhubarb (about .5cm / 1/4 inch pieces, cut by hand)
1/2 cup finely chopped hazelnuts
1 Tbs. finely chopped preserved or crystallized ginger
2 1/2 cups flour
2 tsp. baking powder
1/2 tsp. baking soda
1/2 tsp. salt
Ingredient notes: by non-runny honey I mean the kind that is sort of solid (or butter-texture) in the jar. If you can't get a hold of this kind, regular clear honey will do. The hazelnuts can be substituted with walnuts.
Preheat the oven to 150° C / 300° F. Make ready your paper cupcake cups - by doubling them, you can usually avoid having to stand them up in muffin tins.
Mix the honey with the butter over a very low heat until blended. Take off the heat, and add the juices and the beaten egg.
Add the chopped up rhubarb, nuts, and ginger to the wet mixture.
Mix together the flour, baking powder, baking soda and salt. Fold this into the wet mixture, Don't overmix - as long as it's incorporated it's fine. Pour equally into the cupcake cups.
Bake for 20-25 minutes, until a toothpick inserted in the center of one comes out more or less clean. Let cool, and ideally let rest for at least a day before eating.
This recipe is considerably adapted from the one for Rhubarb Bread, aka Pain au Rhubarbe in one of my favorite baking books, Bernard Clayton's Complete Book of Breads [1]. I think the richness of this works far better as little muffin-cakes than as a dense loaf. (Incidentally I have never encountered rhubarb in France, baked in a bread or any other way... but maybe I've just missed it somehow.)